Food for Thought: Three Monkeys Cafe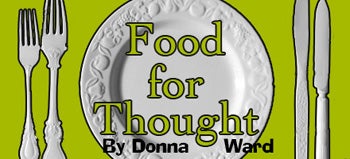 This quaint café is located at 9645 James Street right off Grant Avenue across from the Torresdale train station. Founded in 2005, Three Monkeys has polished hardwood floors and tabletops. With Internet access available, many college students in the area seek out Three Monkeys as a great place to have wonderful food, light conversation and accomplish their network needs. Parking can be a little interesting for dinnertime diners, but at lunch there is usually plenty of space outside the café on the street.
The café is small and offers a casual, homey atmosphere. The service is very friendly and prompt, as well as helpful in making your selections. The tables are kept clean and wiped down after each patron departs. Glasses and silverware are provided with each table, wrapped in napkins.
I started with an appetizer I highly recommend, the Hummus and Feta dish. The hummus is lightly flavored with hints of garlic adding to its creamy and rich taste. The feta cheese is served with red peppers and both flavors blend well to the palate. Warm pita bread is served on the side for your dipping pleasure making this feast an excellent starter for yourself or a party.
For an entrée I sampled the Wasabi Crab Cakes, which I was informed is a Three Monkeys special. The dish was served hot and in a very timely manner. The crab cakes were absolutely delicious. The wasabi added a welcomed hot and spicy flavor to the well-cooked crab. This is not a dish for a person who doesn't appreciate a little spice, however, the waitress informed me that it can be made mild. But as mine is a tongue for the zesty, I choose extra spicy. While many crab cakes you may purchase are full of breading as filler, Three Monkeys appeared to have included more crab in their cakes than is usually expected, making this dish both filling and satisfying.
When I first heard there was a café called Three Monkeys, my first thought was monkey bread, and too my delight I was not disappointed. A dessert classic at Three Monkeys is the scrumptious Monkey Bread. A well-served portion, which would make a healthy snack with a side of fresh-brewed coffee, was presented warm and oozing with sticky topping. I would venture back to this café for this dessert alone. The cinnamon and sugar topping melted the biscuits with every bite. I highly recommend you sample some of Three Monkeys gourmet coffee with this dish to finish your meal.
Three Monkeys has a small bar area that serves exotic specialty drinks like Horny Monkey Ale, Monkey Bay wine and of course, the Monkeytini. If you are looking for a quiet place to relax and unwind, Three Monkeys has great food and good service at reasonable prices. I will be returning there for another well-prepared meal and of course, the Monkey Bread.
Food For Thought is a NEast restaurant review column written by Donna Ward that runs every other Thursday on NEastPhilly.com. See all of Donna's reviews here. Read other NEastPhilly columns here.