Fake news fraud Alex Jones suffers his day of reckoning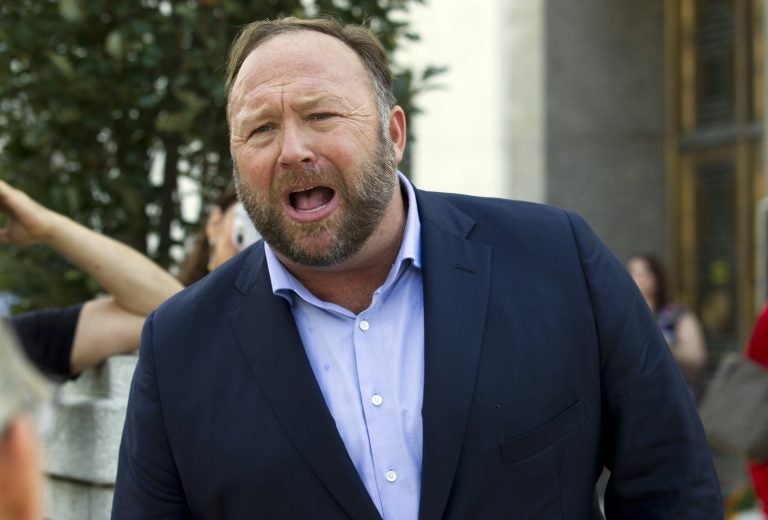 In my perpetual and often fruitless search for upbeat news, I've discovered the sworn deposition of Alex Jones. It's a beautiful thing, and I invite you to watch it.
I trust you're familiar with Jones. As the shock jock of InfoWars, he has long trafficked in preposterous conspiracy theories, none of them more sickening than his oft-repeated decree that the 2012 Sandy Hook massacre (20 Connecticut schoolchildren, six adults) didn't happen, that no kids were killed, that the whole thing was staged by actors shedding phony tears, all for the apparent purpose of undermining the Second Amendment. Or something like that.
Not surprisingly, Donald Trump loves the guy; during an appearance on Jones' show in 2015, candidate Trump gushed: "Your reputation is amazing! I will not let you down…My audience, 90 percent of them, they support you."
I don't doubt that. As we well know, there's a huge American market for demagogic fakery. For instance, millions of Jones fans heard him say this, on April 16, 2013: "'They staged Sandy Hook. The evidence is overwhelming." And his fans heard him say this on Jan. 13, 2015: "Sandy Hook is synthetic, completely fake, with actors in my view, manufactured…They clearly used actors." Jones' fans — prompted by Jones' fake news — allegedly harassed some of the grieving parents and forced them to move.
But now — finally — Jones has suffered his day of reckoning.
Thanks to a defamation lawsuit filed by some of those grieving parents, Jones was forcibly deposed under oath on March 14 by the parents' lawyer, and the entire proceeding — more than three hours long — was posted online last Friday. It's fascinating to watch him squirm, often falling silent when his hate speech was played back to him on video, often oscillating between defiance and contrition.
Mostly defiance.
When he was asked why he had publicized the address of one of the Sandy Hook fathers, he shot back: "I mean, the guy's running an anti-free speech foundation." (That father is not running an anti-free speech foundation.) When the parents' lawyer asked him whether he now believes that his Sandy Hook statements were reckless, he replied: "No…I was saying I think that basicall,y the whole thing is fake, it was my right to do that. I legitimately believed Sandy Hook was staged at different periods of my life."
And when the parents' lawyer asked at several points whether Jones is now prepared to admit that he had committed "an outrageous wrong" in his treatment of the grieving parents, he fired back: "It's lawyers like you who glom on to fame, try to get the fame and say that I'm the person who's promoting (conspiracies), and that's obscene in my view…I have not done an outrageous wrong to those parents…I do not take responsibility, I do not take your indictment or your presumed conviction of me as the villain…I am not prepared to sign on to whatever you and the mainstream media make up about me."
But there were welcome, albeit rare, moments of contrition.
At one point he conceded that, yes, "I think children died." And, most notably, he said this: "I, myself, have almost had like a form of psychosis back in the past where I basically thought everything was staged, even though I've now learned a lot of times things aren't staged. So I think as a pundit, someone giving an opinion, that, you know, my opinions have been wrong, but they were never wrong consciously to hurt people."
Blaming his toxic lies on "a form of psychosis" is surely an insult to the mentally ill, but that's the closest Jones came to fessing up to his fraudulence, to admitting that he knowingly peddled poison. I suppose that's progress.
So put your hands together for the parents' lawsuit — regardless of whether it ultimately succeeds — because it helps us delineate the boundary that should separate protected free speech from actionable hate speech. Indeed, in 2018, Jones and InfoWars were thrown off Twitter, Apple, Pinterest, Spotify, LinkedIn and YouTube — an overdue acknowledgment that the digital equivalent of yelling fire in a crowded theater warrants no protection. Perhaps his fan in the White House, another purveyor of hate speech ("enemies of the people"), will be policed in the next round of balloting.
Meanwhile, his fan in the White House served up this beaut during a speech last night at a Republican fundraiser: "If you have a windmill anywhere near your house, congratulations, your house just went down 75 percent in value. And they say the noise causes cancer." (There's zero scientific evidence that wind-power noise causes cancer. And who the heck is "they"?)
Trump also fumed: "Someone's gonna leak this whole damn speech to the media!" That was captured on C-SPAN, which was in the room, covering the speech live.
Two days ago, I wrote that it was impossible to know whether Trump's new kill-Obamacare crusade was truly serious, "or whether he's just playing offense for a few news cycles before finding a new toy."
Turns out, it was the latter. On Monday night, Trump retreated after learning that Senate Republicans have no appetite for political suicide. He nevertheless claimed in a tweet that the Senate GOP is busy "developing a really great HealthCare Plan." Turns out — holy Alex Jones! — that he was lying. In truth, and this is the upbeat news for 20 million covered Americans, the Senate GOP is developing nothing.