'The family of Philadelphia' came out to mourn 12 family members killed in Fairmount fire
Funeral services were held Monday for nine children and three adults who died in a Fairmount rowhouse fire five days into the new year, the deadliest blaze in the city in more than a century.
A funeral procession on the rain-soaked streets of the city Monday morning was followed by services at Temple University's Liacouras Center, to which members of the community were invited and asked to wear white.
The more than 200 people in attendance at the three-hour service listened to Bible readings, official proclamations, and music. Relatives spoke about their loss and their memories of their loved ones from two microphones behind tables bearing caskets amid white flowers and large pictures of the victims.
"None of us know what to do with a funeral with 12 people," said the Rev. Dr. Alyn Waller of the Enon Tabernacle Baptist Church. "We're in a space of grief and pain we wish on no one else."
Salle Thomas, an aunt of the children, tearfully said she believed there was "a family reunion in heaven."
"I believe they're with their dad. I believe they're with my mother. I believe they're with my father, their uncles, and aunts," she said. "The hurt is deep but it will subside."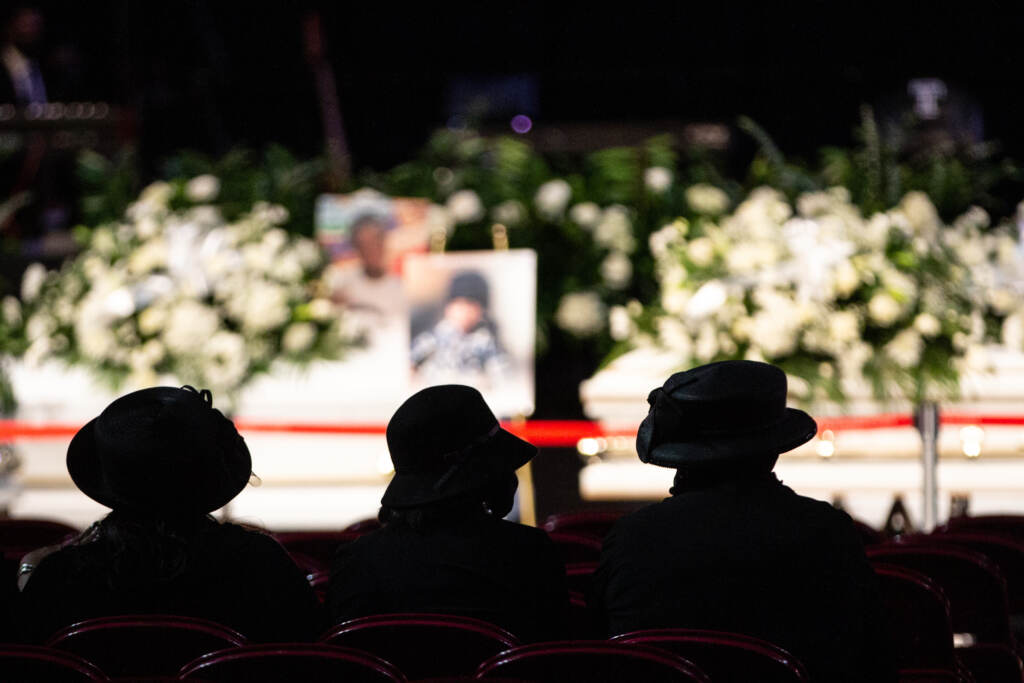 Mark Vitvitsky, principal of Bache-Martin Elementary School, recalled memories of the four children who attended the school. For example, he told the story of how eight years ago, then-11-year-old Quinsha White came to his office as the family representative of Quientien Tate-McDonald, unbeknownst to him or Quientien's mother, Rosalee McDonald. All three of them perished in the Jan. 5 fire.
"It was a sight to behold. Rosalee and I let the conference play out. We let Quinsha take the lead. No nerves. She had no nerves. Here she is in my office, she's holding her own. She was serious, compassionate," Vitvitsky recalled. "From a very early age, their actions proved that they knew they were responsible for one another. For looking after one another. You could tell how close they were."
Dominique Cook spoke about how "growing up, we were always known as the big family, with all the kids on the block." She recalled fond memories of sleepovers with her cousin Rosalee. 
"I never wrote a eulogy before, so I searched high and low for guidance … Nothing was there for 12 loved ones," she said.
Terez Lee, a local business owner who also attended Bache-Martin Elementary School, said he felt like he had to come to Monday's service to show his love and support for the victims and family. 
"It's just such a tragedy to see a student lost, let alone several from one school." 
He said he was touched by the personal stories told by Rev. Dr. Alyn Waller, and all the family members who spoke.
"The fact that we were able to put the children's face to this situation is just not something that you heard about on the news," he said. 
Ernestine Gaines, a distant family member, echoed those sentiments.
"The way the principal of Bache-Martin spoke of the children and showed us the kind of children they were, the family that they came from — all that impressed me and I was grateful."
She was also struck by how many people attended. "That's why I feel it wasn't just our family," she said. "It was the family of Philadelphia in different areas that came out."
The three-story brick duplex was owned by the Philadelphia Housing Authority, which is the city's public housing agency and the state's biggest landlord.
Three sisters — Rosalee McDonald, Virginia Thomas, and Quinsha White — and nine of their children died in the blaze, according to family members. The city last week identified the other victims as Quintien Tate-McDonald, Destiny McDonald, Dekwan Robinson, J'Kwon Robinson, Taniesha Robinson, Tiffany Robinson, Shaniece Wayne, Natasha Wayne, and Janiyah Roberts. Officials did not provide their ages.
Investigators last week confirmed that it started at a Christmas tree, but stopped short of officially saying that it was sparked by a 5-year-old child who survived and reportedly told investigators he had been playing with a lighter.
The blaze had been the deadliest fire in years at a U.S. residential building, but was surpassed days later by a fire in a high-rise in New York City's Bronx borough that killed 17 people, including several children.
Rev. Waller, who officiated Mondays' funeral service in Philadelphia, also contrasted the media coverage of this fire and another that killed a father and his two children in Bucks County on Christmas Day, which also resulted from a tree.
"There was a family out in the county that had a fire and they reported it like, 'Look what happened to them.' And then they reported this fire like, 'Look what they did,'" he said. "Maybe they needed to see the larger Philly experience of preachers coming together and funeral directors working together and politicians staying for the whole thing. Maybe they needed to see we are a community."
Friends and family of the Fairmount rowhouse fire victims comforted each other at the funeral service on Jan. 17, 2022. (Kimberly Paynter/WHYY)

Dekwan Robinson, 8 (left), and Shaniece Wayne, 10 (right), victims of a house fire in Philadelphia's Fairmount neighborhood. are laid to rest on Jan. 17, 2022. (Kimberly Paynter/WHYY)

Victims of a Fairmount rowhouse fire are laid to rest at Temple University's Liacouras Center on Jan., 17, 2022. (Kimberly Paynter/WHYY)

(From left) Natasha Wayne, 7, Quientien Tate-McDonald, 16, Taniesha Robinson, 3, and Quinsha Vanessa White, 15, victims of a house fire in Philadelphia's Fairmount neighborhood, are laid to rest on Jan. 17, 2022. (Kimberly Paynter/WHYY)

The funeral procession for the victims of a deadly rowhouse fire arrive for services at Temple University in Philadelphia, Monday, Jan. 17, 2022. (AP Photo/Matt Rourke)
WHYY is your source for fact-based, in-depth journalism and information. As a nonprofit organization, we rely on financial support from readers like you. Please give today.