Explain that Term: Operating Speed
Did you read the news about state government changing the posted speed limit for a segment of the PA Turnpike to 70 mph, and wonder if they were making the right call?
It all comes down to a concept called "operating speed."
Have you ever been driving on the highway and gotten the feeling that the speed it felt most "natural" to drive was higher than the posted legal speed limit? It's not just in your head.
Sometimes the posted speed limit is different from the "operating speed" – the speed that most vehicles travel at. The Federal Highway Administration uses the concept of "85th percentile speed," or "the speed at or below which 85% of vehicles travel" to talk about this concept.
Different segments of road can have different "design speeds", or the speeds engineered during the design process. Interestingly, the FHA says that roads' eventual legal speed limits are not necessarily known during the design process, and the design process does not include a speed-prediction component.
The scintillating Manual on Uniform Traffic Control Devices recommends that speed limits be set within 5 mph of the 85th percentile operating speed – the speed that feels most natural – for safety reasons.
But sometimes it's set lower or higher by state and local agencies depending on other conditions or values. For instance, FHA says local agencies are 10 percentage points more likely to lower speed limits to accommodate pedestrian traffic.
Why does this matter?
FHA has found that merely "reducing the posted speed without other changes is likely to result in a small reduction in operating speeds (i.e. significantly less than the amount of the posted speed change.)"
Translation: if lawmakers want to reduce traffic speeds for safety reasons, they can't just change the numbers on the speed limit signs. They actually have to change the design speed of the road through physical traffic calming interventions like narrow travel lanes on highways, or protected bike and bus lanes, curb bump-outs, and chicanes on city streets.
Getting the design speeds right for city streets matters, because 10-20 mph can be the difference between life and death in pedestrian crashes: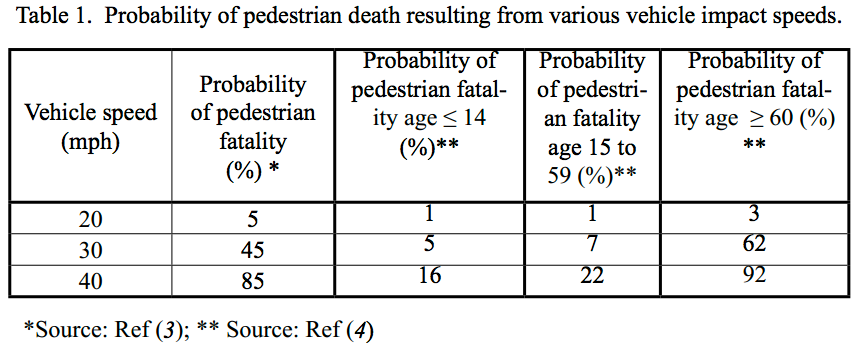 WHYY is your source for fact-based, in-depth journalism and information. As a nonprofit organization, we rely on financial support from readers like you. Please give today.