Exercising with members at Delaware YMCA a 'slam dunkeroo' for people with disabilities
Endless Possibilities in the Community (EPIC) breaks down walls that surround people with physical and intellectual challenges.
Listen
5:42
Dozens of people are lifting weights or running, walking, and climbing on machines in the cavernous exercise room at the Bear-Glasgow Family YMCA in Delaware.
One is Jacob Zonick. He starts with an elliptical workout, then begins doing seated rows to strengthen his upper back. Jen Easterday guides him while a WHYY reporter observes.
"Back straight. Be nice and flat,'' she says in a soothing, encouraging tone."I'm going to keep my hands on your back. We've got this at 55 pounds, Jacob is very strong. Right, Jacob?"
Jacob keeps pulling the weight but otherwise doesn't respond.
He can't. Zonick has cerebral palsy and is nonverbal.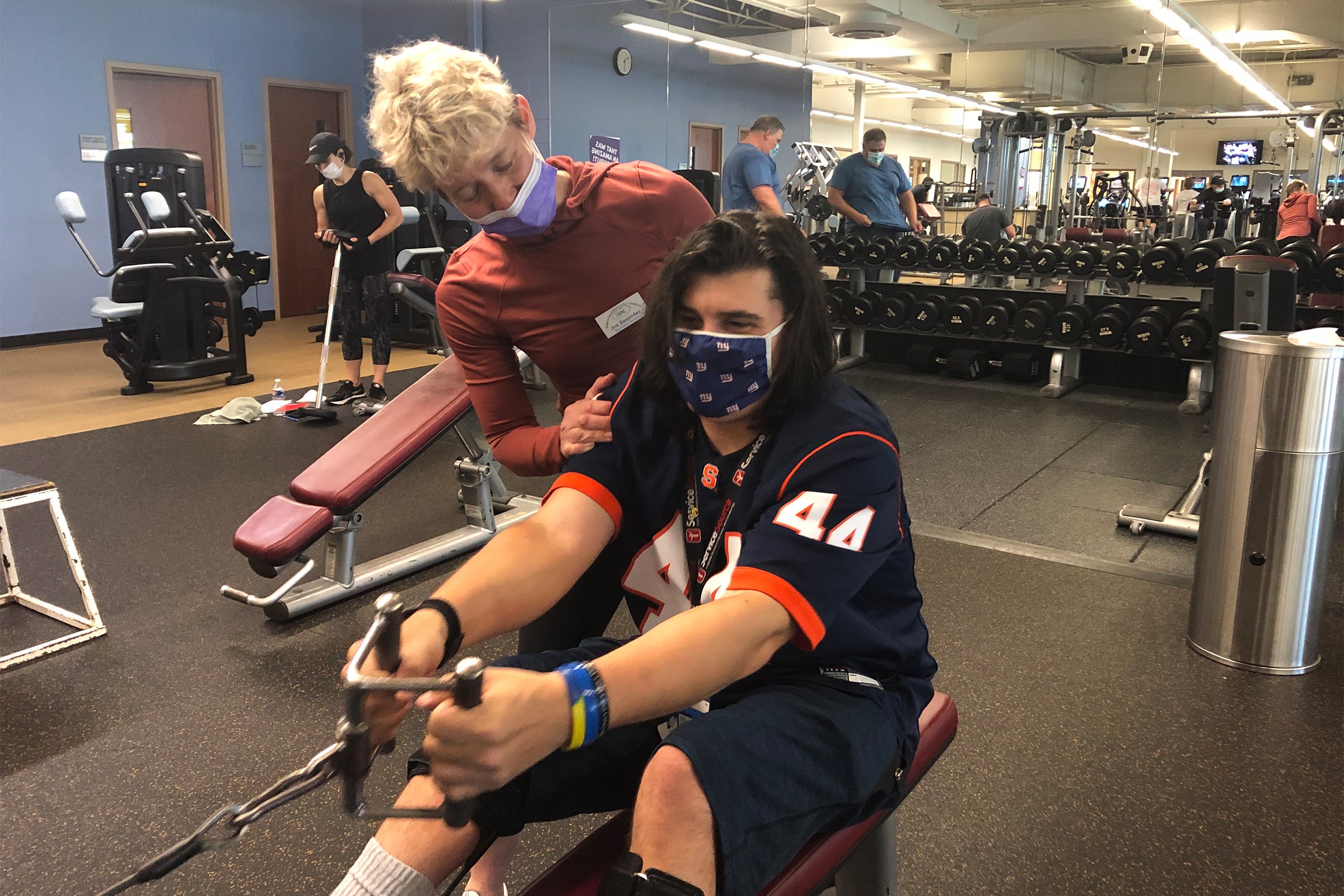 Easterday is not your typical physical trainer. She's a registered nurse and director of the six-year-old nonprofit EPIC program. That stands for Endless Possibilities in the Community.
EPIC provides exercise programs in a community setting — the YMCA between Newark and Middletown — for about two dozen adults with cerebral palsy, autism, Down syndrome and other disabilities.
People with these disabilities often spend their time in day programs in congregate settings with others who have physical and intellectual impairments. They do group or individual activities such as board games, puzzles and drawing — out of their house for the day, but isolated from the general public.
EPIC, however, breaks down walls that surround people with physical and intellectual challenges by having them share space with other YMCA members as they are guided through yoga, weight training, swimming, and other sports and fitness regimens.
"Our function is to create an environment, an inclusive environment for adults with disabilities through wellness, fitness,'' Easterday told WHYY. "As children aged out of the school system, they would be at home and developing unhealthy habits and gaining a lot of weight and not really having a place to go."
She says EPIC aims to provide its two dozen participants with a recreational, social and emotional outlet in a way that enhances other support systems they have.
"We have individuals that come here to work out and be healthy and then they take the paratransit bus and they go to work,'' she said.
"And the goal is that eventually many of them will establish their own healthy behaviors as well as relationships, and be able to go out into the world and function as healthy adults."
Kyle Hodges, policy director for Delaware's Council for Persons with Disabilities, told WHYY that EPIC "has proven to provide a much healthier environment — socially, mentally and physically — than the congregate facilities."
He said that's because it "provides persons with disabilities the opportunity to participate in integrated, community-based activities with their peers with disabilities and also people without disabilities, which is really what true inclusion in the community is all about."
"EPIC provides people with disabilities choices just like everyone wants, and what most of us have, in the community. It is one of very few community-based programs that provide social, exercise and mind-stimulating activities based specifically on what each participant individually wants and needs."
Yoga class, playing hoops and pulling the heavy sled
One activity is yoga. Before the pandemic, people in EPIC participated in the YMCA's regular class. But for now, they are only practicing together.
On the day WHYY visited, Jamie Wagner led the class. She has autism. The class follows her every instruction as she leads them in poses such as Warrior II, Surfing, and Downward Dog.
Wagner aspires to be a dog walker or get another job working with her favorite four-legged friends. Easterday put Wagner in charge after seeing her develop confidence and leadership skills. She enjoys her new role.
"It means a lot to me because you get to help out with everything you do, like breathe in, breathe out,'' she told WHYY, though she was a little nervous during the short interview.
One member in the class who is not so shy is Omar James Brown. He also has autism. He tolerates yoga, but he's proud — and prone to a bit of boasting — that he can do two miles on the stepper in 40 minutes, swim eight laps at a time, and shoot hoops.
"I hate to brag. I always do all the work,'' he said. "Like I do, do a little workout, all the sports stuff."
A reporter asks what he likes to do in the gymnasium and he doesn't hesitate.
"Oh, play basketball,'' Brown said.
"You got game?"
"Oh yeah, I do got game. … Yeah, I got game."
"Tell me about it."
"It was wonderful. I really made a pretty good slam dunkeroo!"
Meanwhile, in another specialty weight room, Austin Cox does a sled pull with the aid of exercise specialist Chris McCreary.
Cox has cerebral palsy and cannot walk. He's studying sports management at Wilmington University and talks about his workout in a cool, matter-of-fact manner.
"I pull the sled with the TRX straps. It's like a row,'' Cox explains.
"So how much weight is on there?"
"Two-hundred sixth-five pounds."
"Is it hard?"
"Nah."
Working out in the same room as Cox is YMCA member Dominika Nowakowicz. The University of Delaware student stopped her routine briefly to talk about how she is inspired by the efforts that Cox and other people in EPIC make to live their best life.
"I think it's great,'' Nowakowicz said. "I see them all the time and they really work hard and they're always super friendly too, whenever I see them around. Everyone says hi and we all share the space and it's equal and we all just share and make everyone at home."
That's the point, Easterday says. Getting people with disabilities into the mainstream.
Monkey in the Middle games; showering on his own
Phil Stewart might be EPIC's most boisterous participant.
He clowns around in yoga class and hams it up in the pool, tossing a ball and splashing around with unbridled glee.
"I like to swim,'' he says, peering intently at the WHYY microphone. "Just getting changed and getting a shower."
"How about being in the water?"
"Yeah," he exclaims.
Easterday interjects.
"Phil learned how to get a shower on his own, which is a big deal for Phil, right?" she prompts.
"Yeah!" he repeats, triumph in his voice.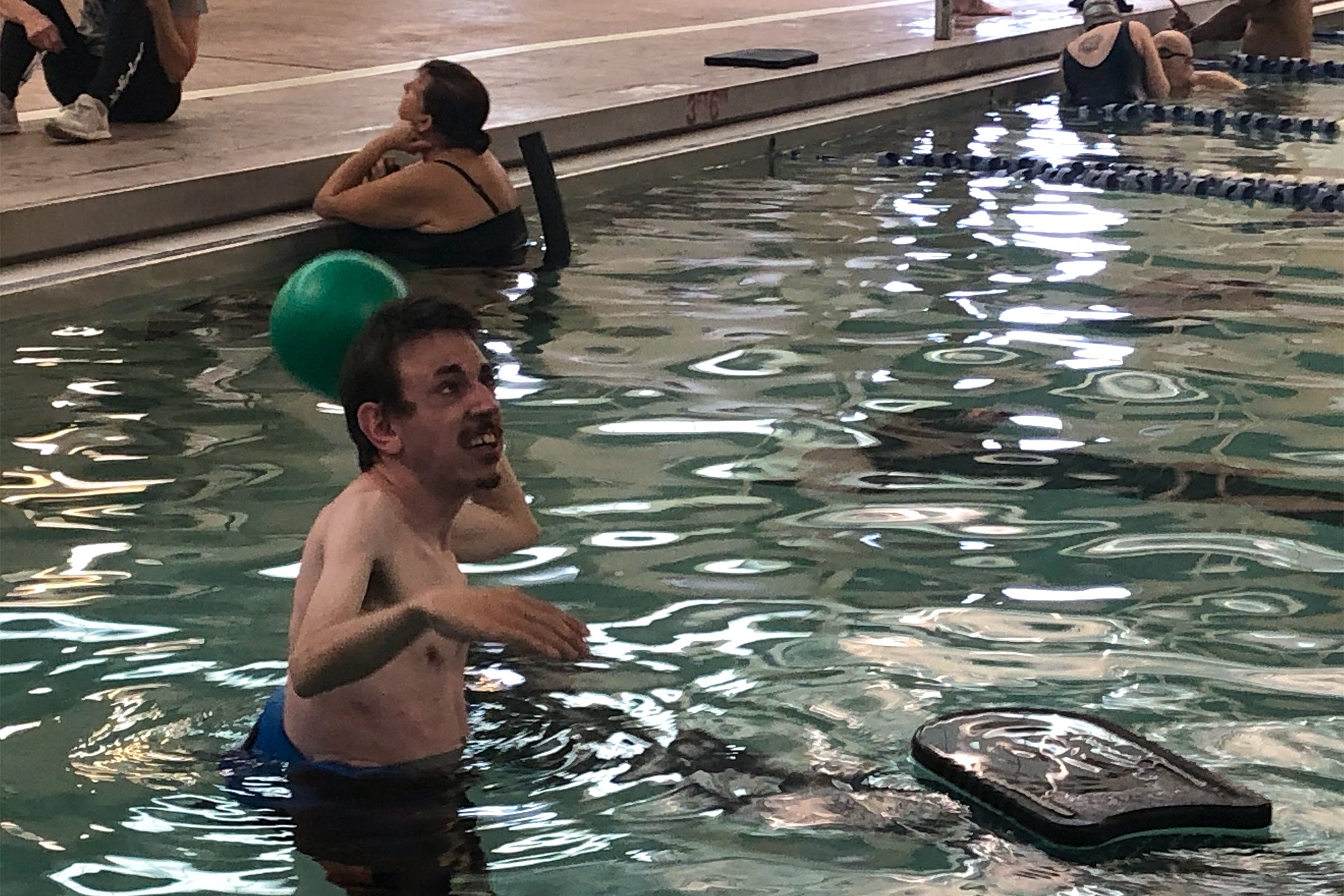 "So part of swimming is the experience of getting ready to swim, getting out of the pool, all the things you need to do to be independent,'' she reminds him.
Easterday asks about a previous swimtime.
"What game did we play? Do you remember?" she asks.
"Monkey in the Middle!" he shouts.
"Monkey in the Middle and we played water polo,'' she replies, leading him to exclaim in another rush of joy: "Water polo!"
Stewart's mother Cathy says EPIC is the perfect program for such a sociable guy.
"Not only is he with his peers with disabilities, but role models, so it's a win-win situation,'' she said. "People without disabilities can work with people with disabilities and be able learn from each other."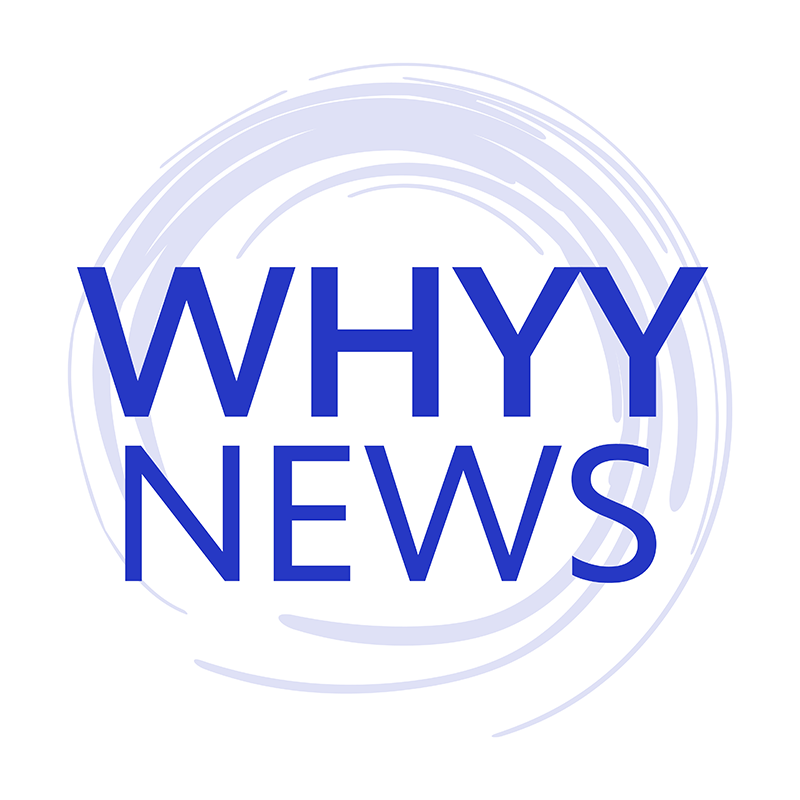 Get daily updates from WHYY News!
WHYY is your source for fact-based, in-depth journalism and information. As a nonprofit organization, we rely on financial support from readers like you. Please give today.