Vietnam was my first war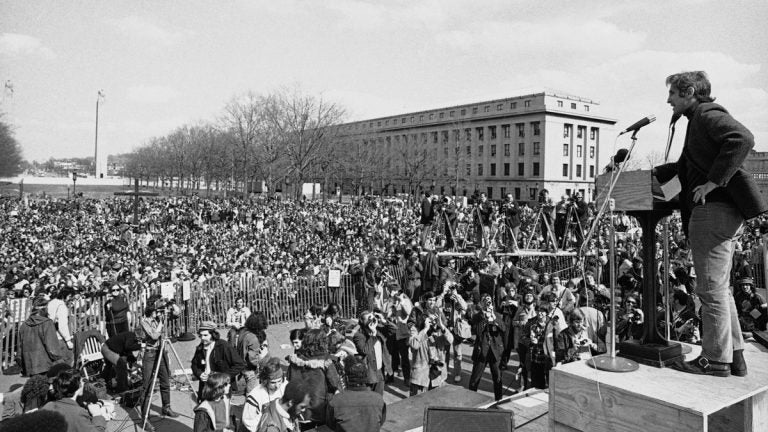 This story is part of a WHYY series examining how the United States, four decades later, is still processing the Vietnam War. To learn more about the topic, watch Ken Burns and Lynn Novicks' 10-part documentary "The Vietnam War" running Sunday, Sept. 17 at 8 p.m. through Thursday, Sept. 28 on WHYY-TV.
—
Let's say you were born in 1962, the year the U.S. Air Force began using Agent Orange, the defoliant packaged in bright vermilion cans.
That means Vietnam was your first war. It means you learned to toddle around your parents' apartment as Buddhist monks were setting themselves aflame in a show of protest against the government of Ngo Dinh Diem.
It means you spoke your first words ("Mama? Baba? Bye!") as the U.S. House and Senate approved a resolution allowing President Lyndon Johnson to "take all necessary measures" — that is, to wage war against North Vietnam — without a formal declaration of war from Congress.
And when your family decamped for the suburbs (but barely, to a brick three-bedroom just two blocks off the city line), you spent hours staring at the poster in your father's office, an image of a sunflower with the words "war is not healthy for children and other living things."
It looked like something you might have made yourself: the flower rendered with a literal orange sun in its center, the skinny limbs, the hand-scrawled, lower-case text. If you squinted, the sunflower became a human face, the branched stem a body.
What was war, anyway? A game boys played with small, stiff, pea-colored soldiers. A fast, slappy card battle whose goal was to leave your opponent empty-handed. Or "Color War" at camp, an end-of-summer ritual that endured despite your mother's outraged phone call to the directors, a week of dreaded volleyball and swimming competitions that ended when one of those directors tossed a red ("The Indians") or white ("The Cavalry") garment into the air, and kids on the losing side wept.
When you are a child, a real war happening on the other side of the world comes home in whispers, gestures, intonation. A clench in an adult's voice, a television clicked off as you enter the room. Arguments with foreign-sounding words, an incomprehensible shorthand. Dienbienphu. Tet Offensive. My Lai Massacre. Gulf of Tonkin. Vietcong. Charlie Company. Kent State.
Occasionally, the adults forget and leave the newspaper in full sight or let the news crackle behind your Swanson dinner. Then you see them: the naked child running toward you, helmeted soldiers not far behind. The young woman, lips parted in a wordless scream, half-kneeling over a body inert on the ground. You note the white scarf knotted at her neck, the summer sandals on her feet.
In kindergarten, while you are reciting "30 days hath September, April, June, and November," Martin Luther King, Jr. calls the United States "the greatest purveyor of violence in the world." That year, for Halloween, you dress as a flower child — your parents' idea — in a red velveteen tunic slung with love beads and peace sign necklaces. Your dad makes a miniature version of the "war is not healthy" poster and tapes it to a paint stirrer. You aren't sure why grown-ups chuckle as you parade through the gymnasium, surrounded by bed-sheeted ghosts and a few bold, lipsticked boys swaggering in their sisters' prom gowns.
On car trips to Clearwater Beach, your mother sings songs from her childhood war, and you learn them all by heart. "This is the Army, Mr. Jones," and "Oh, How I Hate to Get Up in the Morning," a soldier's jubilant fantasy of murdering the bugler whose call yanks him from sleep. "I'll amputate his reveille, and step upon it heavily," you chortle from the back seat as the car heads down I-95, past South of the Border billboards in faux-Spanish ("Pedro No Shoot Ze Bool!"), toward a fast food place called Sambo's where you stop for shakes.
You have not even begun to ask the questions.
At summer camp, teenage counselors strum guitars and croon the soundtrack of this war, your war. "Billy, Don't Be a Hero." "Blowin' in the Wind." You learn every mournful verse: "How many times must the cannonballs fly, before they're forever banned?" You do not know that Bob Dylan debuted a partly written version of this song the year you were born. You know only that the words make you sad, like that other song with the interlocking verses that lead from flowers to graveyards to flowers again.
Some of your friends order POW bracelets from a magazine. Even though they are only $2.50, your mother will not let you buy one because the copper, she says, will turn your skin green. You're not exactly sure what a POW is, but the girls who wear the bracelets seem to possess a worldly secret.
There is so much you don't understand. Why was that child naked? What were the students mourning? Why is everyone so tense all the time? What is that sweet, tindery smell in the Greenwich Village bookshop where you browse, at 10, through mimeographed anti-war pamphlets?
You are young, and Vietnam is far away — the last Americans leave Saigon the year you turn 13 — but the war leaves its boot prints on your psyche. War means stripped trees and refugees in leaky boats and songs with minor chords.
Later, you learn too much: How Dow Chemical, manufacturers of Agent Orange, knew the health risks of dioxin but continued to sell the herbicide anyway. How the ubiquitous peace sign — which you possessed in bronze, on a thick chain, and in rainbow plastic, on a cord of gimp — originated as a British sign for nuclear disarmament, and that its designer described it as "an individual in despair … in the manner of Goya's peasant before the firing squad." How the Pentagon Papers, published the year you were writing poems about clouds in Mrs. Johnson's 4th-grade class, revealed decades of governmental lies.
You learn that the POW bracelet campaign, brainchild of some college students, sold nearly five million of the cuffs between 1970 and 1976. You learn that the sunflower poster was the logo for Another Mother for Peace, a non-profit founded in 1967; the group's first action was a Mother's Day campaign that flooded legislators with cards urging "an end to killing."
You witness further conflicts: the Gulf War, the Bosnian War, Afghanistan, Iraq. There are no victory gardens, no tin can drives, no chipper songs about murdering the bugler or making your own damn Army bed. You march downtown and call your Congress-people and sometimes, when your daughter is very young, you snap off the news when she walks in.
And after your father dies — of illness, not of war; your father, who could barely tolerate an argument at the dinner table — and you are helping your mother clean his office, you find the poster: edges curled around the wobbly letters, the sunflower a bit faded. If you squint, you can see yourself, or any child, face like a blossom, arms and legs joyfully akimbo.
When will we ever learn? When will we ever learn?
—
To learn more, watch Ken Burns and Lynn Novicks' 10-part documentary "The Vietnam War" running Sunday, Sept. 17 at 8 p.m. through Thursday, Sept. 28 on WHYY-TV. WHYY Members will have extended on-demand access to the series via WHYY Passport through the end of 2017.
WHYY is your source for fact-based, in-depth journalism and information. As a nonprofit organization, we rely on financial support from readers like you. Please give today.