ERs in Pennsylvania, Delaware report huge increases in opioid overdoses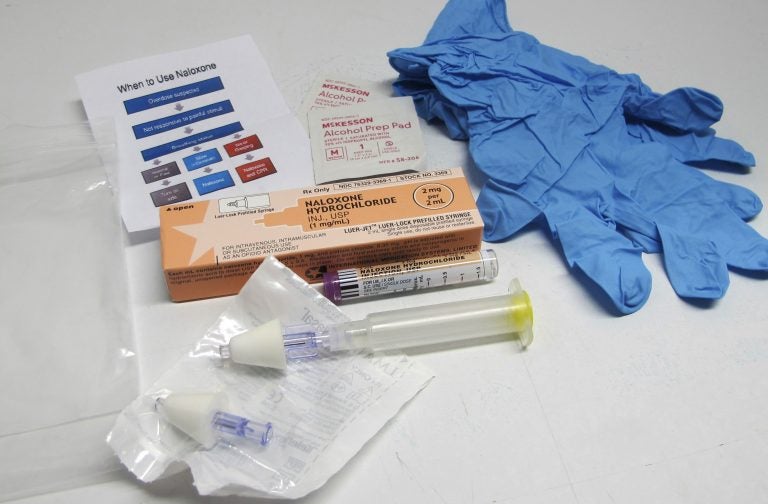 Emergency department visits for opioid overdoses are up nationwide, new data from the Centers for Disease Control and Prevention show. They increased by 81 percent last year in Pennsylvania and by 105 percent in Delaware, the second-highest level in the nation.
In Delaware, ERs reported 596 opioid-related overdose visits in the third quarter of 2017 — more than double the number during the same period of 2016.
"The report's findings highlight the need for enhanced prevention and treatment efforts" in emergency departments, Dr. Karyl Rattay, Delaware Division of Public Health director, said in a statement.
"Offering overdose prevention education, naloxone and related training for patients, family members, and friends; initiating buprenorphine in the ED; and linking patients to treatment and services in the community as needed," she recommended.
Emergency departments have been the first line of defense when it comes to opioid overdoses for a long time, but they haven't always had the resources to respond with treatment beyond just helping patients recover and sending them on their way. It's time to offer more, said Dr. JeanMarie Perrone at the University of Pennsylvania Emergency Department.
"We have to do something different," she said. "We have to be able to reach them where they are."
Perrone said she's advocated more robust responses to opioid overdoses in her emergency department for a long time. With such an increase in overdose visits, she has finally gotten some backing from the higher-ups who see that — even if the ERs shouldn't be the venue where this crisis is solved — they're where people are going.
"I think there is a little bit more support from the institution, understanding that we are a 24/7 shop, and that makes the most sense for the first steps in getting these people into treatment," she said.
Moving to 'warm handoff' approach
In fall of last year, Penn's emergency departments started implementing "warm handoffs" where people who've overdosed can be transferred directly to treatment centers, with the help of drugs like buprenorphine to ward off symptoms of withdrawal. While the medication-assisted treatment is recommended by the CDC in its report, it wasn't an easy adjustment for the ER doctors.
Perrone explained that because only she is able to write prescriptions for patients to go home with buprenorphine, other clinicians were wary of ordering doses of the drugs for patients while they are in the ER — even though that's allowed. In essence, cutting through the red tape constituted a bit of a culture shift.
"I think the biggest stumbling block we had was to go through all the regulations around it and make sure that we were legally able to provide what is highly regulated in terms of treatment options," said Perrone.
According to Philadelphia's Department of Behavioral Health website, Penn's Presbyterian Hospital, where Perrone works, has the only emergency department in their consortium that offers the medication-assisted treatment. The practice has been endorsed by Pennsylvania Gov. Tom Wolf, who recently waived regulatory requirements, allowing clinicians to administer medication-assisted treatments immediately instead of waiting for certain authorizations.
The data from the CDC report go through September; Perrone said it's too soon to tell how the new efforts in her emergency department will affect overdose visits.
The report drew from emergency department data provided by 45 states.