Efforts to tear down `imminently dangerous' buildings get a $2m budget lift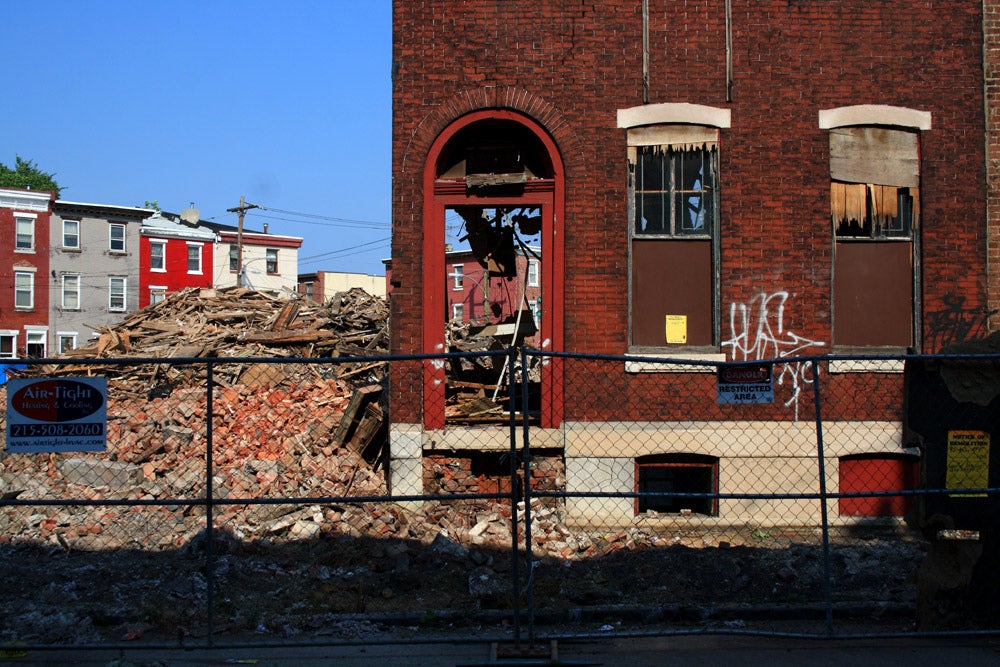 In the recently approved city budget, Mayor Jim Kenney secured $2 million to accelerate demolition of vacant buildings the Department of Licenses and Inspections considers dangerous.
Philadelphia suffers persistent problems with abandoned and dilapidated structures, the legacy of population loss, poverty, and racial discrimination. Licenses and Inspections is tasked with monitoring the state of the building stock and demolishing those structures that have been deemed a threat to safety.
L& I needs the $2 million boost to work through a backlog of buildings considered "imminently dangerous," according to Commissioner Dave Perri.
"The numbers spiked after the Great Recession, but there was a backlog even before that because of decades of disinvestment in the city," said Perri. "Philly went through five decades of disinvestment and decay. All our efforts previously worked on what was there, but never eliminated the accumulation of dangerous buildings as they became abandoned by owners and left to the ravages of time and nature.
Currently, Perri said, there are 4,555 buildings in Philadelphia considered "unsafe," a designation that does not necessitate demolition and still leaves open the option of repair and reinvestment. One hundred ninety-two buildings are designated "imminently dangerous" — the agency wants to demolish them as soon as possible.
Those numbers don't tell the full story, however. Every year, 2,000 buildings are added to the unsafe and "imminently dangerous" lists. Those additions are based upon on-the-ground inspection reports and an annual aerial survey in which L&I searches the city for buildings that have holes in their roofs or are covered by telltale blue tarps.
Half of those are dealt with by demolition through L&I, which almost exclusively targets abandoned buildings, or through private parties such as developers. The other half are repaired at the owners' expense under pressure from Licenses & Inspections.
Right now, roughly as many buildings are added to the list each year as are removed. With the new funding, Perri said, his department can tackle 117 additional demolitions a year, on top of the 500 to 550 it is already handling, with the hope of ensuring that by 2020 there will be no backlog of imminently dangerous buildings.
Buildings considered imminently dangerous can pose a threat to the public or to workers who have to enter them. Just last month, a man was killed while working on a hand-demolition project in an imminently dangerous vacant building in Brewerytown.
Still, the demolition campaign is not without controversy. Philadelphia is America's only "World Heritage City," and much of that designation hinges on the historic buildings and unique built environment here.
Many iconic structures are in need of investment and could land on the list of unsafe buildings — as the former St. Laurentius church in Fishtown has. And neighbors of such buildings often express skepticism about L&I's methods of determining whether a structure with emotional resonance for the community is really a danger.
"An inspector with limited knowledge of historic construction methods can decide that a loose spire on a neighborhood church or falling bricks from an old factory requires demolition of an entire building complex," said Oscar Beisert, one of the city's leading historic preservationists. "You'd think the erosion of affordable housing, the dangers associated with demolition, and the current historic-preservation crisis would lead to funds for repair and stabilization."
The "imminently dangerous" buildings L&I targets for demolition are identified by building inspectors, and then the agency analyzes how long the building has been vacant, the height of the building in contrast to its neighbors, and its proximity to vulnerable sites such as bus stops or schools. Based on that total picture, a determination about demolition is made.
"We are very sensitive to the fact that the historic fabric of the city is the culture resource of the city, the city's identity," said Perri. "We put a lot of effort into not forcing demolition when it comes to historic properties, but the bottom line is we are the front line of deciding what is dangerous and what can be safely occupied. At the end of the day, we have to always fall on the side of public safety."
As an alternative to demolition, Perri said, L&I tries to identify historic buildings that are in a state of disrepair, issues "demolition by neglect" violations against the owners, and then pursues them in court. The agency recently combed through its list of unsafe and imminently dangerous buildings and reissued "demolition by neglect" violations for all the historic properties on the list.
Beisert said he worries about the demolition campaign's more prosaic targets, too. Rowhouses are developed in, well, rows, and they are constructed to stand as a block.
"While blight is a problem, the demolition of buildings in blocks that are otherwise intact can have a negative impact on the row," said Beisert. "Is demolition really the best option for solving this problem? [What about] stabilization, at least for select neighborhood assets and otherwise intact rows?"
Perri agreed that the nature of the city's housing stock — more than 50 percent of it is rowhouses — makes demolition of vacant homes enormously complicated. After L&I demolishes a rowhouse, the agency applies stucco to the exterior walls of the neighboring homes and drains the property in such a way that water flows away from the foundations.
"When we have to take down a rowhouse in the middle of a block … it weakens the entire block," said Perri. "It's never an optimal solution to take down a building and leave a gap in the middle of a row of properties. It just makes the entire row more susceptible to the ravages of time."
The city has an array of programs to help low-income homeowners repair their houses, but once a building is vacant, there isn't much the city does to preserve existing structures. And once an abandoned building sits for too long, especially in a heavily populated area, municipal authorities such as Perri feel they don't have a lot of options.
Spring and early summer are considered the seasons in which building collapses become most common, after the freeze-thaw cycles of winter have damaged derelict structures. When there is an unusually wet and cold winter, as Philadelphia has just had, the danger is increased. So Perri wants to put that new money to use pursuing additional demolitions as soon as possible.
WHYY is your source for fact-based, in-depth journalism and information. As a nonprofit organization, we rely on financial support from readers like you. Please give today.