Dumb Republican white man of the week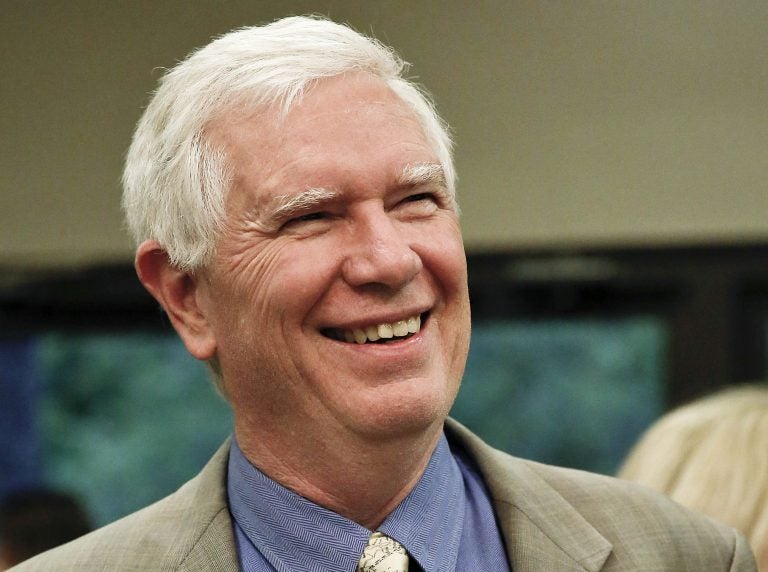 Given the current stupidity epidemic in Washington – the symptoms are manifested most often by the toddler at the top – it's no easy feat to win notoriety as the dumbest box of rocks. But this week, we need to put our hands together for House Republican Mo Brooks.
Nor is it an easy feat to come off as the densest member of the anti-science party, but this gent from Alabama won the award this week. Every so often we need to remind ourselves that despite the global scientific consensus about the human-driven climate change crisis – most notably, the rising seas that are imperiling our coastal communities and military bases – we're still plagued with a plethora of flat-earth Republicans, like Brooks, who are fouling the discourse on the taxpayers' dime.
Brooks is a member of the House Committee on Science, Space, and Technology. On Wednesday, the panel conducted a climate change hearing that featured a lengthy discussion about the rising seas. The timing seemed urgent, because just two months ago, in a new report based on satellite data, the National Academy of Sciences that attributes accelerated sea-level rise to climate change.
That's no surprise, of course; the scientific consensus has been obvious for years. For instance, a 2014 Pentagon report, based on the best science stats, warned: "As greenhouse gas emissions increase, sea levels are rising." NASA states on its website, "Sea level rise is caused primarily by two factors related to global warming: the added water from melting ice sheets and glaciers and the expansion of seawater as it warms." And Philip Duffy, president of the Woods Hole Research Center and a former senior-adviser to the U.S. Global Change Research Program, told the House committee Wednesday that "the last 100-year increase in sea-level rise has been clearly attributed to human activities, greenhouse emissions."
But facts don't matter to those who prefer magical thinking. Mo Brooks interrupted Duffy to float his own idea about those rising seas. Basically, he said the water is getting higher because the ocean floor is getting higher. I kid you not. His exact words:
"What about erosion? Every time you have that soil or rock, whatever it is, that is deposited into the seas, that forces the sea levels to rise because now you've got less space in those oceans because the bottom is moving up."
That sure is a lot of erosion! Where, pray tell, is it all coming from? Brooks said that it comes from the White Cliffs of Dover tumbling into the sea, plus silt washing into the sea from the Mississippi, Amazon, and Nile rivers. This was all news to Duffy, who has been tracking climate change for years and who later remarked, in reference to Brooks' theory, that he had "never heard that particular line" before.
Addressing the committee, Duffy tried to explain that the rising seas are caused by the deleterious effects of climate change, like the melting ice in Antarctica. He said, "We have satellite records clearly documenting a shrinkage of Antarctic ice sheet and an acceleration of that shrinkage."
Then came this priceless exchange:
Brooks told Duffy, "I'm sorry, but I don't know where you're getting this information, but the data I've seen suggests – "
The scientist interrupted, "The National Snow and Ice Data Center and the National Aeronautics and Space Administration."
In fairness to Brooks, he did have competition in the dumb sweepstakes. Republican Dana Rohrabacher of California complained that it's "constantly beaten into our heads" that humans' greenhouse emissions cause climate change (he prefers "different points of view"), and Republican Bill Posey of Florida (where the ocean is rising out of the storm drains to flood people's lawns) suggested that perhaps "the earth as it continues to warm is returning to its normal temperature" – which prompted Duffy to say that if the earth warms a few more degrees, "the community where I live will cease to exist."
But no, Brooks' White Cliffs of Dover Theory wins this week's trophy. Which brings to mind the wise observation voiced by the Athenian orator Demosthenes, speaking across the centuries to all flat-earth Republicans:
"Nothing is as easy as deceiving yourself, for what you wish you readily believe."
—
I'll now take this opportunity to re-post my favorite Doonsebury strip. It too is timeless. A climate change-denying troll goes to the doctor…
—
Elsewhere on Wednesday, fired Secretary of State Rex Tillerson delivered a commencement speech that tore Trump a new one. I suppose we could dismiss it as Rex's revenge, but it had the added advantage of being wise:
"If our leaders seek to conceal the truth or we as people become accepting of alternative realities that are no longer grounded in facts, then we as American citizens are on a pathway to relinquishing our freedom. This is the life of nondemocratic societies, comprised of people who are not free to seek the truth. … A responsibility of every American citizen to each other is to preserve and protect our freedom by recognizing what the truth is and is not, what a fact is and is not, and begin by holding ourselves accountable to truthfulness, and demand our pursuit of America's future be fact-based, not based on wishful thinking; not hopeful outcomes made in shallow promises; but with a clear-eyed view of the facts as they are and guided by the truth that will set us free to seek solutions to our most daunting challenges."