Don't call them 'heroes': Philly grocery store workers allege unsafe conditions
Employees at MOM's Organic Market in Center City Philadelphia say their concerns about sanitation have been ignored.
Employees at MOM's Organic Market in Center City Philadelphia say they've been forced to work without adequate protections and their concerns about sanitation have been ignored, all while being lauded by management as "heroes" for working through the coronavirus pandemic.
"We didn't sign up to be heroes, and we certainly didn't sign up to be martyrs," said employee Mariane Leon. That "implies a choice … and that we don't mind unsafe conditions."
Grocery store workers are considered "essential" employees under Pennsylvania's commercial shutdown order.
As the number of cases of COVID-19 rounds 13,000 in Pennsylvania, grocery stores working under social distancing rules have made scheduling and physical changes to stores to reduce the risk of contagion and keep workers safe. Some have begun dunking whole shopping carts into sanitation tanks, wiping down handles and checkout counters, installing plexiglass between cashiers and customers, instituting special shopping hours for at-risk clients, and in some cases, closing early.
On Monday, around ten MOM's employees from the S. 11th Street location in Philadelphia delivered a list of demands to local managers that were directed at the regional chain's top brass. While they were inside the store, cars of supporters bearing homemade signs drove by honking.
MOM's Organic Market is based in Rockville, Maryland, and employs 1,000 people across 19 stores in Pennsylvania, New Jersey, Maryland, the District of Columbia and Virginia.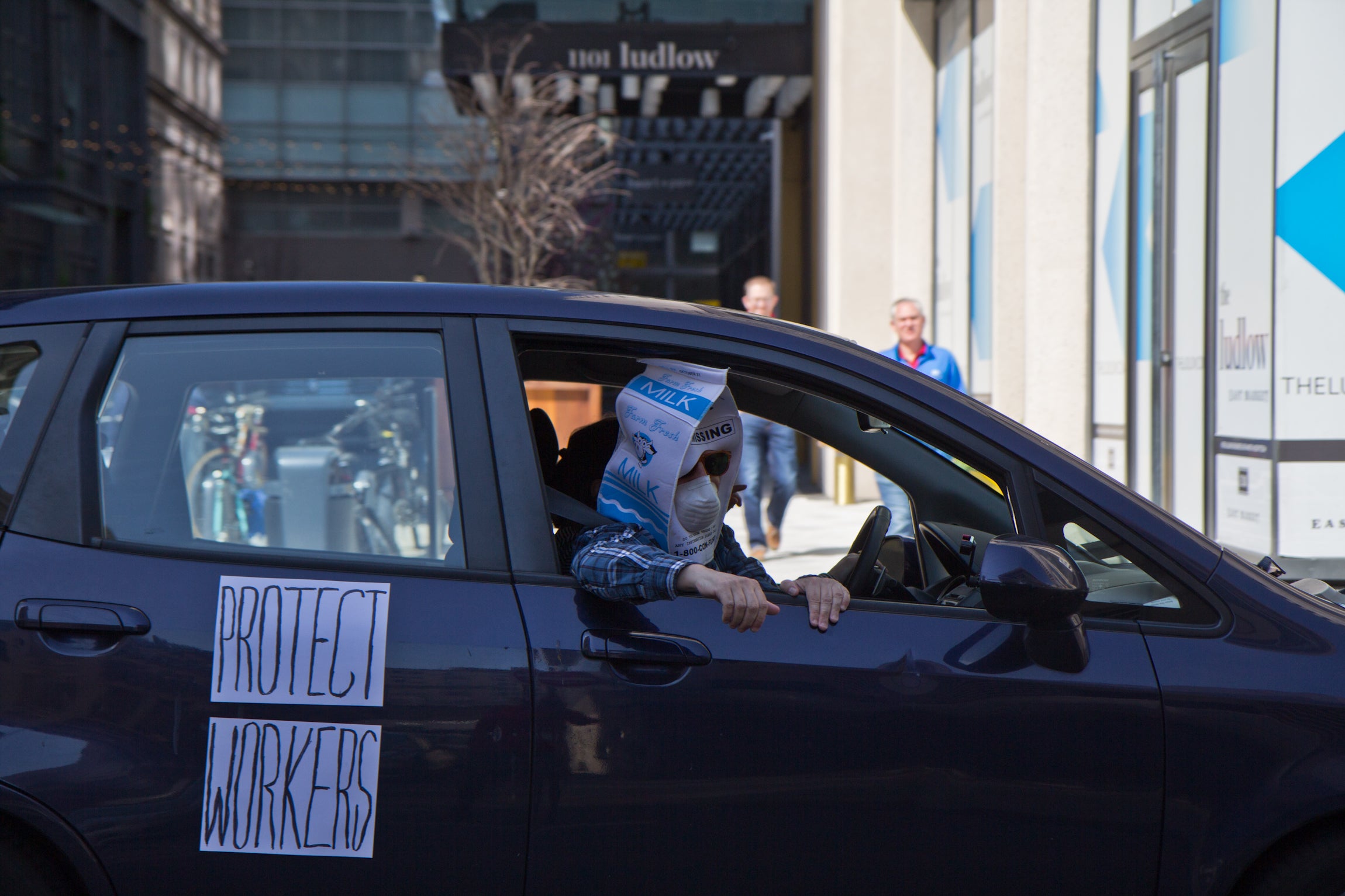 The Center City MOM's employees allege that the company has not kept up with the rest of the industry, and that working in an urban grocery store adds additional pressure and fear of infection.
"We are surrounded by apartment complexes, homeless shelters and hospitals, and we have a lot of foot traffic," said former employee Kaylee McGuffin, who said she was fired in late March for complaining about safety protocols.
The group's list of demands includes: a midday break to restock and clean, limiting the number of people in the store at a time, closing early to allow employees to get home safely without taking public transit, and instituting one hour a day when only the elderly and immunocompromised can shop, as many other grocery stores have done. At least 19 employees have signed the list.
In a statement, MOM's chief brand officer Christine Koetz shared a list of steps the company is taking across its stores to combat the spread of coronavirus. Staff now wipe down carts and high-touch areas, returns are no longer accepted and employees are receiving "thank you" bonuses of $7 per hour (employees said that's about half of what they make per hour normally) for time worked between March 11 and 21, and $4 per hour from March 22 through April 5. Plexiglass dividers have been installed at checkout counters, and will be installed soon in the alcoholic beverage sale area at the Center City location.
"We believe that MOM's has responded to the pandemic more actively and decisively than the vast majority of other grocers," wrote Koetz. "Regarding Kaylee McGuffin- MOM's is not a place that disparages past employees or reveals private information about termination. All we will say is that there is evidence to support our decision."
Some employees allege those changes came late, and do not go far enough.
After experiencing a panic attack on March 20, Leon said she has been taking unpaid leave from her job doing customer service, handling returns and ringing up customers. She said she can't afford to forgo the money, but she lives with someone who has severe asthma and can't afford to get sick either.
Before Leon left, she said, there was "definitely no social distancing. We did not have any protective gear except for gloves." On Monday, employees in the store appeared to be wearing facemasks.
Employees participating in the protest said they attempted to raise concerns internally before staging a public action.
In an email from MOM's Chief Executive Officer Scott Nash dated March 25 shared by employees, Nash said he feared limiting the number customers in the store at a time, as chains such as Trader Joe's have, would "increase anxiety levels and potentially trigger more panic buying."
"I am pessimistic about ours or anyone's ability to prevent humans from getting within 6′ of each other," he wrote, later writing, "When all this began the World Health Organization's recommendation was 3'."
In a different email, dated March 20 from Human Resources, MOM's leadership announced it would offer two weeks paid leave for anyone diagnosed with COVID-19, unlimited unpaid sick leave, and one week paid leave for any employee over 60 "if they are healthy, but feel uncomfortable coming to work."
Over the next four days, employees from various locations chimed in, replying all to companywide emails with questions about limiting flows in the store and leave for immunocompromised workers.
"It is inappropriate for you and others to be blasting all employees with your opinions and anxieties," responded Nash.
Correction: This story has been updated because of an editing error to reflect MOM's Organic Market has 19 stores.
WHYY is your source for fact-based, in-depth journalism and information. As a nonprofit organization, we rely on financial support from readers like you. Please give today.