Coronavirus update: Del. police turn out-of-staters away at border as cases shoot up 50% over weekend
Updated 5:40 pm
As of Monday evening, the state reported 783 coronavirus cases. That's 110 more than Sunday. On Monday, the state reported one more death for a total of 15 deaths.
More correctional officers diagnosed
Two more Department of Correction officers have been diagnosed with coronavirus. That brings the total number of cases in the state's prison system to seven, including three contract healthcare workers.
The latest cases include an officer assigned to the state's largest prison, James T. Vaughn Correctional Center in Smyrna. That officer's most recent shift was Thursday supervising an inmate at a local hospital. The officer self-isolated at home after experiencing flu-like symptoms on Friday.
Another officer who is assigned to the Court and Transportation Unit most recently worked at Wilmington's Howard R. Young prison on Wednesday, April 1. That officer sought medical attention for flu-like symptoms on Saturday and is now being treated at the hospital.
Others who worked in close contact with these officers are being monitored for their symptoms and have been advised on self-isolation.
"All officers, other employees and inmates in facilities where there have been COVID-19 cases among officers and contract healthcare workers are being carefully monitored for any symptoms, and DOC will immediately isolate, assess and treat any individual who demonstrates any sign of illness," DOC Commissioner Claire DeMatteis said. "We continue our aggressive prevention, screening and cleaning measures to guard against the spread of this disease."
So far, no inmate in Delaware has tested positive for COVID-19, according to the DOC.
Backup hospitals prepped
Preparations are underway at two backup hospital locations that could be used to help ease the burden of a rising tide of coronavirus patients in Delaware.
The Governor Bacon Health Center in Delaware City and A.I. duPont Hospital for Children will make space available for non-COVID 19 patients. Governor Bacon is currently the state Department of Health and Social Services' home for long-term care patients. Some of those patients will be transferred from Delaware City to the Delaware Hospital for the Chronically Ill in Smyrna.
"We are grateful to the families of the residents and the staff for understanding why we have to move the residents of Governor Bacon," DHSS Secretary Kara Odom Walker said. "Throughout this crisis, our top priority is the health and safety of our residents and also making sure that our staff who care for our residents are safe and healthy as well."
Last week, the state announced that the Governor Bacon facility was one of several long-term care facilities where an outbreak of coronavirus was happening. A staff member and a resident both tested positive for the virus.
Residents living near that sick patient will be quarantined at Governor Bacon for 14 days to be monitored for COVID-19 before moving to DHCI in Smyrna.
The move will open up 75 beds at Governor Bacon for other patients. A.I. duPont is converting its rehabilitation gym into a ward that will hold 38 beds with room for expansion. Another 24 beds will be made available as a medical intensive care unit.
The Delaware Emergency Management Agency is expected to announce backup locations in southern Delaware later this week. One option is Milford Memorial Hospital which was sold by Bayhealth last year. A portion of the building is undergoing renovations to open a short-term rehabilitation center and long-term care facility, but the remainder of the building is empty and could accept 100 beds when COVID-19 cases rise.
State of emergency rules being enforced
Delaware Attorney General Kathy Jennings issued a warning Monday to any individual or business not complying with state of emergency declarations from Gov. John Carney.
"This is a tremendously difficult time for everyone, and the only path forward is for all of us to take this seriously as a community," Jennings said. "These temporary restrictions are unprecedented, but they are necessary. Everyone's job right now is to save lives. There is no alternative.  And when people don't take these orders seriously, we must step in."
Six businesses have been issued cease and desist orders for continuing business in spite of the order to shut down. One business owner was arrested for repeat non-compliance.
Not obeying an emergency order is a misdemeanor offense punishable by a fine of $50 to $500 and up to six months in prison per infraction.
More park restrictions in northern Delaware
Last month, basketball rims were removed from backboards to keep people from congregating at New Castle County parks. Now, tennis courts, dog parks, and skate parks operated by the county will be closed.
"As the COVID-19 virus continues to spread, we must ensure our parks are not sites for social gatherings," County Executive Matt Meyer said. "We are encouraging anyone who sees gatherings at any of our parks to call the New Castle County Police Department's non-emergency number at 302.573.2800."
While walking trails and open space in the parks can still be visited all restroom facilities will be locked and port-a-potties will be removed. The county's advice? "Plan accordingly."
Out-of-state drivers stopped
State police stopped more than 500 out-of-state vehicles over the weekend at six checkpoints in Sussex County and informed drivers that non-residents are not welcome in Delaware unless they have essential business such as work, accessing medical care or caring for a loved one.
The checkpoints, which also were conducted Friday near Claymont at a shopping center that includes a Home Depot and sprawling liquor store, come as Delaware is experiencing a surge in COVID-19 cases and bracing for even more positive test results.
Over the weekend, public health officials reported 223 new cases, raising the total statewide to 673. That represented a 50% increase since Friday.
On Sunday, 101 people were hospitalized, 25 in critical condition. Fourteen Delawareans have died, including eight associated with long-term care facilities.
The Division of Public Health will provide an update Monday afternoon about the situation in Delaware, which on Sunday joined neighbors Pennsylvania and New Jersey as one of the states President Trump has declared a "major disaster'' area eligible for direct federal aid to combat coronavirus.
Those who do come into Delaware have been ordered to self-quarantine for 14 days or turn around and go home by Gov. John Carney's State of Emergency order, which also gives police authority to stop any vehicle with out-of-state tags.
Police said the traffic stops conducted Friday through Sunday were non-confrontational and no one was issued a criminal citation.
The state police are conducting the stops to thwart out-of-staters who come just patronize Delaware stores and to "make sure we have risks limited for our residents,'' state social services secretary Dr. Kara Odom Walker said Monday morning.
Speaking on WHYY's "Radio Times," Walker said the state is dead serious about residents maintaining the recommended six-foot distance from others while shopping or exercising.
"More than anything we're telling everybody to act as though you have it and act as though you will spread it,'' she said.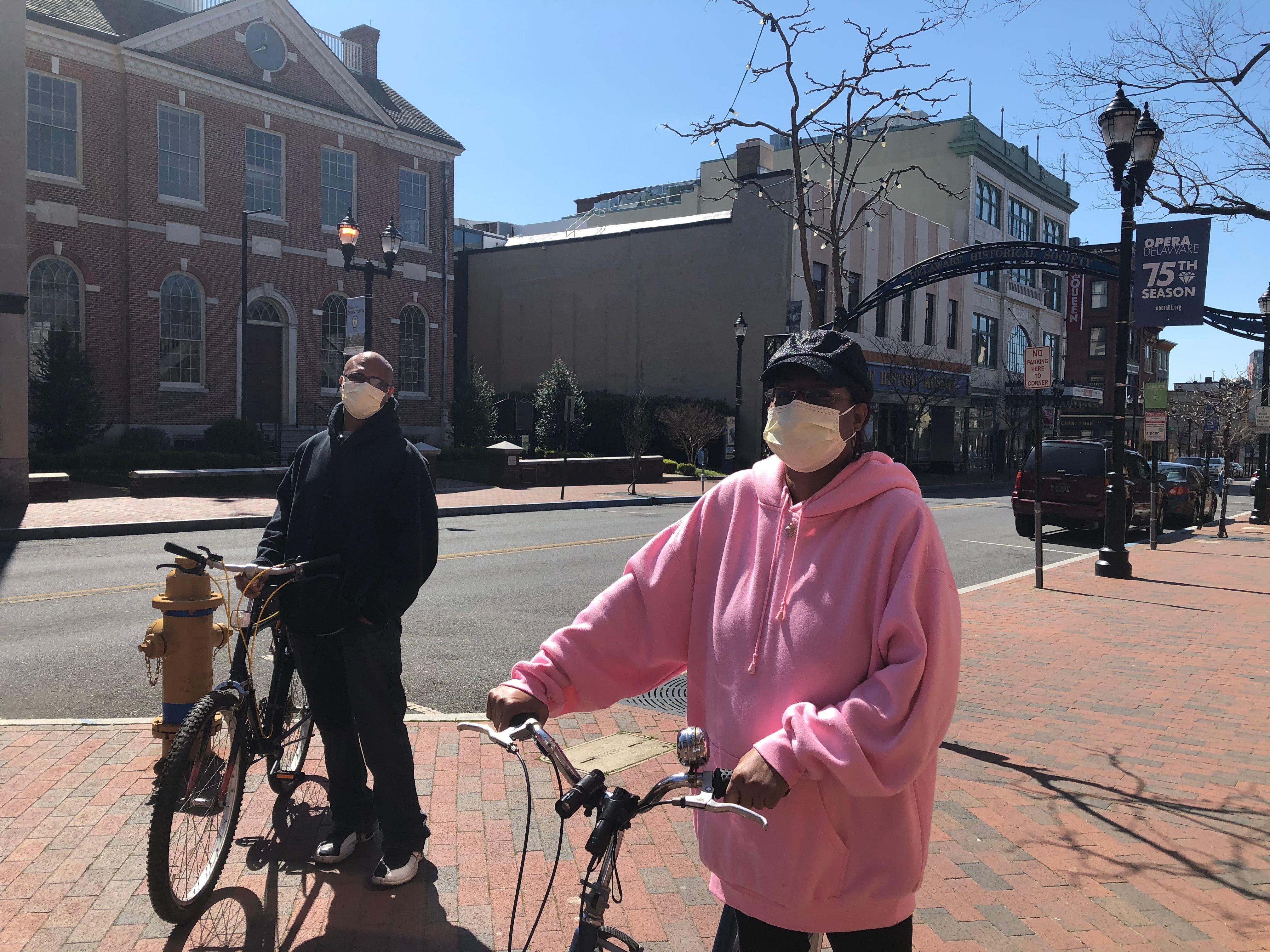 Keith and Cheryl Daniels were keeping their distance and wearing protective masks Monday morning while taking advantage of the sunny weather by bicycling along Market Street.''
"We're just getting exercise," Keith Daniels, a construction worker, said of himself and his wife, who is a nurse. "It's crazy. You know, everybody's life is on the line."
Delaware prisons are also feeling the impact, as two correctional officers at the James T. Vaughn Correctional Center near Smyrna tested positive last week for COVID-19.
In addition, correction officials announced Sunday that two behavioral health workers have the virus. One worked at Vaughn, the state's largest prison for men, and was last in the facility on March 26. The other worked at Howard R. Young Correctional Institution in Wilmington and last worked Wednesday.
Prison employees who worked in close contact with those two workers "are being given guidance on self-isolation,'' deputy bureau chief of prisons Paul G. Shavack said.
No one who is incarcerated has tested positive, officials said.