Dog of the Week: Dutchess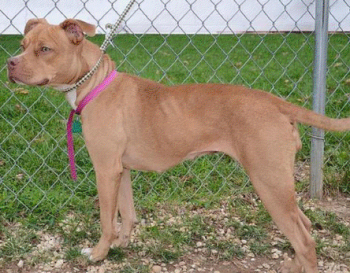 Meet Dutchess (A14041533), she's a 9-month-old pit mix who has beautiful eyes and a sad expression on her face.
She is pretty thin and will need some TLC to help fatten her up. Sweet Dutchess was surrendered for adoption because her owners were moving. Dutchess doesn't seem to have ever been around other animals. She was very nervous and looked to avoid them. She would love to meet you and your family. Please bring your resident dog and any children under 10 to meet her today.
These animals are located at Philadelphia's animal control shelter, ACCT. They need immediate adoption or foster care. ACCT is located at 111 W Hunting Park Ave and is open 365 days a year. Adoption hours are Monday-Friday; 1pm-8pm; Saturday and Sunday; 10am-5pm. To check the status of an animal, call 267-385-3800. Please visit the PSPCA websitefor more information. Don't forget to check out the weekly Animal Care & Control event at the Petsmart in Haldeman Plaza, where you can learn more about adoption and foster care, and meet some animals who need a good home. Check in every week with NEast Philly to see the cat and dog of the week.