Dialing in a big SEPTA problem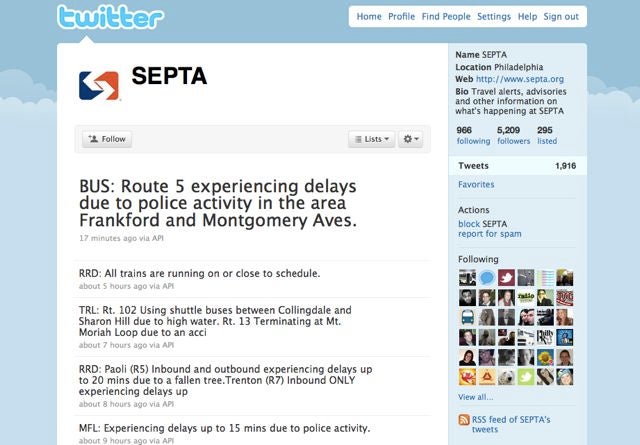 May 3, 2010
By Anthony Campisi
For PlanPhilly
SEPTA has worked hard over the past few years to re-brand itself as a customer-friendly transit agency.
Riders can now get live service updates on Twitter. They can e-mail questions to SEPTA. They can even live-chat with SEPTA employees on the authority's brand-new website.
For all these technological advances, right now the agency is having problems with the basics.
A PlanPhilly review found that riders still have trouble getting information the old-fashioned way: calling SEPTA's customer service phone number.
PlanPhilly called SEPTA's customer service line 50 times between March 8 and March 17. Forty percent of those calls failed to connect with a SEPTA customer service agent.
Though all 50 calls successfully got through to SEPTA's automated customer service menu — which provides access to scheduling and employee directory information — calls were dropped when they were being transferred to a customer service agent, leading to either busy signals or a click as the automated call system hung up.
Calls were made March 8, March 9, March 11, March 12 and March 17. Ten calls were made between 8:30 a.m. and 8 p.m. each day. In an interview, SEPTA officials acknowledged the spotty service and said that a series of technology upgrades should help resolve the problem.
Kim Scott Heinle, assistant general manager for customer service, said the line has two problems. First, riders get busy signals calling the customer service line — an issue the PlanPhilly review didn't encounter. They also get dropped as the system's integrated voice recognition, or IVR, system transfers the call to an agent.
He chalked both issues up to a lack of call capacity caused by antiquated computer systems and said both problems were more pronounced during morning and afternoon rush hours, when more people use the system.
Mike Monastero, of SEPTA's engineering department, said that the authority's IVR system, which handles the first part of the process, is 15 to 20 years old. It simply can't handle the number of people who call into the main customer service line and who then want to talk to an agent.
The new IVR should have more "trunk capacity," Heinle said, which will eliminate the dropped-call problem and also allow more people to access the automated menu at any one time.
The upgraded system will work much like IVRs in place at credit card and utility companies. If all customer service agents are busy, it will send callers to a virtual queue and give them an estimate of how long they will have to wait in line before they can talk to an agent.
The new system will also be designed to provide riders with better automated options to decrease the number of people who want to be connected to an agent — though Heinle said that a small group of mostly older people will always opt for a real person.
SEPTA expects the new IVR to be up and running by the summer.
The system won't actually reduce wait times, however, and callers could be forced to wait in long lines before being connected with an agent. Heinle said the long wait won't be caused by a staffing issue but by technological problems in transferring and processing calls.
SEPTA has about 50 agents, about half of whom are manning the phones during peak periods.
Heinle and Monastero hope upgrades to the line's automated call distribution, or ACD, system — which routes calls from the automated menu to customer service agents — will alleviate the call processing problem. SEPTA plans on issuing a request for proposals for a new ACD system next month and wants to have it installed by next Christmas, Monastero said.
Though SEPTA believes these two upgrades will reduce the number of dropped calls, it's difficult to quantify the scope of the current problem and the improvement riders will see with the new systems.
So-called "busy studies" are used to determine the number of busy signals customer service lines generate. Monastero said that SEPTA's last busy study on its line was done a long time ago and is out of date. Another busy study will be run after the upgrades.
What is clear is that riders rely on the customer service line as one of their key lines of communication to SEPTA. In March, about 500,000 people called the line, according to SEPTA spokeswoman Jerri Williams. More than 2 million people contact the transit agency each month, on average, including through the Internet and by talking to customer service agents at stations. These upgrades are part of a larger SEPTA strategy to improve communications with customers.
Along those lines, SEPTA is planning on extending the hours it hosts live chats on its website, which allow riders to talk to a customer service agent in real-time. The service, which targets computer-savvy young professionals, has been operating from 10 a.m. to 4 p.m. Starting May 3, it will operate on the same hours the customer service line is open: 6 a.m. to 8 p.m. weekdays and 8 a.m. to 6 p.m. on weekends.
Heinle said SEPTA has been pleased with the service, which has attracted between 75 and 85 riders a week. He hopes the expanded hours will increaseusage.
Contact the reporter at campisi.anthony@gmail.com