DesignPhiladelphia Picks: October 10-18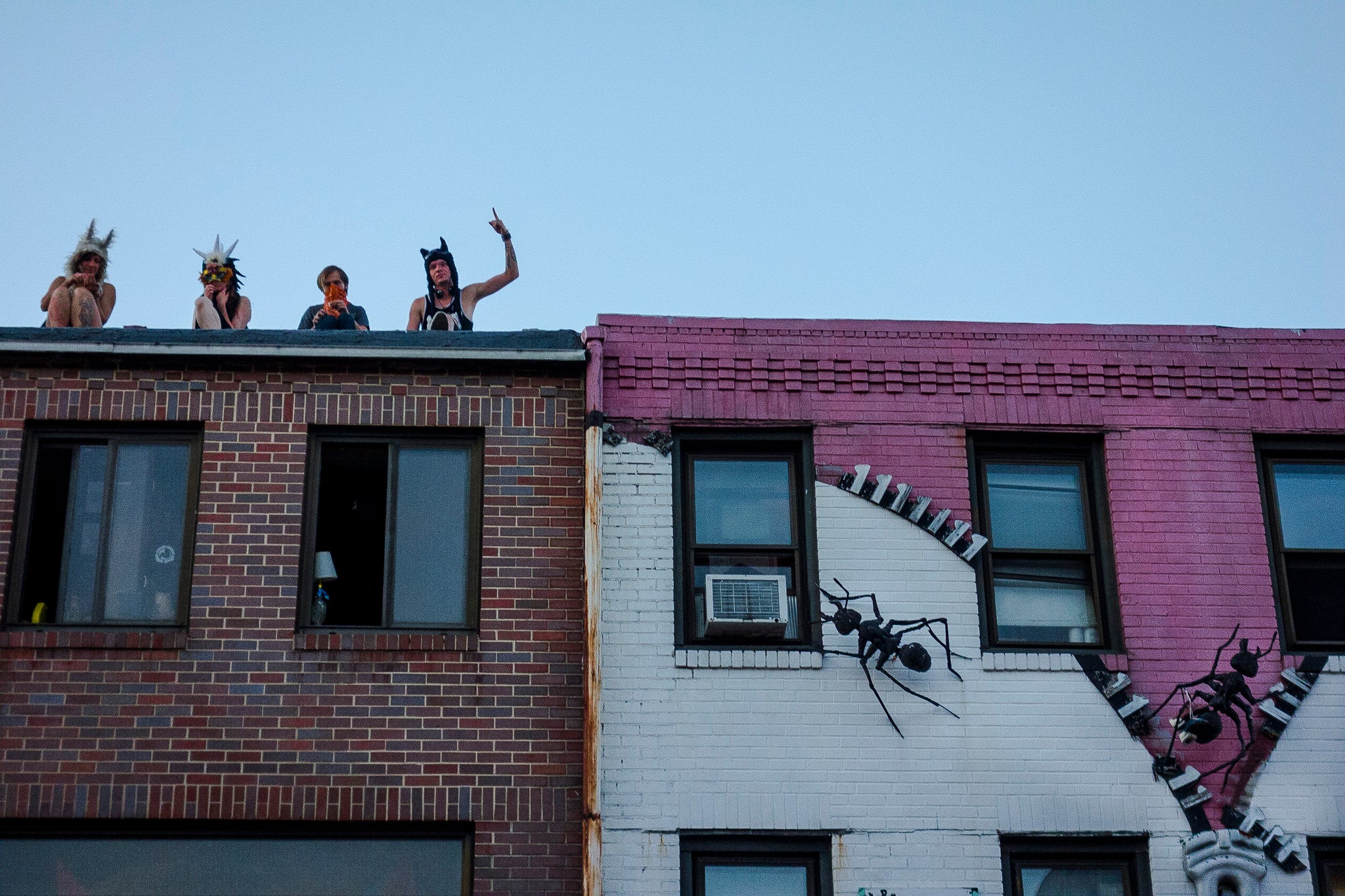 The 9th annual DesignPhiladelphia Festival is back with more than 100 events centered around this year's EXPERIENCEdesign! theme. The weeklong festival will offer opportunities to see, touch, smell, hear and feel the design that makes Philadelphia the unique, charming and often equally bizarre city that it is.
With so many events to chose from – exhibitions, lectures, public forums, parties, workshops and more – it might be overwhelming to find the event that's right for you. With that in mind, I've perused the DesignPhiladelphia program and picked out some events that seem best suited to the urbanist, design savvy planners and thinkers.
Enjoy!
PARTICIPATE
AIGA Philadelphia Found Design Scavenger Hunt
Thursday, October 10 – Friday, October 18. 8am – 11pm. Various locations. Throughout the festival, AIGA Philadelphia invites participants to take photos of found design in Philadelphia and share the photos on Instagram using the hashtag #designphlhunt. Each day will focus on a different discipline ranging from typography to street art, signage and architecture, and prizes will be awarded based on the best-curated collections of found design. A calendar of the daily design categories judges will look for is available online.
Friday, October 11, 12pm – 5pm & 7pm – 9pm. Silicon Gallery, 139 North 3rd St. Have your photo taken at Silicon Gallery and the Silicon Fine Art Prints crew will blend your black and white image into a giant design pasted on the exterior of the building. The installation is inspired by the former Delaware River islands across from Old City and will combine local history with modern-day Philadelphians.
BIKE
Wednesday, October 16. 6pm – 8pm. Shake Shack. 2000 Sansom Street. SHIFT_DESIGN and Shake Shack are teaming up to unveil a new bike parking fixture at Shake Shack's 20th and Sansom home.
Saturday, October 12. Noon. Meet at Bridgewaters Pub, 30th Street Station, South Concourse. Philadelphia's thriving bike culture would not be possible if it weren't for the many bike shops that supply and keep it running. As part of the festival, this 12-mile bike ride will roll through Center City, West and South Philly and Northern Liberties and stop by many of the city's favorite bike shops. Riders will observe how owners, staff and customers move through these bikespaces, each of which sells, repairs and stores bikes, parts and accessories in its own unique way.
SHOWCASE
Eating Architecture, A Conversation with Paulette Singley + Jamie Horwitz
Thursday, October 10. 2:30pm – 4pm. Temple University Paley Library. 1210 West Berks Street. The environments in which we prepare, produce and consume food reflect and affect those processes. This library lecture examines the interplay between food and design and is fed by the twenty original essays in Singley and Horwitz's book Eating Architecture. The authors will also discuss the newest developments in the design and architectural analysis of eating spaces.
Lots of Power, Community Showcase
Friday, October 11. 6pm – 9pm. AIGA Philadelphia Space. 72 North 2nd Street. An initiative of Clean Currents, Lots of Power is a mentorship program that has brought high-school-age teens and creative professionals together to find ways to use vacant lots in Kensington. Of the six teams, two have been awarded grants to complete their projects. On October 11, guests are invited to celebrate the teams and learn more about each of the projects.
Infill Philadelphia: Soak It Up! Exhibition
Tuesday, October 15. 5pm – 7pm. Philadelphia City Hall. Broad and Market streets, northeast corner visitor's entrance. Teams sponsored by the Philadelphia Water Department, U.S. Environmental Protection Agency and Community Design Collaborative have been working to envision and explore green tools for Philadelphia stormwater management as part of the Infill Philadelphia: Soak It Up! series. Beginning October 15 the teams will share their urban water management innovations and their ideas' potential to revitalize Philadelphia's neighborhoods at a City Hall-based exhibit.
GRAY AREA Preservation Provocateurs: Post Preservation?
Wednesday, October 16. 6pm – 8pm. Hamilton Hall, University of the Arts, 320 South Broad Street. Is preservation detrimental to the modern day urban environments? That's what the Cronocaos exhibit posited. At this event, Shohei Shingematsu, architect and curator of the exhibit, will explore that question in greater detail using diverse responses to historic preservation. GRAY AREA is an ongoing experiment in historic preservation, a public dialogue and study that pushes beyond preservation orthodoxy and could be used in Philadelphia and beyond. Space is limited to 150. Registration required.
PHILLY GREEN: Exemplary Sustainable Architecture, Urban Planning & Design
Thursday, October 17. 5pm – 7pm. Philadelphia Center for Architecture, 1281 Arch Street. Want to experience an array of trend-setting architectural, landscape, commercial, residential and civic designs all at once? The opening reception of PHILLY GREEN is for you. The showcase includes designs produced today by Philadelphia area-firms leading the way to a more sustainable built environment, and the event includes light refreshments, music and an opportunity to meet many of the green masterminds.
TOUR
Thursday, October 10 – Friday, October 18. Various times and locations. The stories of Philadelphia's preeminent collection of outdoor sculptures come to life on this Association for Public Art audio tour. Listen to audio programs for artwork at 30 recently-added sculptures around City Hall, in Rittenhouse Square and in West Fairmount Park. Download the audio app for iPhone and Android, and access the Museum Without Walls map online or at the Horticultural Center or Fairmount Park Welcome Center.
Making Spaces, Open House at Drexel's URBN Center
Thursday, October 10. 6pm – 9pm. 3501 Market Street. Come see Drexel University's new, 14,000 square foot design facility, The URBN Center, which houses the latest state-of-the-art fabrication technologies, a motion capture studio and adaptable design studios. The night will include tours and equipment demos. Free. RSVP to Lisa Visco, 215-895-1029 or visco@drexel.edu
Vernacular Architecture, A Trolley Tour of Philadelphia's Historic Rowhomes
Saturday, October 12. 11am – 2pm. 126 Elfreth's Alley. This trolley tour will explore the lineage of the Philadelphia rowhome, from the eighteenth century to the present day. Tour stops include Elfreth's Alley, Spruce Street's Portico Row, Rittenhouse East and North Philadelphia. The tour will conclude with a visit to Temple Contemporary's Funeral for a Home exhibit, which examines the history of vernacular architecture. Free, but limited to 30 participants. Register online.
Passyunk Square Civic Association Annual Home Tour
Saturday, October 12. 12 pm – 4pm. East Passyunk Ave & Tasker Street. Get a glimpse of the various home architectural designs and creative decorating in the Passyunk Square District on this self-guided walking tour and open house. Cost: $20 in advance, $25 day of event.