'Deprivatization is feasible,' says economic study of returning Delco prison to county control
CGL Cos.' financial feasibility assessment concludes deprivatizing George W. Hill Correctional Facility could reduce costs to Delaware County taxpayers.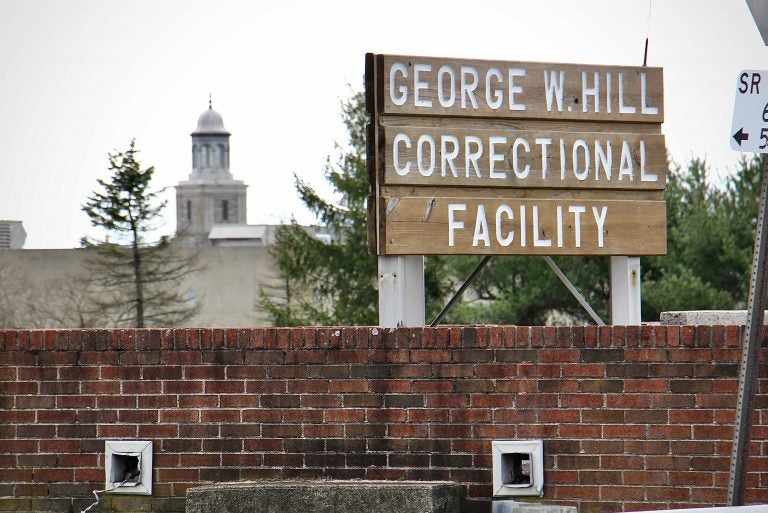 As Delaware County continues to move forward with its effort to deprivatize the George W. Hill Correctional Facility, a long-awaited financial feasibility study was presented Thursday to the county's Jail Oversight Board. The goal of the assessment was to compare the potential costs of deprivatization with the status quo.
"We believe the evidence clearly demonstrates deprivatization is feasible, and the initiative will not place the county at significant financial risk and, in fact, has the potential to reduce current costs," Karl Becker, senior vice president of CGL Cos., told the board.
CGL, a Florida-based facilities services company, was tapped to be the transition team behind the county's deprivatization effort and conducted the financial assessment over the past few months. Alta Management is serving as owner's representative, leading the overall effort on the county's behalf.
George W. Hill is the only privately managed county prison in Pennsylvania. GEO Group, a for-profit company, currently manages the facility under a $259 million contract signed in 2018.
The prison has been a magnet for controversy in recent years — most notably for allegations of its mistreatment of both incarcerated people and staff. Deprivatizing the prison was one of the main campaign promises of the new all-Democratic County Council that took office in 2020.
The financial analysis evaluated several aspects of deprivatization, such as staffing patterns, potential litigation, operational costs, and incarcerated population.
CGL's report identified several key points that must be addressed, including a new collective bargaining agreement with prison staff, possible litigation costs, and investment into prison health, food, and human resources services.
The cost of the prison to the county in 2020 was about $48.6 million. Of that total, $46.7 million went to GEO Group, after contractual deductions for staffing penalties and maintenance in addition to the deductions made because of a greatly decreased population due to COVID-19.
To make its financial comparison, CGL developed a projection of baseline costs under full prison capacity. Using the projections, CGL was able to create three scenarios of county management.
Scenario One contained similar staffing levels and an operating approach as currently constructed, along with salary increases for staff. The second scenario makes two changes to the first: a higher investment in recidivism programs and a reduction in staff. The third scenario assumes the conditions of the second scenario with a catch — the prison population stays at low levels.
According to CGL, each of these scenarios would be cheaper than GEO Group's maintaining private control of the prison at full capacity with its base contract.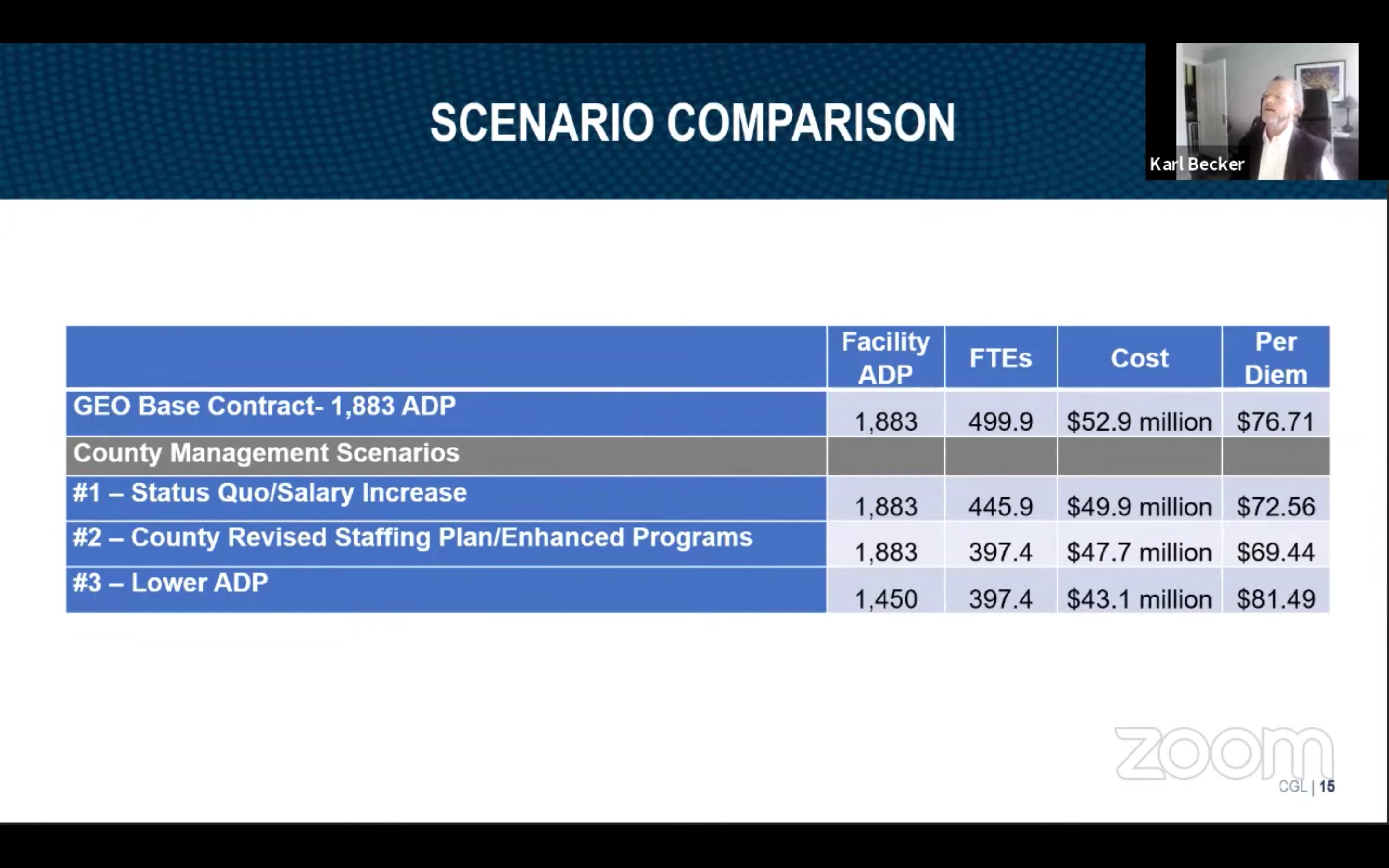 "There are also significant costs to the county in the transition in support of the facility. So many of these are one-time in nature, but some will require long-term investment in county government infrastructure," Becker said.
County Councilman Kevin Madden, who chairs the Jail Oversight Board, said he didn't know what to expect ahead of Thursday's presentation. But he said the conclusion of the financial assessment is quite clear.
"I think what it says is that deprivatization is certainly financially feasible. And beyond that, it may actually be a pretty significant saving to the taxpayers of Delaware County," Madden said.
Becker stressed during the presentation that this financial feasibility study is just one of the many things the county must consider as it makes its decision.
"This report makes no recommendation whether the county deprivatizes or not. There's other significant issues, such as public safety, accountability, facility operations, that all have to be addressed, and how you look at the issue of deprivatization," Becker said during the presentation.
Madden said that the main factor to be weighed in the decision is the safety of both the incarcerated people and staff of the facility.
If Delco looks to pursue deprivatization, CGL says the county has to make investments in the health, food, and commissary services within the prison.
"Now, that said, these issues are not unique to Delaware County. There's very few privatized county jails in the United States, and the vast majority of counties successfully address these issues as they manage their own jail systems," Becker said.
The next step in the proposed timeline is developing requests for proposals from food, medical, and commissary sources. That could happen as early as this month.
If the county decides to go forward with deprivatization, GEO Group would receive a notice of termination in August. Under this timeline, the county would assume partial control of the prison in the fall and complete control by March 2022.
"There's a lot to be done here. I don't want to minimize the task at hand: The county would be hiring some 400-plus new people, we'd have to provide benefits, we would have to make sure all the various services are being taken care of, all done in a smooth, safe way, considering you're talking about a jail," Madden said.
A spokesperson for GEO Group told WHYY News that it was prohibited from taking part in Thursday's Jail Oversight Board meeting, although it received the identical presentation in a private session on Wednesday.
GEO Group did, however, release a statement in the form of a public comment. The statement mostly challenged the findings of the financial report, citing "serious concerns" that the recommendations, if followed, would "jeopardize the safety of inmates and staff."
The statement went on to say that "the devil is in the details." GEO Group pointed to job cuts and costs.
GEO plans on presenting information at the next Jail Oversight Board meeting, scheduled for April 13.
Madden said he was not surprised by GEO's opposition to the feasibility assessment, describing the company as making money "hands over fist."
"They have not been shy with canvassing Delaware County with their marketing and their position. I wish they would spend some of that money that they're putting into a public marketing campaign …toward their staff, perhaps we would have less turnover issues and less issues with security, but they're free to do what they want to do as a for-profit entity," he said.
Ultimately, Madden said he believes that moving money away from GEO Group and into recidivism and health programs for residents is "money well spent."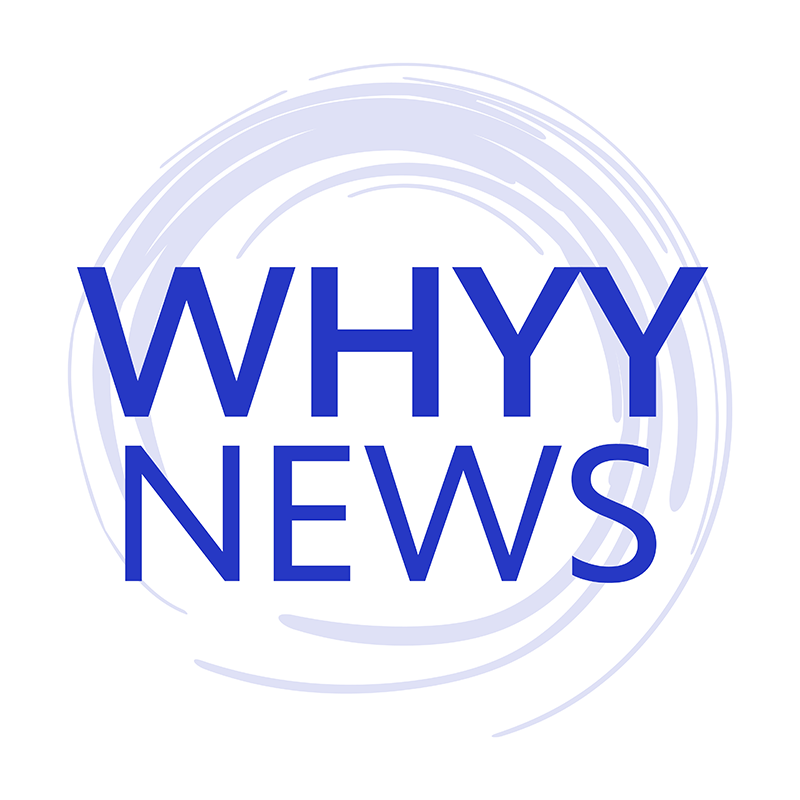 Get daily updates from WHYY News!
WHYY is your source for fact-based, in-depth journalism and information. As a nonprofit organization, we rely on financial support from readers like you. Please give today.