'Deplorable' conditions at Philly high school caused by rushed construction, report says
An investigation found that the School District of Philadelphia cut corners on a flagship construction project at one of its high schools.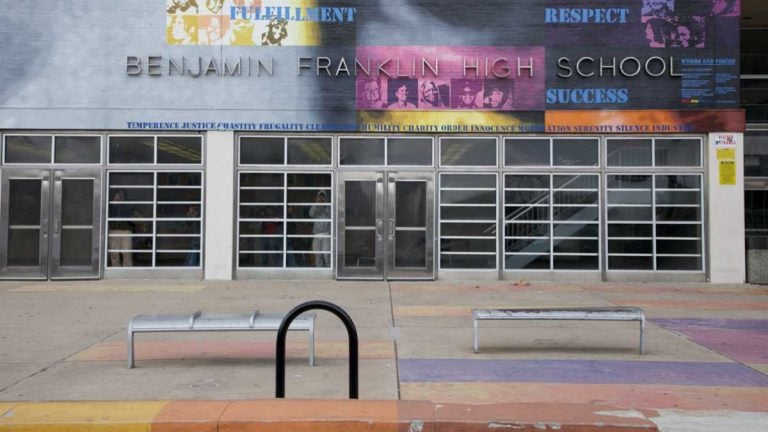 The School District of Philadelphia's botched attempt to renovate one of its high schools in 2018-19 created dangerous conditions for students and staff, according to an inspector general's investigation released Wednesday.
An artificially compressed construction timeline — triggered by an expiring lease at another district high school — led officials to ignore warning signs, run up costs, and ultimately create hazardous circumstances, according to the Office of the Inspector General, an independent branch inside the school district.
"Alarm bells were sounded by many witnesses before and during the work on this project," the investigation concluded. "Nevertheless, the warnings went largely unheard or unappreciated. There was no other alternative than getting the job done on time."
The investigation comes about a year after WHYY reported a mysterious construction delay at Benjamin Franklin High School, located a short walk from the school district's Center City headquarters.
For over a year, workers renovated the six-story structure so that another high school, Science Leadership Academy (SLA), could move into unused space. Science Leadership Academy had, to that point, rented space in a nearby building, an arrangement that cost millions.
District officials initially pegged the delay on malfunctioning elevators, but it quickly became apparent that the issues were far broader and more serious.
Soon after, Benjamin Franklin and SLA staff complained publicly of dusty, dangerous conditions inside the school. Those complaints led to further inspections, which revealed exposed asbestos inside the school.
The school district then removed staff and students from the building, and — after a contentious debate — relocated them temporarily to separate buildings around the city. Students returned in mid-February, nearly six months into the school year. But that was after they'd been exposed to "deplorable conditions," according to the investigation.
The project eventually cost the cash-strapped school district over $50 million, five times what it had initially budgeted.
Projected cost savings, however, were at the heart of the breakdown, the investigation found.
Following a district-wide imperative to save money on rental costs, the School Reform Commission — which preceded the current Board of Education — decided to terminate its lease at the building that once housed SLA.
That termination created intense pressure to move SLA into the Benjamin Franklin building, which in turn caused the district to bypass many of the protocols it would normally use in construction projects of this magnitude, the report concluded. The district also failed to create any sort of contingency plan despite the shortened timeline.
"A common theme throughout this investigation was that this particular project was seemingly
the exception to so many rules the District had typically followed in the past for construction work," the report found.
Among the critical mistakes was the school district's decision to keep Benjamin Franklin High School open during the 2018-19 school year, while renovations were ongoing. That created "intolerable" conditions for students and staff, investigators said.
At one point, according to the report, several staffers got sick and two were rushed to the hospital with illnesses that they felt stemmed from the construction project.
"Teachers, students, and staff were left in an environment inundated with noise, frequently soiled with dust and construction debris, and were then asked to teach or learn in that same environment," according to the report.
The Office of the Inspector General recommended that the school district hire an outside construction management firm to oversee major projects in the future. It also urged the school district to beef up its Office of Environmental Management and Services, and do more direct hiring instead of relying on a "consultant-based patchwork" to do jobs that could be done by long-term central office staff.
School board president Joyce Wilkerson — who was also on the School Reform Commission when it terminated SLA's building lease — apologized again Wednesday for the district's missteps during this construction project.
"The report's findings are deeply problematic," Wilkerson said.
"The Board deeply regrets students, teachers, and staff at Benjamin Franklin High School having to endure a year of school learning in the conditions described in the report," she added.
Superintendent William Hite acknowledged that the school district will have to work to restore public trust in its building maintenance and renovation work — an issue of prime importance as officials try to navigate an eventual return to school and grapple with a host of nagging infrastructure needs related to lead and asbestos at buildings across the city.
"We'll just have to prove with our actions — not just with our words — that as a district we have learned from this," Hite said.
Get more Pennsylvania stories that matter
WHYY is your source for fact-based, in-depth journalism and information. As a nonprofit organization, we rely on financial support from readers like you. Please give today.