What does sustainable aquaculture look like in Delaware's Rehoboth Bay?
Delaware State University researchers have been working since 2019 when Delaware became the last East Coast state to allow aquaculture.
Mark Casey stood at the wheel of a small boat, and pointed toward lines of rope above the water. Beneath them are growing oysters, which are natural water filters.
"They're hanging under these lines, they're eating the algae and they're putting back into the system clean water," said the Rehoboth-area oyster farmer. "And if you come to my house where the nursery is … the water on the outside is green-green, and the water after it goes past the oysters is crystal clear like the Carribean."
Casey is working with The Delaware Center for Inland Bays and researchers at Delaware State University, who are recording species diversity and water quality around the three-acre oyster farm in the Rehoboth Bay, in Delaware.
"I think being on the boat is probably my favorite place to be," said graduate student Emily Andrade. "It just brings a sort of calmness to me, even though things can be kind of chaotic, and there's waves and water and salt and everything like that. But I really think it helps me to center myself, and doing the research we do on the boat gives me a fulfilling feeling."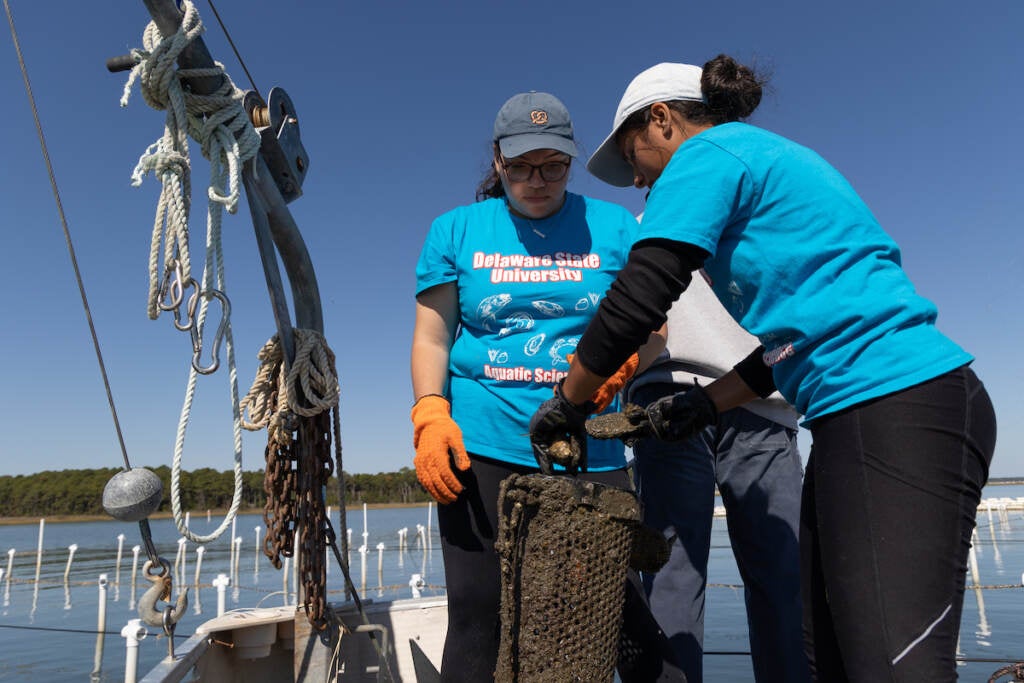 Researchers at the HBCU have been doing this work since 2019 — about six years after Delaware became the last state on the east coast to allow for aquaculture.
The team is focused on nutrient pollution in Rehoboth Bay that comes from farm and residential runoff.
"Sussex County is under a terrible push, because we have 10 times more residential property than we used to have," Casey said. "And that residential property used to be woodland, so when the nutrients fell, they would go down into the groundwater and [by the time they] finally make it out here, it was a 30 year process. Now it's a single rainfall process."
Casey and the researchers want to meet what's known as the Total Maximum Daily Load for nutrients — a calculation of how much pollution a waterway can take while still meeting state water quality standards. There's a long way to go, said professor Gulnihal Ozbay, who leads the research.
During their research, she and her team found that water quality in the Rehoboth Bay improved during the height of the pandemic. That's likely because of decreased human activity and tourism, Ozbay said. Now that life is getting back to normal, water quality is slowly starting to regress to pre-pandemic times. Ozbay surmises that's because of increased tourism, and greater use of toilets and water.
"We can see some relationship, because at that side of the bay we see a bit of an increase in phosphorus and nitrogen levels," she said.
Graduate student Marcus Teat has been researching oyster restoration and biodiversity. He said he hopes the project will help improve habitat restoration in the Rehoboth Bay.
"Overall aquaculture is relatively new in Delaware, so hopefully with continued research we can find that the oyster population can regrow in not only Rehoboth Bay but in Delaware in general, and we can have sustainable aquaculture," Teat said.
WHYY is your source for fact-based, in-depth journalism and information. As a nonprofit organization, we rely on financial support from readers like you. Please give today.