Delaware General Assembly begins session with 17 new faces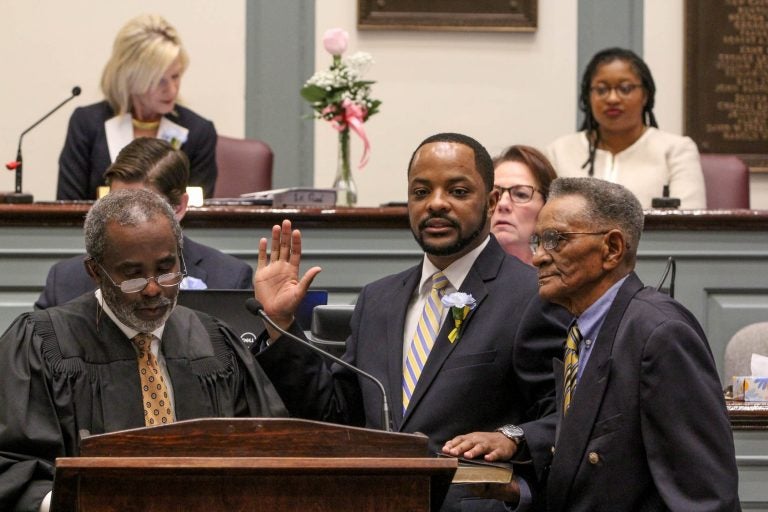 Following a year where 15 of 62 Delaware state lawmakers didn't seek re-election, 17 newly elected legislators were sworn in on the General Assembly's first day in session.
Five senators, including two former representatives, and 12 representatives took their oaths of office among family and friends in packed chambers.
Legislators say with so many fresh faces, as well as increased diversity, new ideas will be brought to the table. The number of African American legislators has doubled, and there also are two more female lawmakers.
"We bring that whole community with us, and it will make our legislation better, and will make the process of governing better," said freshman Democratic State Sen. Elizabeth "Tizzy" Lockman.
Freshman Republican Rep. Bryan Shupe said he wants to focus on improving fiscal responsibility and a budget smoothing process. Legislation introduced last year would allow legislators to put funding aside when there's extra revenue, like this year, and tap into the fund when facing a deficit.
"Sometimes certain legislators will try to spend everything that comes in," Shupe said. "I'm hoping as a team, Democrats and Republicans can be fiscally responsible, and with that budget smoothing process put in a savings account so through the down years we can have funds there so we don't have to do reactionary measures like cutting spending and increasing taxes."
Democrats have an increased majority by one legislator in both the Senate and House. Several of the legislators say they're part of a progressive wave. That wave could help push through legislation to legalize marijuana, which failed on the House floor last year. A reworked version of the bill is expected to be brought back later this session.
Majority Leader Valerie Longhurst, D-Bear, said she believes an influx of new legislators on the Democratic side will improve its chances this year.
"This is one of those bills over time evolves and people understand it more because the conversation is out there," she said. "So, I'm sure it will have another hearing this year and we'll keep our fingers crossed to see what happens."
Senior and junior legislators also say there will be efforts to improve access to healthcare, improved education, school, and public safety, and ways to improve the economy.
The Equal Rights Amendment will be one of the first bills to be voted on this session. The legislation that amends the Delaware Constitution to ensure equality for women passed in the General Assembly last year, but requires another approval by lawmakers this session.
Other bills from last year still in limbo include an assault weapons ban, and an effort to raise the minimum age to buy certain firearms to 21.
WHYY is your source for fact-based, in-depth journalism and information. As a nonprofit organization, we rely on financial support from readers like you. Please give today.