Delaware County asks to join 'safety seven' suit challenging Mariner East pipeline
Delaware County is the latest public entity seeking to join the ongoing lawsuit, which alleges unsafe conditions and a need for more emergency planning.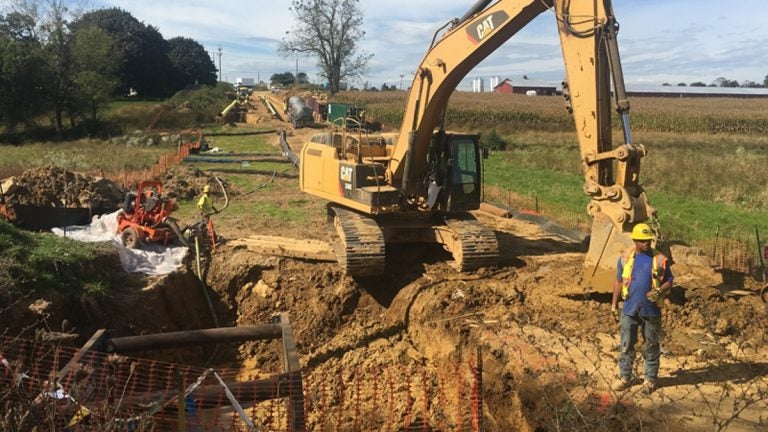 Delaware County officials have asked to join an ongoing lawsuit over the safety of the Mariner East pipeline project. On behalf of the county's 563,000 residents, government solicitors Michael Maddren and Patricia Sons Biswanger filed the motion to intervene Thursday.
"Sunoco's lack of adequate emergency planning and public awareness directly affects the ability of Delaware County to devise and implement and emergency evacuation plan," they wrote.
Delaware County is the largest public entity to try to join the legal action, started last year by seven residents of Chester and Delaware counties. Downingtown Area School District, Rose Tree Media School District, Twin Valley School District, East Goshen Township, West Whiteland Township, Uwchlan Township and Middletown Township have already intervened or requested to intervene.
The original complaint alleges that the pipeline is being constructed with insufficient emergency planning and is a risk to public safety.
The hope is that the legal action will force Sunoco and its parent organization, Energy Transfer Partners, to share information that will help county emergency service providers detect pipeline problems and notify residents safely, according to Maddren.
"One of the things that our residents have heard consistently is, 'Well, if you hear there's a release, run uphill and upwind,'" he said. "We need more information for our residents on how to react."
The existing Mariner East pipeline and the newer pipelines under construction along the same route carry liquid natural gas products from Ohio and Western Pennsylvania to Marcus Hook. That path cuts through thickly settled parts of Delaware County, according to the motion, "in close proximity to residential dwellings, schools and public areas like shopping centers, playgrounds and ballfields."
A spokesman for the Energy Transfer Partners has not yet responded to a request for comment.
WHYY is your source for fact-based, in-depth journalism and information. As a nonprofit organization, we rely on financial support from readers like you. Please give today.