Coronavirus update: Philadelphia marks grim milestone, surpassing 10,000 cases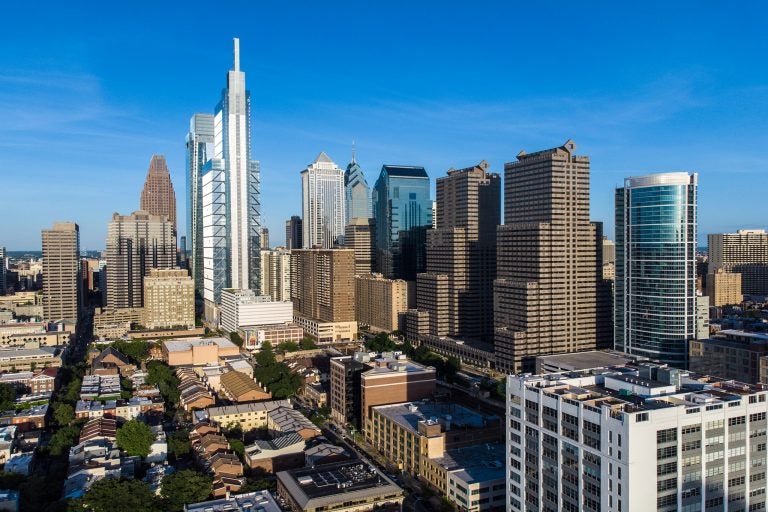 Updated at 6:15 p.m.
–
Are you on the front lines of the coronavirus? Help us report on the pandemic.
As of Tuesday afternoon, there are 35,165 confirmed COVID-19 cases in Pennsylvania, 92,387 in New Jersey, and 2,931 cases in Delaware. Philadelphia has 10,028 cases.
Pennsylvania's death toll stands at 1,595, New Jersey's at 4,753, and Delaware's at 82. Philadelphia's death toll is 394.
Philadelphia passes grim milestone
Philadelphia's total number of confirmed cases of COVID-19 has passed 10,000, Mayor Kenney and Health Commissioner Thomas Farley confirmed on Tuesday.
The city's first case was confirmed six weeks earlier on March 10.
"I'm hopeful, though, that we are near the worst of this, and it will get better from here," Farley said. "Not at the worst, but near the worst."
The city diagnosed 475 new cases on Tuesday, bringing the total to 10,028.
Farley said some of those cases are previous ones that are only just now being classified as belonging to Philadelphia, but added that most are new cases.
He added that the city is continuing to battle clusters of infection in congregate settings, including nursing homes, behavioral health settings, and the city's jail, which now has 55 inmates with the infection.
The past day's increase is in line with the average increases seen over the past week, which Farley said is a positive sign.
"It means that the increases we've seen in previous weeks have stopped," he said.
The city hopes to see decreases by the end of the week, adding that even small decreases are a sign that we're starting to win over the epidemic.
Philadelphia logged 24 new deaths, which is on par with the average number of deaths for the past week. That brings the city's total number of deaths from COVID-19 to 394. Fifty-four percent of those deaths were among nursing home residents.
Tower Health to furlough at least 1,000 employees
Tower Health announced today that it will begin furloughing at least 1,000 full-time employees due to financial pressures caused by COVID-19.
The health care system encompasses seven hospitals in Philadelphia and the surrounding region, along with other facilities.
Tower hasn't yet provided information on which locations will be affected how, but says impacted employees work in a range of positions, including support, administration, and technical areas.
The financial squeeze comes as a result of being forced to suspend non-urgent and elective services, close some outpatient facilities, and allocate resources to respond to patient and community needs related to the pandemic. In addition to increased expenses, Tower says it's experienced a 40-50% decline in revenue.
Tower says that employees will continue to receive health benefits during the furlough period; however, in order to receive pay, they'll need to use their accrued paid time off
In a memo to employees, Tower Health Executive Vice President and Chief Operating Officer Therese Sucher added that furloughed workers will be placed into a systemwide labor pool and may be offered alternative work assignments based on their experience and skill set. Sucher added that Tower Health will not contest any unemployment applications, as long as the employee remains available for recall and does not turn down a work assignment.
"We understand how difficult furlough may be for our impacted employees and their families," Sucher said. "We do believe this furlough will be temporary and we look forward to the return of regular operations as soon as is safely possible."
'Philly Eid in the Park Festival' canceled
Philadelphia Muslims may struggle to celebrate Ramadan this year — the holy, monthlong commemoration of Muhammad's first revelation scheduled begin on the evening of April 23 — as well as the holiday that marks its ending, Eid.
Ramadan is marked by daily fasting from dawn till dusk, which is broken only after sundown with a communal meal. It also includes community events and acts of worship. Ramadan culminates with a celebration called Eid al-Fitr, or the "Festival of Breaking the Fast."
In the past, that day has been celebrated with the "Philly Eid in the Park Festival," the city's largest gathering for the Muslim holiday, which last year drew over 15,000 people.
But this year, the festival is being canceled due to social distancing. 
Instead, the Philadelphia Ramadan and Eid Fund, the organization that runs the festival will be offering a new program called "Eid Al-Fitr Meals on Wheels & Family Fun." On Saturday, May 30, it will provide 100 families with dinner catered by Southside Zabihah Halal Eatery, along with a personalized gift basket. 
Registration will open on Friday, April 24. For more information, follow "Philly Eid in the Park Festival" on social media or email contact@phillyeidinthepark.org.
Sen. Casey calls for public release of nursing homes with COVID-19 cases
U.S. Sen. Bob Casey said he has secured a commitment from the Trump administration for the public release of names of nursing homes across the country that have COVID-19 cases.
Casey is the ranking member of the Senate Special Committee on Aging.
This follows a letter sent earlier this month from Casey and other senators urging the Centers for Medicare and Medicaid Services and the Centers for Disease Control and Prevention to release this information.
As of Tuesday, there are 5,598 COVID-19 cases in Pennsylvania's nursing and personal care homes. Pennsylvania Health Secretary Rachel Levine said they will be looking into releasing information over the next several days.
"I think that we will strongly consider doing that," Levine said. "We'll have to figure out the right way to do that so that we give the most information to the public, but also protect patient privacy."
Chromebooks available for digital learning plan
Chromebooks are available for pickup this week and next, as part of the Philadelphia School District's digital learning plan to help students K-12 learn at home.
Officials say there's no need to rush, and that students or their parents can pick up a Chromebook later this week or next.
The Chromebooks will be available for pickup at two distribution sites: the District's Education Center (440 N. Broad Street, 1st Floor Lobby) and the Fitzpatrick Annex Building (4101 Chalfont Drive, in the back of Fitzpatrick Elementary School). Both sites will be open Monday through Friday, 9 a.m. to 4 p.m.
Adults who are picking up a Chromebook for their student should bring some form of personal identification. It's also recommended that they bring the student's identification number.
High school students should bring their official school district identification badge.
Student meals to be distributed Thursday mornings
Starting this week, the Philadelphia school district's 49 meal sites will only be distributing student meals once a week on Thursday mornings. Students will continue to receive 10 meals for the week (five breakfasts and five lunches), but will only be able to pick them up on Thursday mornings.
The change doesn't affect student meal sites belonging to charter schools or being distributed by Parks and Recreation.
Students and families are advised to bring sturdy bags or carts in order to transport the week's meals.
Pa. death toll climbs
Pennsylvania and Philadelphia officials reported an additional 1,418 new cases Tuesday, up 4.2% from the day before. The state also saw 283 new deaths, a 21% increase from Monday — the biggest increase on record since the crisis began, and the second day in a row of 200 or more deaths.
The increases in the number of deaths come as the state continues to reconcile data from several sources, including county and municipal health departments, and finish investigations into some cases. The new deaths reported Tuesday include those among positive and probable COVID-19 cases, state health officials said.
300 of the total COVID-19 deaths as of Tuesday were probable.
"It's important to remember that this increase did not happen overnight, but it is the culmination of our efforts to continue to bring to the public the most accurate data possible," Levine said.
Eagles donate $1 million to Philly's coronavirus efforts
Efforts to fight the coronavirus in Philadelphia are getting a combined $1 million boost from Eagles Chairman and CEO Jeffrey Lurie and the rest of the team.
The money will go to support various nonprofits, businesses and health care systems. The largest share is a $250,000 donation to the American Red Cross' Convalescent Plasma program to help make sure critical blood and plasma donations reach patients who need them.
Lurie and the Birds will also donate 100,000 N95 masks to local health systems, including Jefferson Health and the Children's Hospital and Philadelphia. They'll also be donating $225,000 worth of gift cards to Jefferson and CHOP employees.
Wolf lays out more details on phased reopening of Pa.
Gov. Tom Wolf on Tuesday laid out emerging criteria for the phased re-opening of Pennsylvania businesses following his announcement that the targeted start date for easing stay-at-home restrictions would be May 8.
"The question really comes down to, how can we give individual workers confidence to go back to work?" he said. "How can we give individual customers the confidence to go back to shop or browse at a place?"
Wolf outlined some of the broad guidelines his administration will be using between now and May 8 to determine which regions can open, and when.
"What I'm going to be looking at is: Are we making progress in terms of new cases? Are we making progress in terms of the deadly nature of this virus? Are we making progress in terms of the ability to test? And are we making progress in the ability to treat the disease in our health care system?"
Wolf has said that the targeted reopenings will be driven primarily by data on the virus' spread, which will depend on testing capacity.
"We're increasing that daily, and the hope is that we will be in a position fairly quickly to do that," Wolf said.
Targeted reopening will also hinge on the capacity of the state's health care systems to care for growing numbers of patients with COVID-19.
Relaxing restrictions will also take into account differing rates of infection in different parts of the state, adding that it seems to be on the decline in some areas. However, he cautioned that hardest-hit Southeast Pennsylvania will be among the last on that list.
"If I were in Philadelphia, I probably would not want my government to be saying, 'Okay, everything seems to be just perfect right now,'" Wolf said. "There's a lot of people getting sick, there are a lot of people dying, in the Southeastern part of the state, less so as you get up into the North central part, or the Northwest or parts of the Southwest."
Infection rates slow down in Montco
Coronavirus infection rates seem to be slowing down in Montgomery County, said local officials on Tuesday afternoon.
"If you look at … the individuals that are able to get to the drive-through testing site and be tested there, it does appear that those numbers peaked April 5 and 6," said Dr. Valerie Arkoosh, chair of the Montgomery County Board of Commissioners.
On those days, 24% of the people tested positive for COVID-19. By contrast, only 14% tested positive on Thursday and Friday, and 16% at the Temple Ambler testing site.
"So I think that looks like a pretty steady decrease there," Arkoosh said. "But the nursing home numbers, the long-term care facility numbers, are rising."
Montgomery County clocked 69 new cases since yesterday, though Arkoosh says that number may be artificially small, due to a shortage of results received from the community testing site.
That brings Montgomery County's total of confirmed cases to 2,989.
Another eight people have died, bringing the total number of deaths to 172. The deceased range in age from 62 to 96, and are divided equally by gender. One hundred and seven of them were residents of long-term care or other congregate facilities.
Local officials are continuing to do outreach to these facilities, though Arkoosh added that the county has no jurisdiction to step in without being invited.
The drive-through testing site in Montgomery County is closed today because of weather, but will reopen tomorrow morning at 8 a.m. The site now has a waiting list. Visitors can make reservations ahead of time at montcopa.org/covid-19 or by calling (610) 631-3000.
Local officials also added that due to the ongoing judicial emergency, Montgomery County's Register of Wills office will remain closed through May 31 for all but emergency needs.
To accommodate residents who need help with settling estates and getting married, the Register of Wills has established a pilot program that uses video conferencing technology to open estates and obtain marriage licenses.
Residents can contact the Register of Wills by calling (610) 278-3400 or emailing ROWsupport@montcopa.org, and including what service they're looking for, along with their name, email, and phone number. For requests involving settling estates, they should add "request to open probate."
In contrast to several of its neighboring counties, Montgomery County currently has no plans to furlough any of its workers, Arkoosh said, but will continue to revisit the topic in the coming weeks as the county reassesses its financial situation.
WHYY's Emily Scott contributed reporting.