Conceptual designs for Bartram's Mile envision a lush, active future along Schuylkill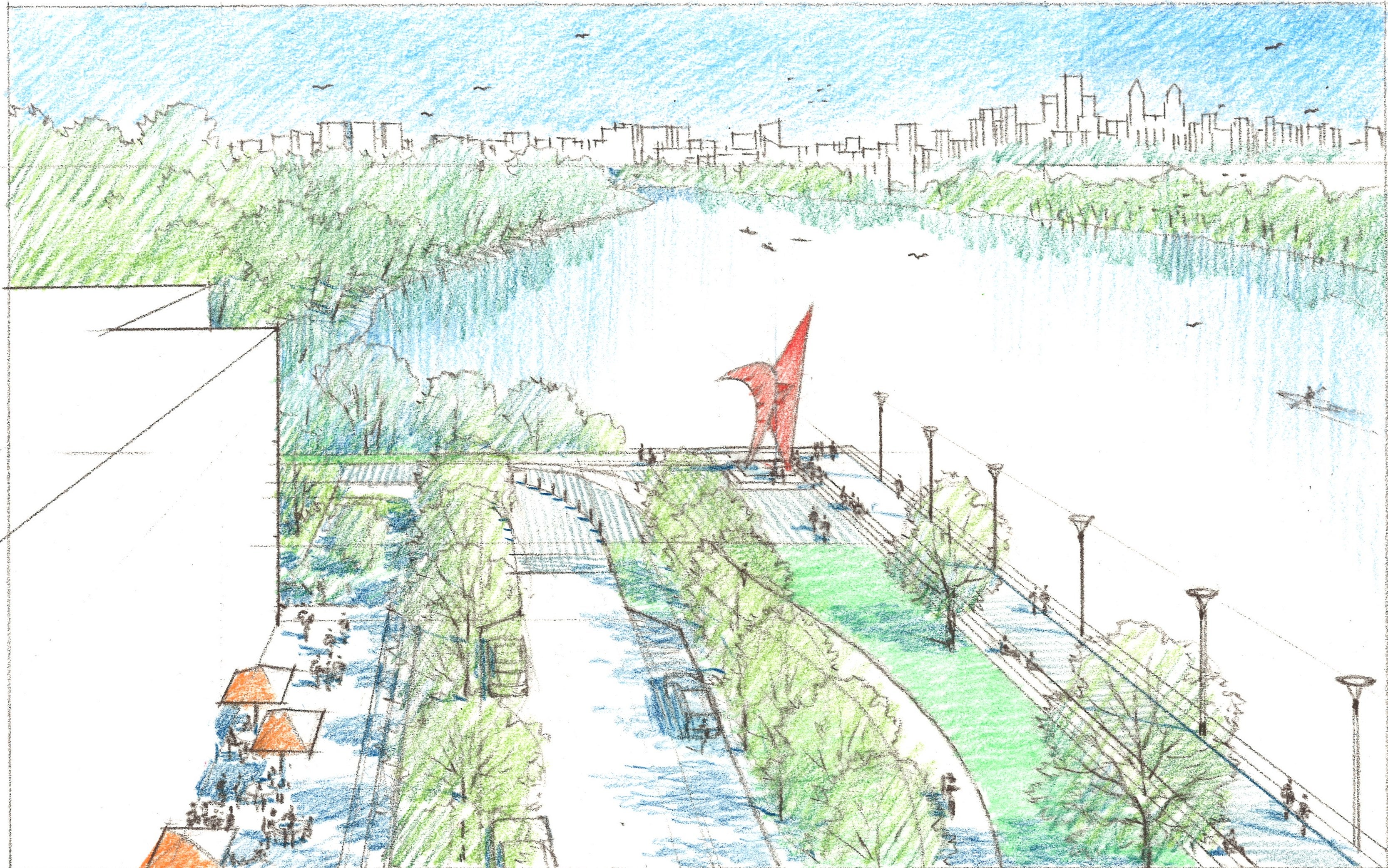 Now that the calendar says it is officially spring, we're dreaming of warm days spent exploring the city's ever-expanding recreational trail network. It is particularly exciting to watch the Schuylkill River Trail enjoying a growth spurt: A new section will open in Roxborough this month, construction of the boardwalk to extend Schuylkill Banks to the South Street Bridge is moving along, and new design concepts for the future Bartram's Mile trail segment were released this month.
Devoted readers will remember that last fall we got all excited about the prospect of the Bartram's Mile Trail, which will extend the Schuylkill River Trail south from Gray's Ferry on the west side of the river, connecting with Bartram's Garden and the 58th Street Greenway. EOTS went tromping and biking along the trail's future route during the trail planning project's early public outreach phase, and we liked what we saw.
This winter the project team – Parks and Recreation, Andropogon, John Bartram Association, Schuylkill River Development Corporation, Philadelphia Industrial Development Corporation, and PennPraxis* – took what they learned during those outreach sessions and hatched some fabulous preliminary trail design concepts.
Here's a look at the overall vision:
Just imagine the new connections to the Grays Ferry Crescent; spots to fish, boat, or play; trailside industrial fragments; and scenic overlooks to watch the river flow.
Here's a look at some of Andropogon's preliminary designs for trail and street sections:
(Andropogon)

(Andropogon)

(Andropogon)

(Andropogon)

(Andropogon)

(Andropogon)

(Andropogon)

(Andropogon)

(Andropogon)

(Andropogon)

(Andropogon)
Here are two possibilities for new life at sites on either end of Bartram's Garden: To the north a creative reuse of the Streets Department site along a version of Botanic Avenue that actually lives up to its lush name, and to the south a public plaza at the end of 56th Street:
(Andropogon)

(Andropogon)
During this early phase of design work, Philadelphia Industrial Development Corporation has been spending time on environmental remediation at sites along the future trail's path. PIDC cleaned up underground pollution (to industrial development standards) at the Gypsum/Transmontaigne site at the southern end, and is now moving on to the old National Heat and Power site at the northern end.
These designs are still preliminary, so stay tuned for more opportunities this summer to offer your feedback to help shape the Bartram's Mile Trail. (We'll keep you posted.) Meanwhile PennPraxis is all ears if you've got thoughts about what you see here. Send your feedback along via email.
*PlanPhilly is an independent news gathering entity affiliated with PennPraxis.
WHYY is your source for fact-based, in-depth journalism and information. As a nonprofit organization, we rely on financial support from readers like you. Please give today.