'Community is irrelevant' to developers who have tried to exploit Chinatown
Behemoth developments in residential communities destroy the fabric that has held people together over generations.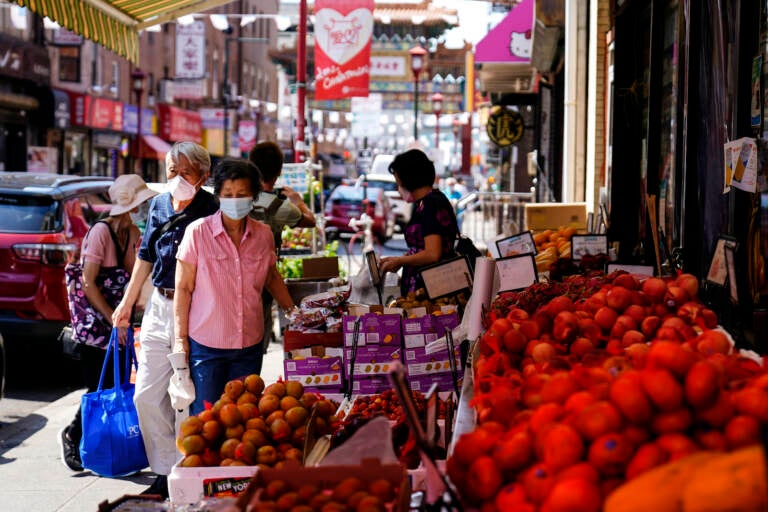 It's so cliche to say "here we go again" but when it comes to Philadelphia Chinatown, since the 1970s it's been on constant, almost predictable, repeat.
In 2000, we fought off a baseball stadium. In 2008, we did it again and fought off a casino. What the 76ers, Adelman, and the billionaires and city officials who came before them fail to recognize is that Chinatown will fight for its survival.
We view the 76er's proposed arena a block away from our beloved neighborhood as a threat to the continued existence of Chinatown. One need only look as far as DC and the Capital One Arena to see how Chinatowns have been decimated. This is why offers of "community benefits" will not buy off the resistance of our community.
In a city of neighborhoods, the sense of community has always been an important part of Philadelphia's unique character. Chinatown represents an increasingly rare phenomenon – a community in the deepest sense of the word. A place that is not only defined by geography but by memory and relationships.
When my son was young, he studied kung fu and Beijing Opera in Chinatown. Once, I saw him buying candy from the corner store there. He told me "My favorite place to be is Chinatown. I know everyone there. I can walk around and hang out. Everyone knows I'm a lion dancer and the old people all smile at me. The guy in the laundromat always gives me candy and he knows my Chinese name."
Real communities like Chinatown support and sustain relationships. Those relationships nurture the understanding of our responsibility to, and dependence on, one another.
Children growing up with a sense of connection somewhere have roots deeply planted in a place where they know who they are. A place they call home. Community is why my son preferred to buy his candy in Chinatown, even though he could have bought much more with his meager allowance at Walmart.
City power brokers live under the illusion that stadiums, mega malls, and casinos can fuel revitalization. They place behemoth developments in residential communities destroying the fabric that has held people together over generations. These policies reflect a "profit before people" mentality that has destroyed communities across the globe.
When these schemes don't pan out economically, and the billionaires have squeezed as much profit as they can, they just move on to other people and other places. Community is irrelevant.
What would our city look like if the economic development model we used recognized the value of permanent residential communities in Philadelphia? What if we held the health and safety of people and places in equal regard to the needs of rich developers? What if we believed that investments in our communities were the key to revitalization?
In 2000, Chinatown fought off a baseball stadium. Since that time, Chinatown has tended to its own development – development toward a healthy community. In the footprint and shadow of what would have been the stadium, we built a national blue ribbon public charter school, a park, an Asian arts center, a church annex, a community center, and new affordable housing.
Whose vision should shape the direction of the city for the next ten years? Communities of memory and place are the heart and soul of cities like Philadelphia. Knowing that there is something bigger than yourself is part of what makes a community live.
In Chinatown, we know the responsibility that comes with relationships. It is that responsibility that has fueled our determination. It is that responsibility that brings activists from high school youth to grandparents together to do what we have always done – through love, teach each other the power of resistance.
Chinatown serves as the cultural and spiritual home for thousands of Asian Americans. There are residents, workers, and business owners to be sure. And every week scores of people come – to shop, to eat, to connect with old friends, to worship, to play, to study. People mark major life events in Chinatown. Birthdays. Graduations. Weddings. Funerals. All feel Chinatown is home.
We will take on the billionaire team owners and developers. When we fight for our community –  a low-income, immigrant enclave of color – we fight for our elders and for our children. We fight for the relationships carefully nurtured over time. We fight for a cultural and spiritual center that sustains our identities as Asian Americans.
We fight for a vision that sees the power and possibilities of this city's own communities. We fight though we know as Asian Americans we have been ignored and written off.
The pandemic has hurt many. Chinatown — its people and their livelihoods were particularly affected. We have seen how economic development that benefits rich corporations over the needs of communities has laid waste across our city. It is the last thing Chinatown needs. It is the last thing our city needs. So we will fight.
Like all Philadelphians, we love our Sixers — and even they know a defense that bends but doesn't break is key to winning a game. And we haven't broken, ever.
Debbie Wei is a founder of Asian Americans United, the Chinatown Mid-Autumn Festival, and the Folk Arts-Cultural Treasures Charter School. For more information on the struggle, contact Asian Americans United at (215) 925-1538.
WHYY is your source for fact-based, in-depth journalism and information. As a nonprofit organization, we rely on financial support from readers like you. Please give today.