Command center opens to coordinate Pa. opioid relief efforts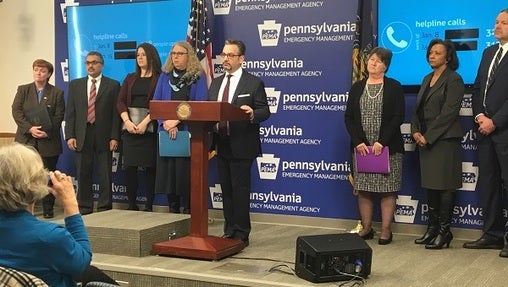 Almost three weeks into a statewide disaster declaration, a new Opioid Operations Command Center is up and running.
Based at the Pennsylvania Emergency Management Agency, the center is designed to help state agencies communicate better as they deal with the opioid epidemic's mounting death toll.
A hotline connecting people to rehab centers is getting more than 300 calls a week.
The emergency declaration is currently allowing the state to cut some regulations to speed up the process for getting people enrolled in treatment and giving out the overdose resuscitation drug naloxone, among other things.
Ellen DiDomenico, with the Department of Drug and Alcohol Programs, said a "critical piece" of the opioid relief strategy is making some of the changes permanent.
"We will be having the ability to do individual requests as we move forward, or looking at other legislative changes and other things, which certainly takes some time," she said.
Governor Tom Wolf is also thinking in terms of legislative changes.
His office has released a list of bills it's backing, including ones to limit opioid prescriptions and make it easier to conduct health evaluations on people with addiction problems.
Dr. Rachel Levine, the acting health secretary, said she believes those bills may pass a little more smoothly than many things typically do in Harrisburg.
"There are really no issues in terms of political parties here," she said.