Developers weigh in on new Zoning Code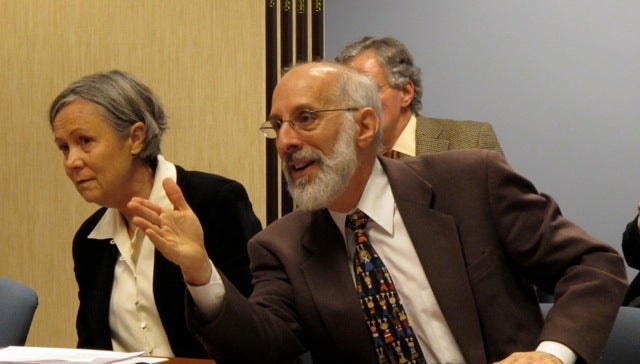 January 19, 2010
By Thomas J. Walsh
For PlanPhilly
When it comes to meeting with neighborhood groups, how do developers know who truly speaks for any given community?
If a new real estate project is to be reviewed by the City Planning Commission, or the Zoning Board of Adjustment (ZBA), or the City Historical Commission, what criteria trigger that review?
For that matter, how and when should the public be involved in any review process?
They were but three themes bandied about Tuesday afternoon at the Union League on South Broad Street, where more than 70 developers, lawyers, engineers, contractors and economic development specialists met with members of the Zoning Code Commission (ZCC) and third-party facilitators. It was the first of three brainstorming sessions, part of an outreach effort to professional users of what will be a brand new code by year's end.
The sessions are being coordinated between the Philadelphia chapter of the American Institute of Architects and the Penn Project for Civic Engagement at the University of Pennsylvania. Architect Kiki Bolender of the AIA and Penn professor Harris Sokoloff, director of the PPCE, co-hosted the three-hour working lunch.
"There was great response, which in itself is good because one of our concerns all along was that all of the stakeholder groups have a say in the process," said Eva Gladstein, the ZCC's executive director, before the meeting began. "It means people are starting to pay attention. We want to really be able to flesh out all of the input, all of the ideas that people have, as early in the process as possible."
The second session, scheduled for Saturday, will bring together members of neighborhood groups, community development corporations, civic associations and other public representatives from throughout the city. The third, to be held Jan. 27, will be a joint gathering of participants from the first two meetings.
Bolender urged those assembled to think of issues in terms of design, about how much regulation is too much, transparency among players, due process and the law, and the general notion that despite frequent appearances to the contrary, things can get better.
"We're going to try to do something very few cities have ever done," Sokoloff added, at the start of the lunch. "We don't expect to solve it in three sessions."
Attendees were broken down into four working groups, with moderators prompting discussion and jotting down general ideas and observations on large poster pads.
Whose plan is it, anyway?
Though some reporters were present, attendees' comments were off-the-record, to foster a free flow of ideas and opinions.
"It was useful," said Sinclair Cooper, a developer and the president of Falcon Properties, based in Warminster, Pa., after the meeting was over at about 3 p.m. "Certainly the folks in the development community are rather unified on what some of the basic issues are – some of the things that are impeding a smooth zoning process.
"The future will ultimately define how beneficial it is. Obviously, there's another half to this in terms of the community stakeholders themselves. If everyone is willing to engage in a process where everyone is responsible and acting in good faith, the zoning board will have a very useful document with which to move forward."
Cooper said his firm, which does a lot of residential, retail and mixed-use development, has not been active in the city for the past five years or so, "and a lot of that has to do with the process," he added. "Other areas are more fertile for development than the city of Philadelphia right now."
"We hope that out of this we'll get a set of principles, or guidelines, for how to think about structuring the public participation in the project review process," said Sokoloff, adding that he hopes to jump from principles to action steps at the third meeting.
Sokoloff explained that the ZCC hired Portfolio Associates, one of four consulting firms working on the city's total code re-write, to do its official public outreach. The idea behind these three forums was not to replicate those efforts, he said.
"We're asking people to try on new ideas, to maybe say some things they might not actually think, to see what kind of reaction they get," Sokoloff said. "Developers have a way of saying things off-the-record, behind closed doors. That's in their own self-interest, but we're going to ask them to go beyond their self-interest today, and think about the development community's interests."
Gladstein credited John Westrum, a residential developer who sits on the ZCC, with saying for months that he believes there is common ground to be found on the issue of project review – between builders and a growing number of community organizations that are increasingly vocal and more sophisticated.
"This meeting is structured to take people's experience and learn from it," she said. "What's worked in the past, what didn't work, what can we learn from that, the loopholes, and what would be the best solutions. The Commission is very open to these three meetings so that we can then start to work on the process."
Key themes among the groups included the desire for consistency and transparency, on the part of community organizations, but also the city, and the developers themselves. Along those lines were questions. How is it that some neighborhood associations – or even individuals – have the power to deep-six expensive and well thought-out building proposals? Is there a formal means to determine a civic group's status, or "standing"? Should members of these groups be elected, or appointed? Do they possess particular skills or knowledge, or is it simply political power they are exploiting? Should they be registered with the Planning Commission before they are able to officially negotiate plans of development? (This last is an idea currently being considered by the Philadelphia City Planning Commission.)
The timing of the session was curious. Running concurrently, a few blocks away atop the One Parkway building, was the City Planning Commission's monthly meeting. A major agenda item was the introduction of guidelines for new official neighborhood plans drawn up by two of the city's leading civic associations – the Logan Square Neighborhood Association (LSNA) and the Center City Residents Association (CCRA). The guidelines would apply to all Philadelphia neighborhood plans prepared by organizations other than the City Planning Commission.
Of prerogatives, of-right, and not-so-great expectations
There was also a general feeling that in Philadelphia, perhaps more so than most American cities, what normally is considered inappropriate political influence is actually an accepted part of the process. The concept of "councilmanic prerogative" – the traditional ability of City Council members to take development and zoning matters into their own hands – was much discussed.
Another common topic was "as-of-right" development. Should the public have formal input for areas considered "of-right," that is, open to development of a specific type because of master plan already worked out? One group talked about the public process as bordering on extortion, or, more politely, a disproportionate right of veto. It was suggested that it sometimes even had an effect on the efforts of architects, rendering them too timid. Could this be a failure of elected officials to govern the expectations of civic associations?
"I was surprised by how consistent each of the groups were," said Ann Hoskins-Brown, one of the Zoning Code commissioners present.
There was frustration vented with any planning or zoning process that lacks a timetable, or any sense of finality. So, too, was there a desire for a predictable process (as opposed to a predictable outcome) as a result of simple city procedures such as filling out an application for the Department of Licenses & Inspections, to cite just one example. What must be done, and when the city wants it, the developers stated, should be clear, and in writing.
Developers "have to be on their best behavior all the time, because people think that they're bringing money and they're bringing attitude, automatically," observed Greg Pastore, a Zoning Code commissioner who owns residential properties in South Philadelphia, before the session.
The developers then might take actions to achieve their goals without public input, Pastore said. "We're trying to strip away that, and this is a good step toward that. They've had a lot of frustrations and an inability to honestly say, 'This is killing me.' Maybe people will have examples of that, and they'll be free to say that, because we're not taking names. It'll be really good to listen in on that."
Bolender said the crowd hit capacity, and that she had to turn late responders away, even some of her personal friends.
Sokoloff ended the afternoon by asking for common threads, and many of them – predictable time lines, the ability to manage risk with consistent regulation, a level playing field, uniformity of processes – could be boiled down to "time is money."
All of those things, along with objective criteria for design review and planning review, will result in more private investment in the city, participants said. The current processes in place in Philadelphia too often discourage inventiveness and creativity, and lack professionally informed decision-making.
Gladstein seemed pleased with the level of discourse and participation, and said the unique current circumstances of the code re-write could be a once-in-a-lifetime opportunity. "If you want it to last for decades," she said, "you have to work really hard to get it right, or as right as possible."
What's next
The second meeting, for community organizations, will be held Saturday at Temple Medical School. Bolender says that it, too, is filled – no more attendees are being admitted. The third, a combined meeting with representatives of both groups, is scheduled for Wednesday, Jan. 27. Both meetings are closed to the public.
Complete results and thoughts about Tuesday's meeting will be posted on the ZCC Web site within 48 hours, Sokoloff said.
Contact the reporter at thomaswalsh1@gmail.com.