CHOP and Philly launch home repair program to prevent asthma
Many asthma triggers like mold and cockroaches stem from poor living conditions, so CHOP and the Philadelphia Housing Development Corp. are working together to upgrade homes.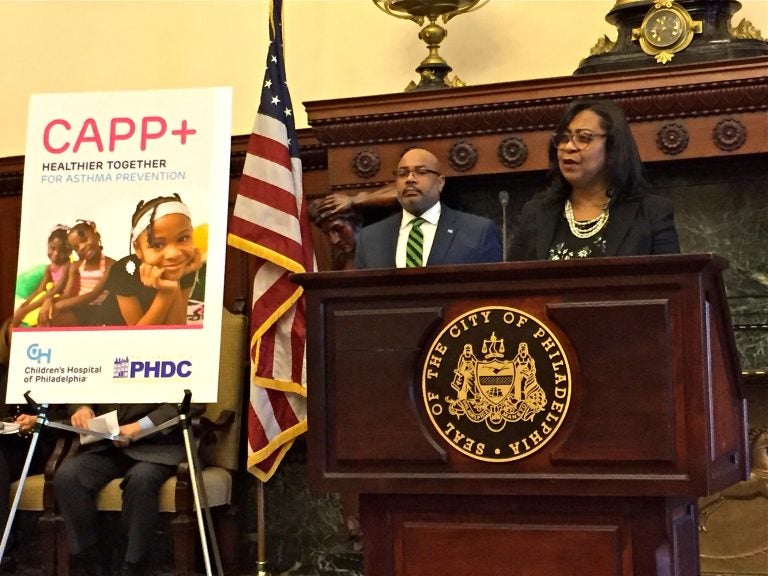 This story originally appeared on PlanPhilly.
—
Mold. Dust mites. Roaches. Mouse droppings.
The list of household asthma triggers is long and often problems that aren't easy to fix: a leaky roof, a cracked pipe, poor ventilation.
Replacing a roof can cost $4,000 or more, depending on the size of the house and the materials used. And mold remediation can cost thousands more.
That's a problem in West Philadelphia, where more than 12,000 children suffer from asthma and the median household income is about $30,000. Parents often can't fix the triggers that could cause an asthma attack and send their children to the emergency room.
So the Children's Hospital of Philadelphia is launching a new program with the city's Housing Development Corporation that will not only fund home repairs for patients in area neighborhoods, but also do the work.
"Being now able to say, 'Okay, this is the problem. We have a contractor who can come in and fix it' – it's huge," said Tyra Bryant-Stephens, medical director of CHOP's Community Asthma Prevention Program (CAPP).
That program, launched in 1997, sought to educate families about asthma triggers and work with them to decrease exposure. Doctors and nurses would talk with patients about ways to adapt home environments and lifestyles to prevent asthma attacks and hospital visits.
But by working with PHDC, the hospital can now help make those recommendations a reality, Bryant-Stephens said.
"Our community health workers actually go with the contractor and actually says, 'Here's a problem, here's a problem, here's a problem,' from an asthma point of view. So they're able to really help parents voice their needs and advocate for the families."
That was the case for West Philly resident Danielle Davis-Lee, whose six-year-old son, Jonah, was diagnosed with asthma at age three. Her house had leaks and mold in the bathroom and an oven hood that wasn't ventilating properly.
"You're preparing dinner, you're thinking, 'I'm cooking everything from the four food groups, they're eating their veggies,' " she said. "And you're not knowing that your ventilation isn't sufficiently getting the air out."
Now, her house is the second of 10 that will be renovated in the pilot project. Her bathroom is being replaced, and she is getting a new ventilation system in her kitchen. She says she never would have been able to afford the repairs all at once.
"It would take some time," she said.
The new program is part of CHOP's "Healthier Together" initiative, which focuses on addressing issues like asthma, food insecurity, and violence that affect the children served by their pediatric practice. The CAPP+ program, as it is being called, is for those who are already enrolled in CAPP and also own a home in West Philadelphia.
In addition to providing repairs free of charge, the program will prioritize contracts with minority- and women-owned businesses. Nearly 57 percent of the contractors PHDC works with fit that description, but executive director David Thomas admits finding minority contractors knowledgeable in health-related work might be a challenge at the beginning.
"They certainly know heating, they know plumbing, they know electric," he said. "But not many of our contractors know asthma, so it is a learning curve to some degree."
Asthma affects 9 percent of children nationally, and in Pennsylvania it affects around 13 percent. But in high-risk communities in North and West Philadelphia, one out of four children has asthma. Children from low-income minority communities with asthma are two to three times more likely to go to the ER and four to five times more likely to die from the disease.
That's why Bryant-Stephens said the hospital plans to expand the program to 100 homes in West Philadelphia once the pilot project is complete, and hopes the program can serve as a model in other cities as well.
In the meantime, Davis-Lee said she is glad her home is no longer a risk to her son's health.
"I just want to make sure that when he's home, he's safe and he has a safe space," she said.
WHYY is your source for fact-based, in-depth journalism and information. As a nonprofit organization, we rely on financial support from readers like you. Please give today.