CDR gives Logan Square twin tower project a second thumbs down, construction to start in two weeks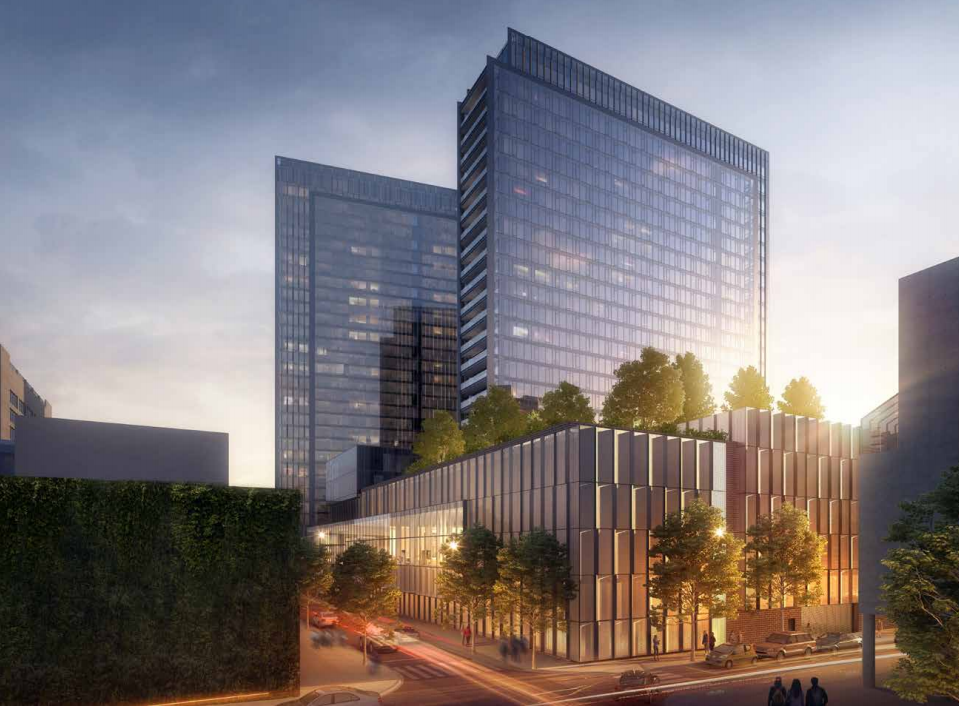 The Civic Design Review (CDR) board's pusillanimity was on full display Tuesday, as board members fumed against the largely unchanged plans for a pair of high-rise residences proposed for 23rd and Arch Streets. CDR panned the planned design at last month's meeting, forcing developer PMC Property Group to return again this month.
"I'm kind of aghast… I'm very disappointed," said Daniel Garofalo, the environmental sustainability director for the University of Pennsylvania and a CDR member.
"We are disappointed in the 'we aren't going to engage' attitude," agreed CDR chair Nancy Rogo Trainer. Rogo Trainer admonished representatives from PMC for not bringing anyone from Gensler, the project's architect, to the meeting.
Jonathan Stavin, executive vice president of PMC, said he didn't feel the project was given a fair shake at an October meeting of the CDR.
"We attempted to have a dialogue last time, and the board didn't allow us to have a dialogue," argued Stavin.
Rogo Trainer acknowledged that CDR merely makes recommendations – the committee's power is limited to making suggestions on a project's design and requiring its developers to present again before CDR – but still urged PMC to work with the community.
"I think, maybe, the best that we can get from you today is a commitment to continue working with neighbors on issues of parking and design," she said.
"Well, we certainly will continue to do that," replied Stavin.
Even with that mid-meeting disagreement, the developer did present two changes to the design presented in October.
PMC's residential project will still consist of two buildings connected by a third-floor skybridge: – a 32-story, 476,000-square-foot structure on the north end of what is currently a surface parking lot, featuring 320 residential units, 97 parking spaces, a 2,375-square-foot retail area and parking for 120 bikes, and a 28-story, 456,529-square-foot structure to the south with 282 units, parking for 85 cars, a 72,987-square-foot retail area and 106 bike parking spaces.
After CDR members worried about the narrowness of a six-foot wide planned bike path along the west side of the project, PMC widened the path to 12 feet along the buildings and eight feet at a proposed ramp.
CDR also criticized a planned brick facade over the southern building's bike storage room as uninviting to pedestrians along Arch Street. PMC responded by replacing the brick with a glass storefront glazing that will match the building lobby's façade.
But, PMC refused to change plans for the buildings' above ground parking, which would be covered with a metal panel and aluminum framed façade, creating what the Inquirer's Inga Saffron called a "a 54-foot-high wall of steel" near the corner of 23rd and Cherry Streets.
During the meeting, George Claflen, vice chair of the Design Advocacy Group of Philadelphia, addressed the committee offering a prepared statement from DAG on the planned project. Claflen said that he approved of the project, however he felt "it could be considerably better."
Claflen also lamented the need for the community to create some type of Schuylkill Riverfront Master Plan – saying that some issues the committee had with the project could be mitigated by such an endeavour.
Stavin said PMC studied several options for addressing the parking plan, but found that other options would reduce the number of parking spaces. According to Stavin, below-ground parking is a no-go because the property is in the 100-year floodplain. He said the project has about 600 residential units, but only has about 200 residential parking spots.
"We don't have an awful lot of parking at this site," Stavin said.
After the day's meeting, Stavin said there was a limited amount of issues that the developer could address in the 30-days between meetings, and argued that some of CDR's suggestions were just not do-able.
"There's a limited amount that you can address in thirty days on a project of this scale. And a lot of the concerns, it's a superficial understanding, I think, of the Civic Design Review committee of the site's challenges. And because, I think, that they haven't had the opportunity to study the challenges of the site, it's easy to talk about putting parking underground or putting in mechanical stacking equipment. Well, guess what happens to stacking equipment when it gets wet — none of it works," said Stavin, after the meeting.
Stavin said that PMC hopes to begin site work on the construction site in two weeks and said they hope to have the entire project complete in 24-months. He declined to discuss the overall project cost.
(Kitchen & Associates )

(Kitchen & Associates )
Also before CDR on Tuesday was a planned multi-family residential complex planned for 5901 Market Street. In marked contrast to PMC, developer Mission First Housing Development Corporation won praise from CDR on its first presentation, avoiding the need for a second presentation. Mission First presented plans for a five-story, 145,019 square-foot project offering 41 residential units for low-income families, 67,974-square-feet business and professional office space, 3,700-square-feet of first-floor retail, and 10,000-square-feet for early childhood educational space. The developers hope to begin construction soon on the $60 million project.
The project will feature an underground parking garage with room for 80 cars and 24 parking spaces for bicycles. The façade will consist of modular brick masonry and aluminum panels that would work as accents.
"We took some cues from looking around the neighborhood," said Matthew Bartner, an architect with Kitchen and Associates, in discussing the building's design.
"I think it's great to see a project that has ground floor retail and underground parking," said Rogo Trainer. "It's nice to see that it can be done and that investment groups are willing to do them."
(LABhaus)

(LABhaus)

(LABhaus)
Plans to convert a car wash just off the University of Pennsylvania campus with student housing ran into a road block in CDR's final presentation of the day.
Developer 4125 Chestnut Street CRCP wants to build student housing at its eponymous address, proposing a six-story, 66,749-square-foot project with 130 apartments along with 8,828-square-feet of office space and 3,071-square-feet of secondary accessory space. This project, designed by architect Sarah Ann Logan Patterson, would also have underground parking for 27 vehicles and would have 65 spots for bicycle parking.
The project would also have a green roof with a dog run for the use of the residents of the complex and ground floor green space in the shape of four "parklettes" on the corners of the property, the largest of which would be along Ludlow Street.
The committee seemed to like many aspects of the project, with a motion even being made for the project to pass without further review, before some issues caused CDR board members to rethink the motion. But concerns over having just one building's elevator and the placement of its windows so close to the property line convinced the committee to ask for a second look.
After detailing these concerns, the committee asked the developer return for a follow-up meeting on Nov. 28.