Can methodical Mueller outpace Trump's damage?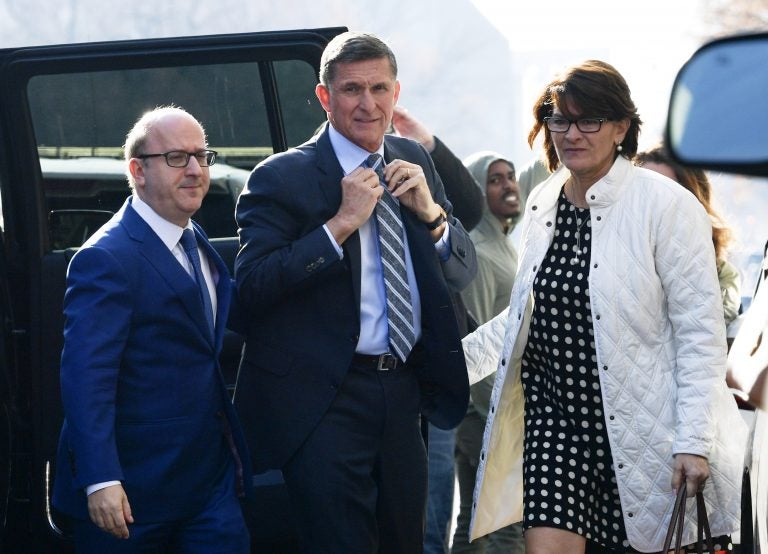 It's great that Special Counsel Robert Mueller's probe is prompting Trump to soil his golf pants. It's great that Trump is fated to live each restive day without (in Jane Austen's words) "the sanguine expectation of happiness which is happiness itself."
And it was great, last Friday, to see Michael Flynn 'fess up to a felony in exchange for his willingness to finger higher-ups. We look forward to those perp walks. And given the fact that Flynn, as national security adviser, lied to the FBI on Jan. 24, this means it took only four days for the Trump team to officially become a criminal regime. Reached for comment while spinning in his grave, Dick Nixon said, "Wow, even I managed to wait a couple years."
The problem, however, is that Mueller needs lots of time to nail the wrongdoers and expose the corrupt ties between Trump and Russia — but given all the daily damage that Trump is wreaking on this country, we may not have the luxury of time.
What we already know is horrific. Russia spent much of '16 trying to cyber-tilt the American election to Trump, the Trump team was well aware of Russia's sympathies and WikiLeaks' assistance (Trump, in a public remark, even called on Russia to hack Hillary); and after the election, the Trump team, with Flynn's key assistance, signaled its gratitude by assuring Russia that President Obama's sanctions — imposed to punish Russia for penetrating our election — would be eased after Trump took over. Plus, we have the apparent coverup, with Trump trying to coax Jim Comey to leave Flynn alone (this, according to Comey's sworn testimony), and subsequently firing the FBI director because he refused to ease off the Russia probe (as Trump told NBC News' Lester Holt, in video footage that can't be denounced as fake).
There's likely much more, now that Flynn is poised to sing like a canary, but alas, Mueller's methodical timeline can't compete with Trump's lightning strikes against our institutions, sane governance, and the rule of law.
While Mueller and his crack team of mob, money-laundering, and white-collar criminal experts plod onward (and plod they must, because they can ill afford to make a mistake), Trump is free to do his damage. He's already sabotaging the Affordable Care Act via executive order, subsuming the Wall Street watchdogs at the Consumer Financial Protection Bureau, packing the federal courts with right-wing judges (including one guy who has never even tried a case), stoking global hostility toward America's free press, jonesing to sign whatever tax cut bill (tilted heavily toward corporations and the rich) that Congress puts under his nose, retweeting hate from British fascists, endorsing a credibly accused pedophile for the U.S. Senate, the list is infinite.
And this weekend, the FBI made the list. Flynn lied to the FBI, therefore Trump felt compelled to slime the FBI. He tweeted that the reputation of our most prominent law-enforcement agency is "in Tatters — worst in History!" (Seriously, worst in history? Is he unfamiliar with J. Edgar Hoover?) It's a tad unusual for a president to publicly sow disrespect for an institution that's entrusted to keep us safe, but lest we forget, this "president" has a tenuous relationship with the rule of law.
And way to set an example! Here's a tip, folks: If an FBI agent knocks on your door and asks for any helpful information about a neighbor who's suspected of terrorism, just tell the agent to buzz off. Just say, "I'm not talking to you. Your reputation is in tatters."
It's Totalitarianism 101 to undermine the integrity of independent institutions, although I doubt Trump is working from a master plan. More likely, he's just trying to protect Don Junior and Jared Kushner, and save his own butt. Speaking of his own butt, there was a noteworthy episode this weekend. Trump inexplicably tweeted: "I had to fire General Flynn because he lied to the Vice President and the FBI." Wait, what? So when he fired Jim Comey for the latter's refusal to lay off Flynn, he knew that Flynn had committed a felony by lying to the FBI?
But then one of Trump's lawyers, realizing that Trump had confessed on Twitter to a potential obstruction of justice, speedily insisted that he, the lawyer, had ghosted that tweet. Yeah, right. And there's oceanfront property in Arizona.
In addition, clearly unhinged by Flynn's criminal plea, Trump tweeted: "I never asked Comey to stop investigating Flynn. Just more Fake News covering another Comey lie!" Problem is, he said on national TV that he fired Comey to thwart the Russia probe. And Comey testified under oath that Trump indeed asked him to leave Flynn alone.
Sworn testimony trumps a serial liar. As Richard Painter and Norman Eisen point out (Painter was George W. Bush's ethics lawyer; Eisen was Obama's), "Mr. Trump exposed himself to obstruction of justice liability by exercising his power to fire Mr. Comey for questionable ends … There is already significant evidence that Mr. Trump obstructed justice, and Mr. Flynn may be able to add to it."
But when? We're fated to binge-watch this psychodrama — craving or dreading fresh episodes, clueless about how the finale will end. We can only hope that Mueller's labors bear fruit before it's too late to reverse the debasement of democracy — or before Trump does a Putin and fires Mueller, provoking a constitutional crisis.