Boyle brothers make House history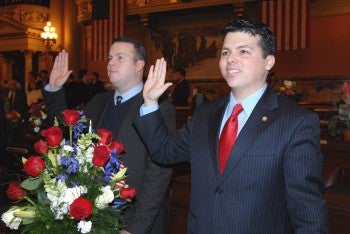 For the first time in the history of the House of Representatives, two Democratic brothers were sworn into office together. Yesterday, Brendan and Kevin Boyle began their second and first terms, respectively, as state representatives.
Brendan Boyle, of the 170th Legislative District, said in a release: "I look forward to continuing the work I started in my first term, particularly reintroducing my REACH scholarship legislation."
Kevin Boyle began his freshman term, saying: "Today I was proud to be sworn in alongside my brother to the office of state representative," Kevin Boyle said. "I plan to focus on the issues that impact the constituents of the 172nd Legislative District, including finding ways to address absentee landlords."
Both have made crime and safety top priorities.