'Blue button' jellyfish make rare Shore appearance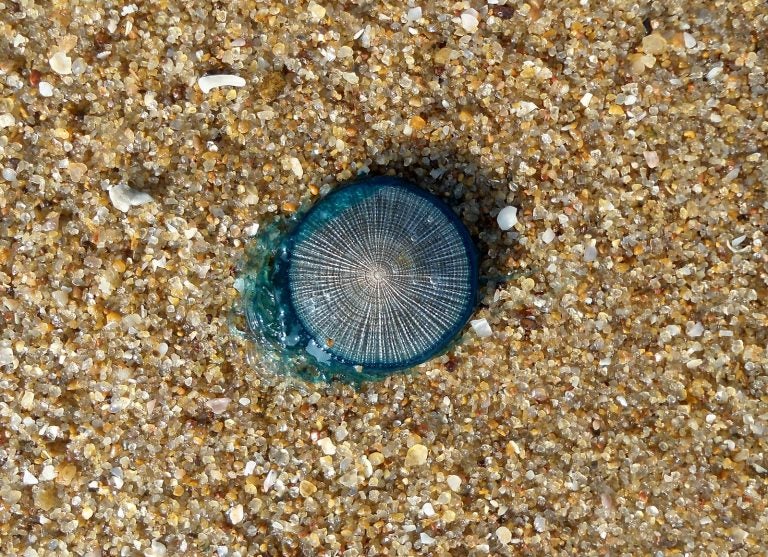 Hurricane Florence may be long gone but the storm's presence is still being felt at the Jersey Shore.
After a recent influx of Portuguese man-of-war, there's a new creature around: blue button jellyfish.
Dr. Paul Bologna, a marine ecology professor at Montclair State University, says he's received reports of the species washing ashore since last week.
Sightings in Beach Haven and Brigantine were reported to Bologna's New Jersey Jellyspotters Facebook group.
Blue button jellyfish discoveries on New Jersey beaches are "quite rare," according to Bologna. He says the species were likely pushed toward the coast from the Gulf Stream, the warm current that runs from the Gulf of Mexico and up the Eastern seaboard.
Suzanne Willis Schenker, who saw "several" in Beach Haven, says the discovery was "cool" and that they "left a turquoise stain on the sand."
According to the National Park Service, blue button jellyfish are comprised of a colony of organisms that drift wherever currents and winds push them.
"While small, free-floating marine animals, known as zooplankton, are captured by the Blue button's tentacles, humans are fortunately unaffected by its mild sting," the National Park Service description states.
They're found in tropical and sub-tropical waters of the Atlantic, Pacific, and Indian oceans.