Bill would require construction and demolition crews to recycle waste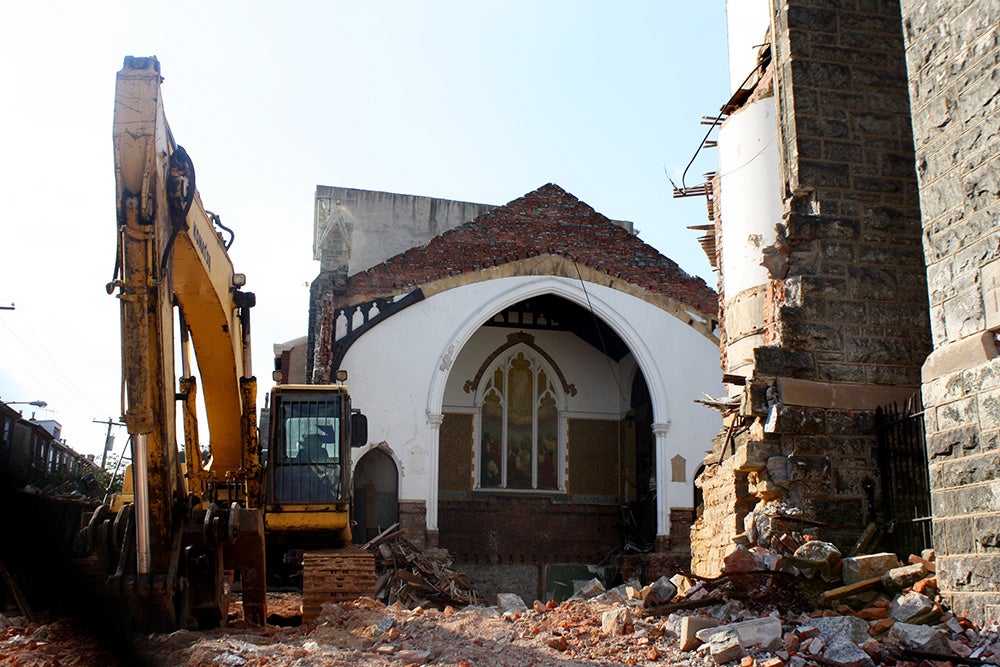 A new bill introduced into City Council would require contractors to recycle a substantial portion of waste and debris at construction and demolition sites in Philadelphia. The bill, which was introduced by Councilman Bobby Henon and co-sponsored by at-large Council members Jim Kenney and Blondell Reynolds-Brown, would amend the "Refuse and Littering" section of the Philadelphia Code.
The bill is expected to evolve, but an early draft defines Construction and Demolition Debris as "Materials resulting from the construction, remodeling, repair and demolition of utilities, structures, buildings, and roads …" It includes items like bricks, wood, glass, shingles, and other "non-putrescible," non-hazardous materials.
In its current form, the bill would require contractors to recycle 35 percent of all debris—by weight—during the first year after the requirement takes effect, on July 1, 2013. After July 1, 2014, contractors would be required to recycle at least 60 percent of debris.
Projects subject to the requirement include construction and demolition of residential buildings with more than four units and non-residential buildings greater than 4,000 square feet, as well as rehabilitation projects that require the department of Licenses & Inspections to issue a certificate of occupancy. Projects that do not require building permits would be exempt from the law.
"It's a bill that Councilman Kenney and Blondell Reynolds-Brown tried to introduce in 2008," Councilman Henon said. "I thought now the environment—no pun intended—is a little more ready and acceptable for resources for recycling. We have good opportunity to take some of the construction and demolition materials that are left over on a job site, be environmentally safe and sound about it, and use the recycling opportunities that we have here."
He added, "I think we have a great opportunity to at least have this conversation in a public manner, and see the fiscal impacts that it's going to have on construction, development, and the city as a whole."
Councilman Kenney said he couldn't remember what exactly prevented the bill from going through the first time, but that he thought it would get more steam in 2013.
"Sustainability and recycling are important issues," Kenney said. "With all the new renovations that people are doing—trying to recycle old bricks and old lumber, for a certain look—all that's interesting stuff, so we try to support that if we can."
Andrew Sharp, of the environmental group PennFuture, said the group had approached Henon with the idea of introducing the bill. He said its provisions are based loosely on similar legislation in Chicago, but that he expects the specifics to change as the bill goes through Committee and toward a final vote.
"Construction and demolition (C& D) debris accounts for more than one-fifth of our City's waste and often ends up on vacant lots and illegal dumping sites," Sharp wrote in an email. "The bill mandates that construction projects reuse and recycle C & D waste, helping to divert debris from landfills, incinerators and illegal dumping sites. It's a win-win for Philadelphia's residents and businesses — it would remove tons of waste from landfills and incinerators that pollute our planet, while saving money for our City's businesses through decreased tipping and waste hauling fees. It would also drive the local recycling and salvage market, creating jobs for Philadelphians."
Members of the Building Industry Association and the Department of Licenses and Inspections were not immediately available for comment.
Contact the reporter at jbrey@planphilly.com and follow him on Twitter @jaredbrey
WHYY is your source for fact-based, in-depth journalism and information. As a nonprofit organization, we rely on financial support from readers like you. Please give today.