'Big Red Sun,' cloudy script, from 11th Hour Theatre Company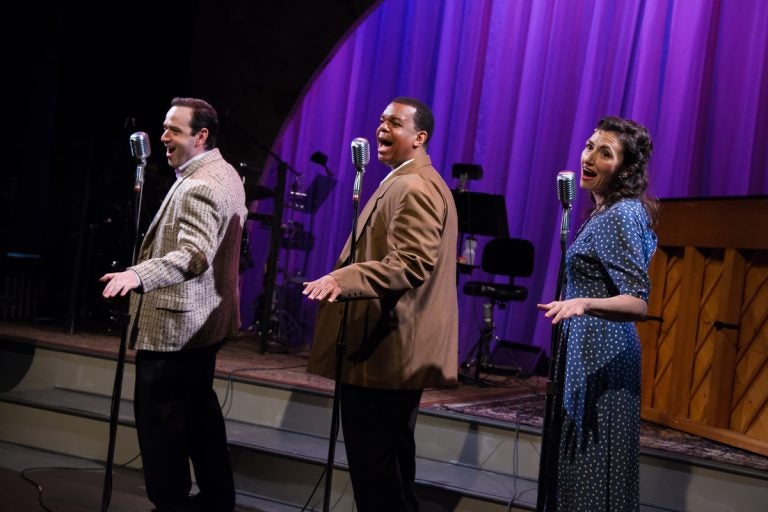 Deception wafts through the new musical "Big Red Sun" almost from the start. You sense it lurking in the voices of performers who sing swing music, and in Harry, the high-school boy who believes his father was killed serving overseas in World War II. You feel it in his mother's reluctance to talk about the past, and in flashbacks throughout the show deceit seems to be one of the characters – benign, protective, and mainly dishonest.
It's 1960, 15 years after the war is over, and at a community event Harry hears a reading of names of his small town's war dead. His father's name is not among them. Is his mother, and maybe everyone around him, lying to Harry? And why?
This world premiere, nurtured by 11th Hour Theatre Company and written by John Jiler, with his lyrics and music by Georgia Stitt, tells the story of Harry's father in flashbacks while Harry (Kyle Segarra) looks on. But the big question — just what happened to his dad and why — is left to Harry to uncover, which he eventually does with the help of a jazz and standards singer (the dexterous Rob Tucker) who had teamed up as an act with his mom and dad as the war was beginning.
Still, the show's book by Jiler has a "reveal" that never fully reveals. We learn what eventually happened to pops, in a tense, well-written scene that takes us directly to the war. But we never know why he dropped out of his family.
Unsatisfying as that is — along with too much well-worn dialogue in a show that needs more editing to have serious legs — "Big Red Sun" is more than musically sound. Stitt's tunes, even for some numbers that seem gratuitously included and for the icky title song that tries to leave us fuzzy with warmth at the show's end, are a pleasure. Her versatility is impressive. She composes and orchestrates old-fashioned rock-and-roll, happy swing,  plus jazz and klezmer, and the show blends them into a pleasant package enhanced greatly by Toby Pettit's crystal sound design.
One of 11th Hour's founders, Megan Nicole O'Brien, stages "Big Red Sun" with a flair for just the right pacing on a minimal set. It comes off more like a pared-down version of the show than a full production and that makes sense, given that 11th Hour has become the region's go-to company for concert versions of musicals.
It also allows for age-inappropriate casting, since the music is paramount: Segarra is too old to play a 17-year-old boy (and he hams up his first number mercilessly) and Marybeth Gorman is too young to play his mother, but they're top-notch singers. The forceful tenor Michael Philip O'Brien, another 11th-Hour co-founder, is a stand-out as the dad.
Jamison Foreman finds the meat in several small roles and Hanna Gaffney does a star turn as a naughty French chanteuse. The tight musical direction by Dan Kazemi, part of the five-member band, is just what Stitt's compositions deserve. Would that the story itself were so crisp.
---
"Big Red Sun," produced by 11th Hour Theatre Company, runs through June 17 at Christ Church Neighborhood House, 20 N. American St., to the side of Christ Church at Second and Market Streets. 267-987-9865 or 11thhourtheatrecompany.org.