Second debate shows more confident Buono, but undaunted Christie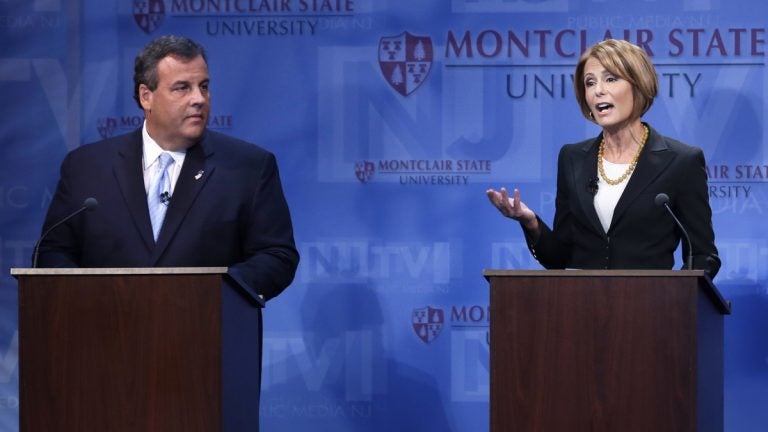 Democratic State Sen. Barbara Buono was feistier, better prepared, and even landed a couple of zingers on Republican New Jersey Gov. Chris Christie last night at their second and final debate.
By some accounts, albeit mostly Buono's backers, she might have even won the debate. Afterward, her supporters clearly were more pleased than a week ago after the first encounter, and Christie supporters more subdued.
But while the 90-minute exchange held at Montclair State University did introduce some news and drama — and even a little levity — into the governor's race, there was not a sense afterward that this would be a game-changer for the Democratic challenger who stands at a double-digit deficit in the polls.
"The senator was a different candidate tonight than we saw in the campaign, someone who clearly didn't have anything to lose," said Brigid Harrison, a political science professor at Montclair State and one of four members of the panel questioning the candidates.
"In many ways, that benefited her. She was articulate and very, very passionate," Harrison said afterward. "But the reality is going up against this governor, at this point in the campaign, is it enough?"
The debate covered a wide swath of topics, from state budgets and Sandy recovery to the federal shutdown and national politics to even whether the candidates favor Wawa or 7-Eleven convenience stores. (Christie is for Wawa; Buono, 7-Eleven.)
Many topics and exchanges were familiar territory — no surprise given that these two have gone at it for more than six months.
Christie spoke of bipartisanship, even when quizzed on how he got close to Democratic party bosses. Buono said the governor's often-abrasive style of politics is hardly a model of leadership.
Buono said she would support public education and higher education to a greater extent than Christie. The governor responded that she didn't have a plan to pay for it.
There were a couple of new tangents. In perhaps the one development that could be called news, Christie said he would now support a proposed bill that would allow undocumented immigrants to pay in-state tuition to state colleges and universities.
Christie said he supported the bill all along, even after he once vowed to veto it. But following up on an announcement this weekend before a Hispanic group, he said last night that his opposition was more a question of whether the state could afford it, and now he was more confident.
"I said then that when economic times get better, it is something I would consider," he said. "It is now time to sit down with the Legislature."
The governor proved equally adept at dodging similar questions.
When he was asked if he would oppose gay marriage if one of his children came to him and said he or she was gay, the governor said he would stand by his belief that marriage is between a man and a woman, but would also give them a big hug and say he loves them.
"I know that what they would understand is that their father loves them," Christie said.
At another point, Buono brought up Christie's cozy relationship with Democratic political leaders like South Jersey businessman George Norcross and Essex County Executive Joseph DiVincenzo, calling it the "Boardwalk Empire of backroom political bosses."
Christie was ready with his own story about Buono's one-time support of former Middlesex County Sheriff Joseph Spicuzzo, since sentenced to nine years for fraud.
Christie appeared most at ease when talking about the Hurricane Sandy recovery, and Buono even praised his work during the emergency. When confronted on problems with insurance payouts or cleanup costs, he turned to stories about families and businesses devastated.
When asked who he would invite to the Super Bowl next year if given the chance, Christie said he would ask a 9-year-old girl from Middletown who lost her home and is a favorite subject of his post-Sandy speeches.
But Buono also was adept and appeared more prepared for the governor's and the panelist's questions.
When Christie asked Buono if she regretted any of her votes for tax or fee increases — votes he counted at more than 150 — she turned it on the governor and talked about his backing for tax credits and blocking a millionaire's tax.
When Christie called her beholden to the public employee unions that have endorsed her candidacy, Buono angrily interrupted the governor.
"Nobody controls me," she said. "I'm here for the people of New Jersey."
At another point, Christie lamented the federal shutdown and likened it to the state government shutdown in 2006 under former Gov. Jon Corzine, when Buono was the Senate budget chair.
It has been a familiar line for Christie, linking Buono to the since-disgraced former governor, but Buono was ready this time.
"I am not Jon Corzine, and you know it," Buono said.
Still, not all her answers were so confident.
Buono has said a central piece of her education platform is full funding of public schools under the School Funding reform Act, but last night she made no promises that she could deliver within four years and said it could even take 10 years.
When she was repeatedly pressed on how she would support all that she has pledged in the campaign, with the education costs alone topping $2 billion, she spoke about the budget process being an exercise in setting priorities.
In the end, it is hard to gauge how much a debate could have even been a game-changer for Buono in the face of recent poll numbers that put her as much as 20 percentage points behind.
Last night's debate in particular may prove especially tricky, with it only broadcast on NJ Public Television and CSPAN.
"Debates can be game-changers in gubernatorial races, but I'm not sure they can be in this particular race," said Harrison. "There is that potential, but right now his lead is just so much and there are so few undecided voters."
_________________________________________________________
NJ Spotlight, an independent online news service on issues critical to New Jersey, makes its in-depth reporting available to NewsWorks.