Ben Franklin's 8-Bit World
The Franklin Institute currently has a summer exhibition, "Game Masters," about video game design, past and present.
Beginning with the arcade era of the early 1980s with addictively simple games like Pac-Man and Space Invaders, "Game Masters" includes games that broke the mold by creating complex digital worlds (SimCity) or by reaching out into your analog world (Rock Band, Dance Dance Revolution), and features independent designers whose games captured a popular zeitgeist (Angry Birds, Minecraft).
The Franklin Institute designed it own video game – a nostalgic throwback to the Atari and Nintendo console games of the early 1980s – about Benjamin Franklin. "The Adventures of Benjamin Franklin" is playable both in the exhibition and online.
It's a concept with a thousand variations: a blocky, pixilated character stands on the left, in profile, and moves to the right encountering obstacles. You can arrow key left or right, and you can jump. That's about it.
For kids of a certain generation, this was the blinking, bleeping 2-dimensional world that infiltrated their dreams and hooked them forever.
"In the game business they call this a side-scrolling platformer," said Aaron Miller, the senior producer of digital media at the Franklin Institute, who was once one of those kids.
"I missed Atari because my family didn't have one. But when Super Nintendo came out I played Mario and Zelda kind of non-stop for a couple years," he said.
These games were made with primitive, 8-bit computer technology: it wasn't great, but it was what we had and we liked it. Miller designed "The Adventures of Benjamin Franklin" in that same style. A svelte Franklin evades rats, leaps over spike pits, and climbs the exterior of Independence Hall to collect keys and kites.
"8-bit Ben is very much Mario," said Miller. "The color palette I used and all the movements are referential to Super Mario Brothers."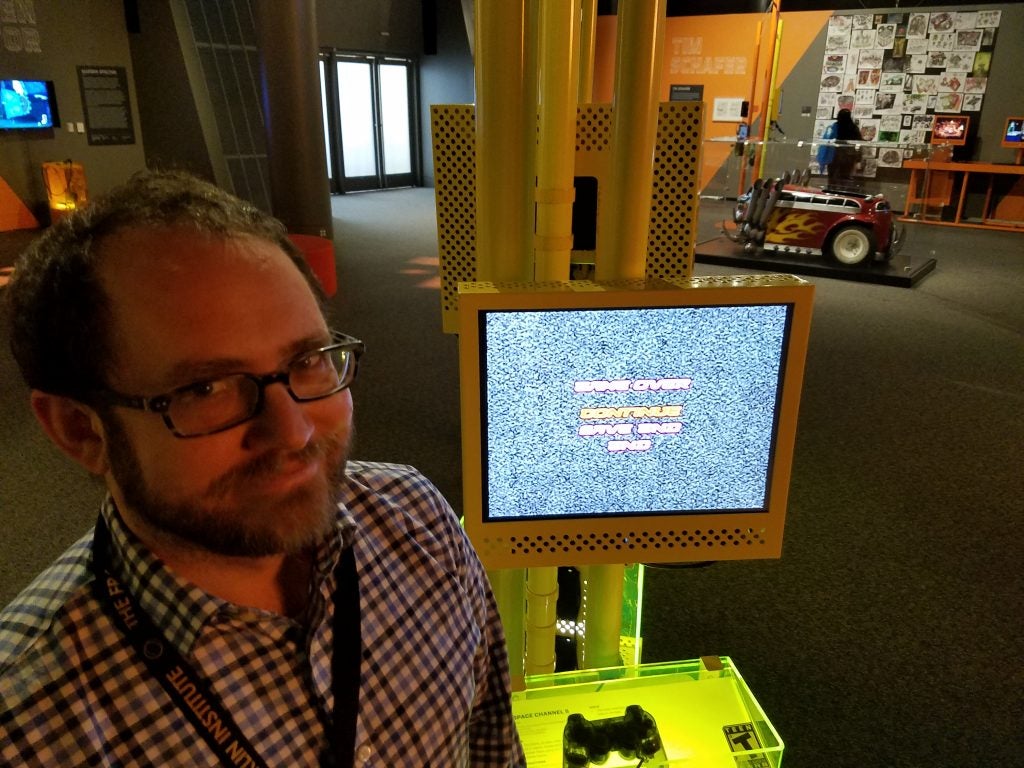 The game takes some liberties. Rats, for example, were not plentiful in colonial Philadelphia. The common rat is thought to have come over from Europe on merchant ships in the late 18th century. It's unlikely Franklin would have encountered a rat infestation while attempting to harvest electricity with his famous kite.
"That was a weird addition," said Miller. "All the early 8-bit platform games had a good enemy. Like, Mario Brothers had a turtle guy and a mushroomy guy. I couldn't think of an enemy for Ben. He didn't have any enemies. There was, like, one guy he had an argument with once."
So rats it is, albeit historically inaccurate.
What was most interesting for Miller was being able a piece of music thought to have been written by Ben Franklin as the game soundtrack, a 1778 quartetto written for three violins and cello.
The quartetto is not one for the ages; it was likely written as a lark. Critics have labeled it generously as "a musical farce," and less so, "miserable." Historians have not been able to attribute it with confidence to Franklin, but it's close enough for Miller.
Miller broke down the quartetto's four string instruments and translated them into into 8-bit digital sound elements: pulse waves, square waves, and small bursts of white noise. He got a rough facsimile of the tune. Play the game long enough and it becomes an earworm.
This kind of music, made from lo-fi 8-bit sound, is popular in certain digital music subcultures. So-called chiptunes are performed by hijacking the sound-making circuitry in old video game consoles, then re-programming them with original code.
Although Miller has dabbled in digital music, he says he is not a chiptune maestro.
"What I was most excited about was taking something Ben Franklin created 300 years ago, and how can I reimagine it for a video game today," he said. "It was more about this weird cultural juxtaposition of early Super Nintendo games and Benjamin Franklin, the inventor."
While much of the "Game Masters" exhibition at the Franklin Institute is geared toward kids with introductions to digital technology, the finer points of game design, and of course lots of games to play, those kids have parents who, demographically, hit the sweet spot of this 8-bit throwback to 30 years ago.
WHYY is your source for fact-based, in-depth journalism and information. As a nonprofit organization, we rely on financial support from readers like you. Please give today.