Being shut out of World Cup stings, but U.S. fans have goal of hosting in 2026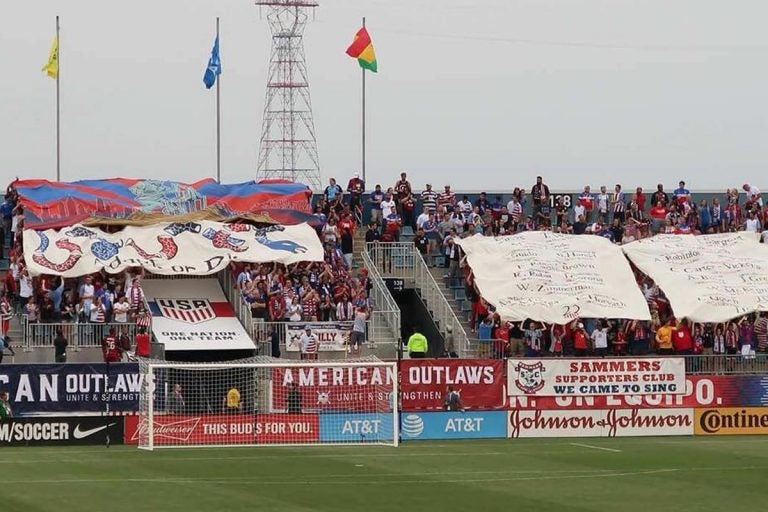 The World Cup kicks off this week in Russia, and U.S. soccer fans across the country are still reeling over the fact that men's national team didn't make the cut.
After a 2-1 loss to Trinidad and Tobago in October, the U.S. team failed to qualify — the first miss in more than 30 years.
For American soccer fans, not being a part of the world's most watched sporting event — which comes around only once every four years — is like Santa Claus not showing up on Christmas.
"It still hurts," said Chris Moke, president of Philadelphia's chapter of the American Outlaws, the U.S. national soccer teams' official fan club.
Not competing among the world's best 32 teams was a real blow to the group's morale, he said. But the Outlaws are slowly beginning to recover after seeing the U.S. defeat Bolivia, 3-0, in a friendly international match on Memorial Day in Chester, Pennsylvania.
While watching the last World Cup in Brazil, Moke said, he got chills listening to thousands of fans belt out their national anthem in unison with the home team at a packed Sao Paulo stadium before the opening whistle of the tournament.
He doubts that enthusiasm will ever carry over to the U.S. and its national team, but he said that spirit is what makes the World Cup special.
For the monthlong World Cup competition in Russia, Moke, like many U.S. fans, will still be watching, but he plans on rooting for another team: Poland.
"I'm majority Polish, so I have a secondary team to go off of," said Moke. "It's not USA, but it's still someone to root for that isn't a big dog. That's not Germany, that isn't France, that's not a favorite."
As for the future of American soccer, Moke said he's looking toward the 2019 Women's World Cup in France where's he's hoping to support the U.S. women's national team in person.
For U.S. soccer fans, one possible silver lining in missing this year's tournament is that on Wednesday, FIFA will announce who will host the World Cup in 2026. The U.S., Canada and Mexico are in the running under a joint bid against Morocco.
Under the united bid, 23 cities across North America have been tapped as potential host cities, with Philadelphia  among them.
Larry Needle, executive director of PHL Sports with the Philadelphia Convention & Visitors Bureau, has been spearheading the effort to bring the World Cup to the city for nearly two years.
"It would be huge," said Needle. "Along with the Olympics, it's just one of the biggest events in the world, certainly, once every four years, and the eyes of the world will be on the hosts no doubt."
If the North American countries are chosen, Needle said, the potential hosts cities will be pared down to 15 or 16, and he's confident Philadelphia will be on that final list.
"As the birthplace of our country and a city experienced with hosting large-scale events like the 2017 NFL draft, 2016 Democratic National Convention, and 2015 papal visit, Philadelphia is the perfect staging ground for an international event like the World Cup," said Philadelphia Mayor Jim Kenney in a written statement.
Needle said it's premature to determine potential costs or any economic boosts to hosting the World Cup. But he expects that if the U.S. does win the bid, host cities wouldn't be announced until 2019 or 2020.
In the meantime, for soccer fans in Philly looking to catch some of this year's World Cup action, Moke says the American Outlaws will be organizing watch parties at the Field House in Center City during the tournament.
"I'll still wear a USA jersey, even though we're not in it," said Moke.