Audio: PA Taxi Association president compares Uber X to ISIS terrorists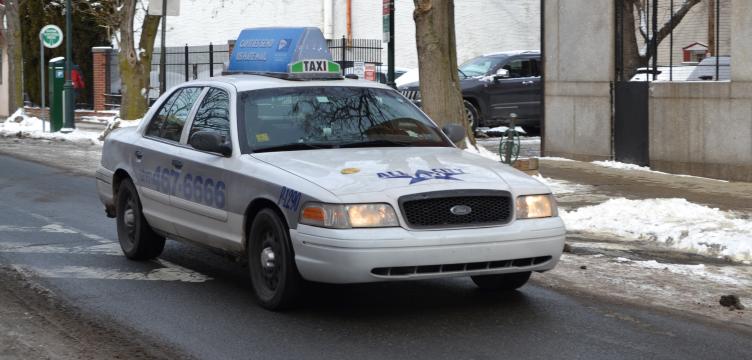 Yesterday morning's Philadelphia Parking Authority board meeting – the first since Uber X began operating in defiance of Philly's taxi regulator last Friday – was a pretty staid affair after some initial fireworks during the public comment segment.
Alex Friedman, president of the PA Taxi Association and general manager of the All City and Checker Cab companies, had some harsh words for his new competitors.
"I try to equate this illegal operation of Uber X as a terroristic act like ISIS invading the Middle East" he said, "It is exactly the same menace."
Listen:
The comparison feels a bit overwrought.
ISIS, the Islamic State of Iraq and the Levant, is a terrorist organization that splintered off from al Qaeda in Iraq, in part because they were too brutal even for al Qaeda. They've been in the news lately for grisly mass executions and the beheading of two journalists.
Uber X is a division of popular e-hailing app Uber, which differs from the fancier Uber Black livery service in that it allows regular people who own recent car models and pass a criminal background check to rent empty seats in their cars to people in exchange for money.
Mr. Friedman has a point that attempting to seize control of a country through violent insurrection and beheadings and selling rides to consenting passengers without a government permit are both illegal activities, but the similarities appear to end there.
The scale of the crime may seem more vivid to Mr. Friedman because All City and Checker Cab together own about half the city's taxi medallions – the rationed legal permission to operate a taxi – for Philly's 1,600 taxis. Also, an Inquirer article from 2003 stated that Friedman and his wife personally own 40 medallions, which would be worth about $21.8 million if they still own all of them.
We have an unreturned call in to the PPA to confirm how many medallions Mr. Friedman still owns, but suffice it to say that Mr. Friedman and his companies have a spectacular amount of wealth riding on the outcome of the push in Harrisburg to legalize ride-sharing services.
WHYY is your source for fact-based, in-depth journalism and information. As a nonprofit organization, we rely on financial support from readers like you. Please give today.