An off-season Fringe, with the spotlight on local successes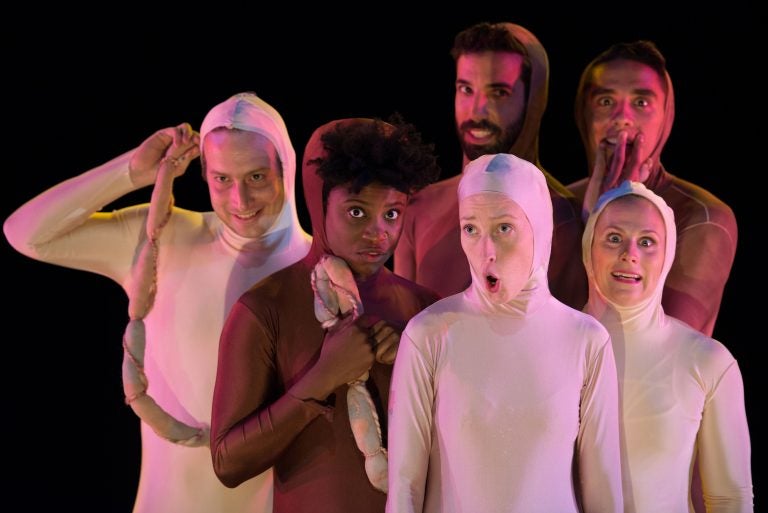 Fans who buy tickets to the Philly Fringe Festival, more than two weeks each September with hundreds of shows, have long posed the question: Why just two weeks?
The first response came four years ago, when FringeArts, producer of the festival, acquired its own building and began to sporadically — then more and more — present shows over the other 50 weeks. Now, FringeArts has begun an off-season festival that underscores its success, and also the successes of local artists and groups that gained wide public notice from performances in the Philly Fringe.
The new festival, called the High Pressure Fire Service Festival (or Hip-Fizz by some of the FringeArts staff), runs through most of June, with a new show opening each month. It features stage companies whose fortunes rose at the Fringe both decades back and recently. These include Pig Iron, a pioneer in self-devised theater by a group of artists who create it from the initial concept through the finished production, and the more recently successful Lightning Rod Special – the second generation of performers, whose work is now acclaimed after taking off in the Fringe just a few years ago.
Why "High Pressure Fire Service Festival?"
High Pressure Fire Service is the original name of the FringeArts building — it's still engraved on two facades at Race Street and Columbus Avenue, at the Delaware River.
"I love the idea that it was built in 1903 by a bunch of Philadelphia engineers," said FringeArts producing director Nick Stuccio, who sees the same sort of homegrown creativity at the heart of the new festival.
When the building opened, Center City was growing up, literally, and insurers were hard-pressed to sell coverage "because the city's low-pressure water system couldn't even reach four stories," Stuccio said. The High Pressure Fire Service could suck enormous volumes of water from the Delaware, shooting about 12 stories high through hydrants. The service was decommissioned in the 1980s, when sprinkler systems made it obsolete.
These days, the building houses the FringeArts theater, La Peg restaurant and late-night stage, and the Fringe offices – plus an outdoor bar with seating. That's more than enough to contain a smaller festival geared solely to locally based performers.
"We wanted to have something special for artists in Philadelphia," Stuccio explained. "The Fringe Festival is the time we're looking around the world for the snapshot of culture we're trying to take. There's a new generation of artists here we support and champion, and this festival is a way to present the work we love."
Because the Fire Service festival hosts one show at a time — not the large number of shows fanning across the city during the Fringe Festival — groups can have more use of the FringeArts facilities in the critical final days of putting up a show.
"A Fierce Kind of Love," tracing the intellectual-disability rights movement in Pennsylvania, had ample time in the space when it opened the festival early this month.
Lightning Rod Special's "The Appointment," which begins performances Wednesday and runs through the end of March, has had 2½ weeks to finalize the work in the FringeArts space. "Usually," said Stuccio, "we can give people about half a week."
The new festival includes world premieres by the oddball Berserker Residents (in April), Pig Iron (May), Team Sunshine (June), and poet-musician Camae Ayewa (also known as Moor Mother, and also in June).
Lightning Rod Special, up next, is an example of what a festival can do for artists producing inventive, outstanding — and unusual — work. The group's members include graduates from Pig Iron's theater school here, and they began devising full-length works in 2012. Three years later, their play "Underground Railroad Game" boosted them into a national spotlight when it opened in the Fringe Festival. A dark and compelling satire about race, education, and the way sex and power relate to those themes, the show was a sell-out and played again at FringeArts the following spring.
It went on to run at off-Broadway's Ars Nova in New York, where it won an OBIE Award for the best new American theater work and landed on the New York Times list of top 10 plays of 2016. Lightning Rod Special has since toured "Underground Railroad Game" in festivals, at colleges, and in theaters here and abroad, last month finishing a run in Australia.
The stage company's new work opening this week in the Fire Service festival is "The Appointment," a musical satire about America's ongoing abortion debate. It uses, according to its marketing material, "a pop-up musical format to ask tough, important questions about bodily autonomy, race and who gets to have access."
"We've been writing and devising this piece for three years now," said Alice Yorke, co-artistic director of the company and the person who first brought the idea to Lightning Rod Special's table. "It's something I've always been passionate about — creating access to abortion care for people who need that. When we started making this show, I was thinking about the idea that the life of the fetus has more value than the woman who's carrying it."
The show moves through two different worlds, Yorke said. "One is the satirical world — and that one's where most of the music lives. That looks like a womb world, but we don't especially talk about it like that. The second world is a series of scenes that take place in a clinic. They're written based on research I had the opportunity to do at different Philadelphia-area abortion clinics. They're based on real speeches the doctors have to give to patients, and things like the amount of time you have to spend in a waiting room, or sitting on a bed waiting to get an ultrasound."
The play developed in the same way as a lot of what's called "devised theater:" A team of four improvise in rehearsals, generating material and editing it — as Yorke said, ruthlessly — until they believed it would work theatrically.
Lightning Rod Special has partnered with the Women's Medical Fund and Allentown Women's Center, whose leaders gave Yorke access to research and visited rehearsals to answer questions from the show's creators. Post-show talkbacks will feature representatives from both groups.
And one event will be Fringe all the way: sex-ed trivia night, a sort of libidinous Quizzo, on March 29.
—
For information about all the shows in the FringeArts High Pressure Fire Service Festival, visit fringearts.com/programs/high-pressure-fire-service