A gem of a 'Gem of the Ocean'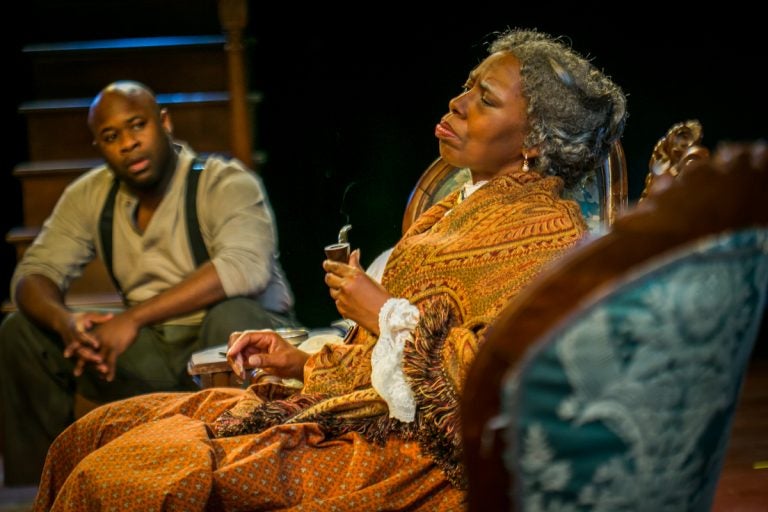 As the dialogue in August Wilson's "Gem of the Ocean" becomes increasingly poetic and the play's spirituality intensifies, this production from Arden Theatre Company soars higher and higher. It perfectly dresses Wilson's story in a bold theatricality that brings us directly into the home at 1839 Wylie Ave. in Pittsburgh in 1904, when former slaves were moving into the center of the city's black community.
That neighborhood — later called the Hill District, still its current name – is the setting for Wilson's 10 plays chronicling life over the course of a century. "Gem of the Ocean" is the first play of that cycle, and the fourth the Arden has produced. With this production, directed by James Ijames to illuminate the complexities of its plot and bring them to sharp focus, the Arden cements its position among the nation's most accomplished producers of Wilson's work. The company intends to stage the other six plays by the late black artist, one of our greatest modern playwrights, through the coming seasons.
"Gem of the Ocean" — a reference to a slave ship that figures highly in the play — isn't the only August Wilson work Arden is producing right now. A one-man play he wrote with Todd Kreidler, "How I Learned What I Learned," is in previews at its studio theater a few doors down and will officially open next week.
Every element in the Arden's production gives "Gem of the Ocean" the feel of a tightly constructed puzzle, meticulously solved. The acting is convincing and forceful, beginning with the single-named Zuhairah, who plays the elderly matriarch Aunt Ester, head of the house at 1839 Wylie (Thom Weaver's roomy, abstract interior with surrounding outdoor space full of black busts). Zuhairah exudes old-fashioned righteousness as the woman known widely as a trance-inducing washer of begrimed souls, and the way she acts with her eyes alone could carry the character.
Into Aunt Ester's home comes a man named Citizen (the superb Akeem Davis), recently arrived in Pittsburgh from a Deep South that continues to enslave emancipated blacks with open hatred, beatings and worse. He begs Aunt Ester to wash his soul because he's done a terrible thing that will land him in hell if he's not somehow cleansed. Aunt Ester, who has named the stars after her children she'll probably never see again, is disposed to like him — he reminds her of one of her sons.
The other actors play characters who come and go in Aunt Ester's life, and each is keenly welded to the various roles: the always-commanding Brian Anthony Wilson as Aunt Ester's friend who loves her unquestionably; Steven Wright as her handyman and protector, who's building a security wall outside; Danielle Leneé as the warm-hearted housekeeper who cannot please her employer in almost any instance; Brian McCann as white peddler of kitchen goods and friend of the household; and Bowman Wright, the black chief cop of the district, the sort of man who would easily kill a kid for stealing a loaf of bread.
Put these actors together, and under Ijames' direction they create a force field that sucks you in. Dress them in LeVonne Lindsay's evocative early 20th-century garb and enhance their characters with a Daniel Ison sound design of guitar chords and trance effects, and the evening is complete.
In real life, however, the story continues to unfold — you can proclaim emancipation, but that doesn't make it so. Its dynamics change with new and different enslavements, just as neighborhoods like the Hill are ever-evolving. Aunt Ester's address, 1839 Wylie, was once the heart of a poor but thriving neighborhood whose transitions Wilson traced nine more times, ultimately through its ill-planned urban redesign. Now, 1839 Wylie is an empty, grass-covered lot leading to an old, red-brick building for Nazareth Baptist Church. The church windows have bars.
—
"Gem of the Ocean" runs through March 31 at Arden Theatre Company, on Second Street north of Market Street. "How I Learned What I Learned," co-written by August Wilson, runs through April 14 at Arden's Hamilton Family Arts Center, a few doors from the main building. 215-922-1122 or ardentheatre.org.