Progress report for Pier 11, bike path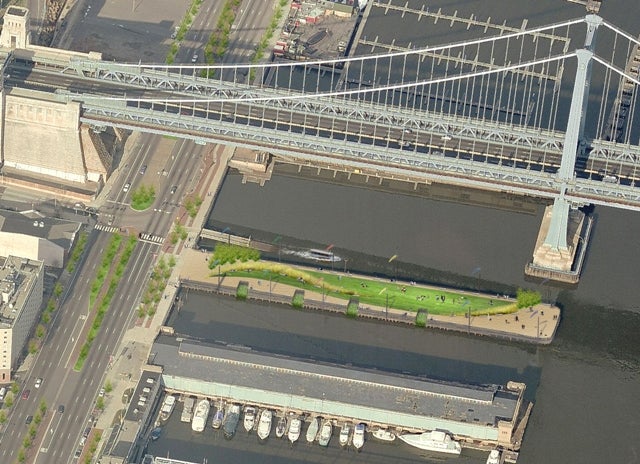 June 4, 2009
By Thomas J. Walsh
For PlanPhilly
The public green space and park intended for a revitalized Pier 11, at the southern foot of the Benjamin Franklin Bridge – the first tangible project of the city's newly adopted Central Delaware Waterfront plan – attracted 26 different proposals, with four firms chosen as finalists.
The progress was reported by Marilyn Jordan Taylor, chair of the Delaware River Waterfront Corp.'s planning committee, at Thursday morning's meeting of the DRWC's executive committee.
"We are very optimistic about what was a very large turnout," said Taylor, who is also the dean of the Penn School of Design. "There is a lot of excitement in the design community for these rare, large master plan projects."
Taylor's planning committee, which includes Philadelphia City Planning Director Alan Greenberger, will host a public presentation of the Pier 11 finalists on June 17 (6 p.m.) at Festival Pier (Columbus Boulevard at Spring Garden Street). Taylor said each firm will present their design schemes for about 20 minutes or so that evening, including how the pier's sense of isolation will be overcome, and how the park will engage the community.
The four finalists are: Andropogon (www.andropogon.com ); Field Operations (www.fieldoperations.net ); Michael Van Valkenburgh Associates (www.mvvainc.com ); and W Architecture and Landscape Architecture (www.w-architecture.com ).
Greenberger reported that 27 applications were received for the new master plan project manager position, which was narrowed to four "really strong candidates." He'd like a decision to be made by next week, he said, with a public announcement to be made shortly afterward.
Greenberger made a point of saying the hiring group did not include him, as it (and other planning decisions by the DRWC) would pose varying degrees of conflicting interests since he is the city's top planning executive. During a discussion of the DRWC's ethics policies, he suggested taking on an "ex-officio" role for this reason.
DRWC Vice Chair Donn Scott conducted the meeting in the absence of Deputy Mayor for Planning and Economic Development Andy Altman.
Low-profile bike trail
Deputy Commerce Director Elinor Haider announced at the meeting that the first of three stages for an interim bicycle trail has been completed from Lombard Street to Washington Avenue – mostly consisting of lined lanes on Columbus Boulevard. The second section, from Washington south to Reed Street, is now being priced. The third and final section, from Reed to Pier 70, is another matter entirely.
There, DRWC staffers are working with property owners to negotiate easements. For now, the DRWC and the Center City District are downplaying the trail, as "there's no ribbon to cut," Haider said.
'Not going anywhere'
Two individuals (aside from PlanPhilly) made up the attendance at Thursday's PRWC executive committee meeting. One was a familiar face: Craig Schelter, who represents a group of riverfront developers with concerns about the Penn Praxis plans that led to this week's preliminary City Council approval of large, interim overlay district to guide planning and development efforts for the next year to 18 months.
Schelter's organization, the Development Workshop, "really appreciates that your meetings are open," he said – particularly since much of the property being discussed is privately owned. "It's important that we can make recommendations for land you don't own."
Schelter repeated a request made of Councilman Frank DiCicco's office on Wednesday: that a copy of the city Law Department's opinion on the legality of the riverfront overlay district be made public as soon as possible. The seven-mile area of the overlay is entirely within DiCicco's First District boundaries.
After the meeting, Schelter said the members of the Development Workshop feel that they will have no due process rights within an area that will have no codified zoning once City Council passes the zoning legislation (it appears likely the full Council will vote on the overlay bills on June 11).
After that, it'll hardly be a moot issue. "We're not going anywhere," Schelter said.
Schelter, who is a former City Planning Department executive director and a longtime senior player with the quasi-public Philadelphia Industrial Development Corp., is not a developer himself – though he represents the Workshop's members (who prefer to remain behind the scenes for now) as its public leader.
But he said that by his math, only 14 percent of the riverside land within city limits, on 56 parcels, is owned by the city. Even on such a basic point, he said he's been met with resistance.
"I'm trying to check my own math here," Schelter said, with a laugh. "That's why we asked [the Planning Commission] for a real map."
Kindred Spirit?
The other person attending was known to anyone familiar with the river's cruise ship, The Spirit of Philadelphia, which is celebrating its 25th anniversary in the city. Observing the DRWC proceedings Thursday, routine as they might appear, delighted Bob Gregory, the ship's general manager.
"Our primary interest is the waterfront, obviously, so this redevelopment agency being turned into the DRWC is just about as exciting as it can get for us," said Gregory. "There is no longer a frustration that we had to deal with in the past [with the dissolved Penn's Landing Corp.]. Now there is an organization where we can actually sit in on their meetings. The last one would not let us do that – they were very secretive."
Gregory, who has been the GM at the Spirit of Philadelphia since 2000, and is originally from Virginia Beach, said that when he first came to Philly, he could scarcely believe how much undeveloped land there was up and down the river. He said he's still amazed that there is a Wal*Mart on riverfront land that, in most cities, would be the most expensive real estate in the region.
"I see the waterfront as an underutilized gold mine. But the city controls a lot of property and there is a lot of discussion left to be had on this."
Gregory said the ship's parent company, Entertainment Cruises, is enthusiastic "about any development that that brings people down to the waterfront for purposes of entertainment" – including casinos. In fact, the possible return of a SugarHouse / Foxwoods bookend scenario would be ideal, he said, in terms of getting a volume of people coming to the river as soon as possible.
"Whether gambling is positive or negative is about how the city manages it," Gregory said. "We're talking about adults who would be going in there."

Contact the reporter at thomaswalsh1@gmail.com.
ON THE WEB:
Spirit of Philadelphia: http://www.entertainmentcruises.com/Philadelphia/Spirit/home