Visions of other troubled waterfronts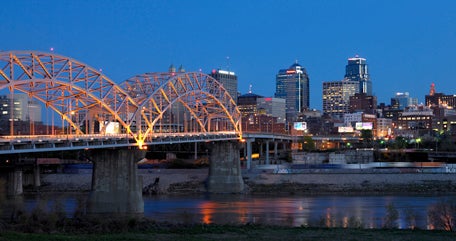 Kansas City waterfront
April 27
By Thomas J. Walsh
For PlanPhilly
MINNEAPOLIS – A waterfront on a major river with an industrial past, brownfields galore, resistant developers and a bureaucratic city government. A highway cutting off residents from the river. Decades of delays and ill-fated endeavors. Controversial overlays.
Sound familiar? Philadelphia's not the only city with these kinds of major barriers, and two leading planners with similar problems joined Harris Steinberg, executive director of PennPraxis, at a Sunday morning panel ("Reclaiming and Reconnecting the Urban Waterfront") just after the opening keynote address at the American Planning Association convention here on the banks of the Mississippi River.
With Steinberg were Vincent Gauthier of the Port Authority of Kansas City, Mo., and Douglas Adams, a Brooklyn transportation specialist who has helped re-develop miles of East River waterfront as the result of a half dozen or more major projects done or underway.
Steinberg went first, giving his outline of the Civic Vision for the Central Delaware Waterfront for the third time in less than a week. The only differences in the presentation were some necessary asides to give a bit more Philadelphia color for those unfamiliar with the Quaker City's political peculiarities.
Gauthier's Kansas City is the second largest rail port in the country, and is the third largest trucking port. "Rails and roads come well before rivers where we come from," he said. "I believe Kansas City has the worst riverfront development of a major city in the U.S."
He's dealing with about 100 acres on the Missouri River, roughly called Berkley Park, which he believes can be developed into open spaces used for parks and recreation, but only after a major commercial development. "Right now we're seeking a very specific catalytic project, and we want to do it right," Gauthier said.
That might come in the form of a federal office building for the General Services Administration, but it is being fought by political forces who want it placed in Kansas City's central business district.
Things are moving with other efforts, though – a wetlands site, a bike trail connecting the city across the Missouri (to Kansas City, Kansas), a new bridge, a community improvement district and major sustainability efforts, including an overlay district which will mandate a certain LEED standard.
Brooklyn
With 2.6 million people, Brooklyn is the most populous of New York City's boroughs and would be the fourth largest city in the country if still its own town. And like Philadelphia, its job base has seen precipitous decline – 80 percent of its manufacturing jobs have been lost since 1947, and most of rest of those business moved to New Jersey or elsewhere.
The result: many miles of waterfront abandoned and rotting, and roadways that cut off the river just as the industrial barriers. Adams pointed out the enormous Brooklyn-Queens Expressway, courtesy of legendary New York developer Robert Moses.
"Moses convinced the world that there was no reason that cities should stand in the way of freeways," Adams said.
Adams has taken part in a number of projects, among them Brooklyn Bridge Park, "the result of 20 years of community activism." Conversion to open space from former shipping facilities is taking shape over 85 acres, the largest park project in the borough since Prospect Park.
He also described the re-zoning of the Greenpoint-Williamsburg area – 184 blocks and two miles of the East River waterfront, with 50 acres of new parks, the 28-acre Bushwick Islet Park, affordable housing, height limits and more. Adams credited Mayor Michael Bloomberg with giving zoning issues priority. Under him, fully one-sixth of the city's land area has been re-zoned, Adams said, more than the previous six mayoral administrations combined.
The IKEA in Brooklyn has also been a successful re-use of a former shipyard, shaped by neighborhood activism and strict environmental reviews. Instead of being a simple big box retailer, the Swedish company provides a free water taxi from Lower Manhattan, which has proven so convenient that some Brooklynites have taken to using it for their daily commute. There is also a free shuttle bus, on-site Zipcar and U-Haul services (at discounts).
In the public-private partnership, IKEA also created a six-acre waterfront park. "They are used to progressive approaches to transportation issues from their stores in Europe," Adams said. But given the New York market for the kinds of home products they sell, "it didn't take a whole lot of convincing" for the company to get onboard, he added.
Adams also outlined the Brooklyn Greenway Initiative, spanning 14 miles of waterfront, a nonprofit entity created in 2004 guiding the plans.
"Brooklyn provides a good example of what is possible in terms of reclaiming access to the waterfront through a combination of government and private initiatives coupled with smart community activism," Adams said.
More APA
The conference started Saturday and continues through Wednesday. Some 4,300 planners are on hand. Jonathan Alter, the Newsweek columnist, television analyst and author, delivered the opening keynote speech Sunday.
PlanPhilly will provide more coverage later in the week, including a report on successful preservation planning efforts in the city of St. Paul.
Contact the reporter at thomaswalsh1@gmail.com.
Minneapolis Star-Tribune: "City planners in town to give us the once-over" (http://www.startribune.com/local/43749177.html?elr=KArksLckD8EQDUoaEyqyP4O:DW3ckUiD3aPc:_Yyc:aULPQL7PQLanchO7DiUsr)