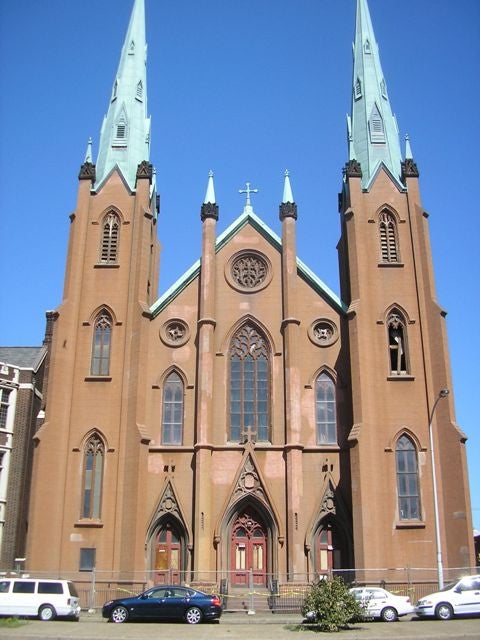 April 21
By Alan Jaffe
For PlanPhilly
The Philadelphia Historical Commission's designation committee has recommended that the Church of the Assumption, 11th and Spring Garden Streets, and four of the city's Carnegie Libraries be added to the Philadelphia Register of Historic Places. The commission will hold public hearings on the recommendations on May 8.
The Church of the Assumption was built in 1848-49 by Patrick Charles Keely, who designed more than 600 churches in North America. Assumption is probably the oldest surviving Keely church, according to the Keely Society, which is dedicated to the documentation of the architect's work.
The preservation nomination for Assumption was written by Andrew Palewski, a member of the West Poplar and Callowhill community. "Assumption is an extraordinary survivor in a landscape that has been all but stripped of its architectural heritage," Palewski said.
The church and the adjacent former convent and rectory are owned by Siloam, a social services organization that cares for people living with HIV/AIDS. The organization has sought to raze the church to add additional parking or other new facilities at the site. At the designation hearing, Siloam representatives said the church building is a public danger and that it no longer retains its historic or architectural integrity.
The designation committee determined that the church met several criteria for addition to the Register: that it has significant character or value as part of the heritage of the city; embodies distinguishing architectural characteristics; is the work of a significant, influential architect; and represents a familiar visual feature of the neighborhood.
The committee said the four libraries – the Kingsessing, Holmesburg, Logan and Haddington branches – also met criteria for addition to the Register.
All four buildings and seven other libraries had been scheduled for closure because of the city's $1 billion budget shortfall. Protests by the communities served by the libraries led to a reprieve for the buildings. The Preservation Alliance of Greater Philadelphia nominated the four Carnegie branches in order to protect the buildings from being altered in the future.
Andrew Carnegie provided $40 million for the construction of libraries around the country from 1886 to 1917, motivated by his belief that the wealthy were obligated to help society and that libraries gave all citizens the opportunity to improve their situation. In Philadelphia, 25 Carnegie libraries were built by some of the best architects of the era, and 16 still retain their original designs and serve as libraries.
Inclusion on the Philadelphia Register of Historic Places protects the buildings from "unsympathetic alteration and demolition." There are 10,000 buildings, structures, sites, objects and districts on the list.
Contact the reporter at alanjaffe@mac.com