Foxwoods, SugarHouse talk to Gaming Board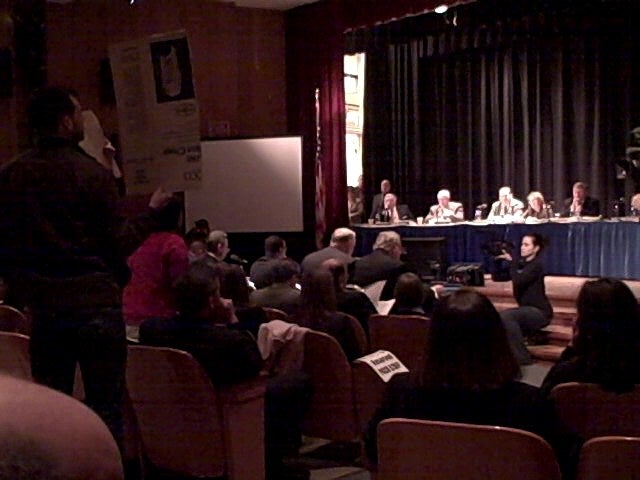 April 8, 2008
By Thomas J. Walsh
For PlanPhilly
HARRISBURG – Foxwoods Philadelphia told the Pennsylvania Gaming Control Board on Wednesday morning that it intends to forgo plans for relocation to The Gallery shopping mall at 11th and Market streets, opting instead to occupy the former Strawbridge's department store, three blocks east at 8th Street.
"We have reached an understanding for the principal terms of the lease," said Brian Ford, CEO of Washington Philadelphia Investors, the entity which represents the local investors.
Ford told the PBCB that the 8th Street space is a better fit on several fronts: There are no tenants at the Strawbridge's site that the Pennsylvania Real Estate Investment Trust (PREIT) would have to relocate. PREIT owns the building outright, rather than leasing it from the city's Redevelopment Authority, which owns the ground where the Gallery sits. PREIT would therefore have no need to negotiate, or win approvals from, the RDA, he said.
"Architects are currently working on plans for the Strawbridge's site," Ford said. "We as a tenant will fit into that design, rather than have The Gallery reconfigured."
Just last June, PREIT announced that the Commonwealth of Pennsylvania would be leasing 224,000 square feet of space on three floors in the historic retail spot, with some 750 state employees to be relocated there by this coming summer. There was no mention of a deal with the state that would negate that transaction.
Strawbridge's is comprised of two buildings, built in 1902 and 1928 for the Strawbridge & Clothier department store.
The historic building is many times larger than the intended space within The Gallery, giving the company the freedom to expand in multiple phases, adding entertainment options as market demand dictates, or even separate floors should table games or other forms of gambling, such as a sports book, become legal in the Commonwealth.
Financing is in place for the casino, Ford said, but he did not give details, such as the debt load Foxwoods would take on – or its lender.
Later in the day, though, Foxwoods spokeswoman Maureen Garrity told PlanPhilly that the needed financing for the first stages was being provided by the partners themselves – that is, Washington Philadelphia Investors LP, which collectively holds a 70 percent stake in the enterprise (see attached ownership flow chart, which Foxwoods has said is an accurate attempt to break down the maze of legal entities involved).
The amount of the financing would not be immediately disclosed, Garrity added, but she did verify that no bank loans are now involved in the project.
'Back-door' exit
Ford's testimony was given at a regular meeting of the Gaming Control Board. The Board summoned representatives from Foxwoods and SugarHouse – the other casino slated for Philadelphia – for a status update. In short, the Board wanted to know why it was taking the casinos so long to start construction.
Ford, several colleagues from the Foxwoods team, and representatives of HSP Gaming, owners of the SugarHouse Casino planned for the Fishtown riverfront, were interrupted many times by a large and boisterous crowd of anti-casino activists from several Philadelphia organizations, who arrived for the hearings by the bus load.
Casino-Free Philadelphia attorney Paul Boni, commenting on the Foxwoods announcement, said it was telling and symbolic that the Foxwoods team felt compelled to leave by way of the stage upon which the seven-member board sat – or "the back door," as those in attendance shouted.
"I thought a 'backroom deal' was just a phrase," Boni said. "Now I know it is literally true."
The Foxwoods representatives used that door at the request of Gaming Board Chairman Mary DiGiacomo Colins. She had asked security to clear the aisles of protestors – who at that point were forcefully yelling and jamming the front of the auditorium. But when that didn't happen within a minute or two, she asked the Foxwoods team to exit behind her.
"I'm not surprised that the public is the last to know" about the 801 Market Street location that Foxwoods has settled on, Boni said. "I would venture to say that even the Gaming Control Board knew. Today was a complete farce, as far as this quote-unquote status hearing."
The Harrisburg meeting was not the first time Foxwoods officials spoke about a Strawbridge's location.
But prior to Wednesday, officials said repeatedly that they were investigating both Strawbridge's and The Gallery as potential sites. Their operating license is for their originally chosen location at Delaware Avenue and Reed Street in South Philadelphia. Under pressure from a city administration that did not want the casino on the river, Foxwoods announced last fall that they were looking at The Gallery as its new location. Only recently has Strawbridge's been mentioned as a possibility.
Foxwoods officials said they will soon be petitioning the PGCB to relocate and extend their license, and that they would also be filing design plans with the City and Board.
The Foxwoods team said their planned first phase construction would have approximately 3,000 slots, several restaurant offerings and entertainment options.
'Will we get that financing?'
The SugarHouse team in attendance included principal investor Neil Bluhm.
SugarHouse filed a license extension petition with the Board months ago. Monday, they filed a second petition asking for the Board's approval on a new design which casino and city officials announced that same day.
"Our first objective is to get an interim casino open as soon as possible with at least 1,500 slot machines," Bluhm told the Board. "Most importantly, we've come to an agreement with the city to move forward. We've buried the hatchet. They are now supporting our modified plan."
The interim casino would create 500 construction jobs and 500 permanent jobs, Bluhm said, and more jobs would come with the completion of Phase I.
Bluhm said that SugarHouse had financing in place, but no longer. "We've been delayed, and the markets have changed drastically. The current financial markets are the most difficult I've ever seen, and I've been financing billions of dollars of developments for 40 years," he said.
Bluhm told the Board that he and his partners have $160 million in equity in the project. "We don't have a dime of debt," he said. Those two things give HSP Gaming the ability to get financing even in today's credit market, he said.
The team said they will need $120 million from banks and other institutions for the interim casino. "Will we get that financing? Well, that's my business, as I said – my business for 40 years," Bluhm said.
The Gaming Control Board did not ask any substantive questions of either Foxwoods or SugarHouse, seeking only two minor clarifications on their presentations.
No comment, redux
Generally, there is no public comment at regular PGCB meetings, but the Board made an exception for Wednesday's hearing. By the time the allotted time had come, though, the principals of the two casinos were gone from the auditorium, and the public's comments had in effect already been heard – through countless jeers, shouts of "Shame!" and other exhortations.
The protesters told the board the hearing was a sham and that they felt their comments were not being heard. "We respectfully decline to comment," said Rev. Robin Hynicka, pastor of Arch Street United Methodist Church, his anger visible on his strained collar. "But we demand, we expect, to have a public hearing in the near future so that we can respond to this and demand and expect high level representatives from both of these organizations to be available to hear our testimony on the record."
Brendan Walsh, 26 (no relation to the author), an organizing member of Casino-Free Philadelphia, said that there was no real oversight of the casino developers. "We have very little faith in the legitimacy of this organization," he said, motioning toward the dais. "At every point in this process, there have been illegitimate practices, at every level. From licenses being awarded, and now, not extended yet – both casinos are, in a sense, in default. Both licenses have expired.
The crowd noise and rebukes built in intensity during the HSP presentation and seemed to ferment more during the break, before the Foxwoods statements. Ford was forced to halt his testimony repeatedly.
Several times, Colins meekly asked the crowd for order, but her requests were not honored. None of the other board members spoke during the two presentations.
From a public relations perspective, Foxwoods pulled off a masterstroke of media control – employing a self-imposed gag order on March 30 with a short press release stating that there would be no response "to further media inquiries until we are prepared to announce an update on our activity."
That announcement came Wednesday, delivered by Ford to the GCB. It was followed almost immediately by a widely distributed press release from Foxwoods' local PR firm, Tierney Communications, founded by Brian Tierney, now the publisher of Philadelphia Media Holdings, the partnership that owns the Philadelphia Inquirer and Philadelphia Daily News.
Foxwoods' news came on a day when it was far from alone in the media spotlight. Not only was SugarHouse also on stage, but the Gaming Control Board issued another casino license that allows Valley Forge Convention Center Partners, L.P to operate up to 500 slot machines at its Montgomery County location. (Read more about the Valley Forge group in Inquirer reporter Joseph DiStefano's Philly Deals blog.
Throughout the course of the meeting, former State Senator Vincent Fumo's name came up several times. His office wrote the state's gaming legislation, and he later became part of an effort to move the casinos off the waterfront. Fumo was recently convicted on counts of conspiracy, fraud and obstruction of justice. Whenever his name was mentioned, the crowd booed lustily.
Asian Americans United Board Member Helen Gym spoke at the end of the hearing. Among other points, she said that any casino negotiations that involved Fumo should be immediately investigated.
"All of us are not here solely because we have the desire to block casinos," Gym said. "We are pro-neighborhood, we care about our children, we're lifelong Philadelphians, we love our city … we laid our roots here … we pay our taxes.
"More than anything else, we want you to understand that this is not about fighting something off. It's about building for a positive future."
Contact the reporter at thomaswalsh1@gmail.com.