RDA seeks ULI help for Logan Triangle
Mar. 24, 2009
By Thomas J. Walsh
For PlanPhilly

The Philadelphia Redevelopment Authority has engaged the Urban Land Institute to assist in the initial stages of assessing redevelopment plans for a 35-acre parcel of the troubled "Logan Triangle" neighborhood, five miles north of Center City. Logan is the site of the infamous "sinking homes" which were built on ash and unstable landfill atop old creek beds. Over two decades nearly 1,000 houses on 17 square blocks were impacted, eventually most were razed and their occupants re-located.
ULI Philadelphia Executive Director Susan Baltake said the national nonprofit will be doing the work for the city pro bono, using its "Technical Assistance Program" (TAPS), and that it is expected to be several weeks before the city is fully prepared to move forward.
"In a lot of ways the Logan project is so big, we really need to get a better handle on what the city would like done," Baltake said. "The neighborhood has very poor infrastructure. We've requested from the city an outline of what they really want us to do. The ULI would then assemble a team of members, and maybe others, all experts in their fields, that would lay out parameters for what's to be done."
Terry Gillen, executive director of the RDA and Mayor Nutter's senior economic development advisor, mentioned the ULI proposal at a panel in late February, when she was discussing the topic of councilmanic prerogative in Philadelphia.
"We're dealing with a really unpleasant parcel of land up on Roosevelt Boulevard," she said. Last summer, 9th District City Councilwoman Marian Tasco approached Gillen about finally accelerating a city program to help the blighted, wiped-out neighborhood.
"In response to her request for help, I went to the ULI," Gillen related. "The ULI is now going to do a major look at the Logan parcel. The councilwoman … was very open and very excited about having ULI step in and do some planning and do some thinking about this parcel. So I'm somewhat optimistic that if the city takes a forward role in planning issues, as long as we have the community and the Council people at the table, I think we can make a lot of progress."
On Monday, Gillen – bogged down in meetings for the week – said it was too early to discuss the Logan possibilities.
The Logan Triangle is listed among smaller properties on the RDA's Web site under "upcoming" requests-for-qualifications. A simple fact sheet lists four contiguous Logan parcels of empty land on 35 acres, bounded by Roosevelt Boulevard, 7th Street, 11th Street and Loudon Street to the north. (City Planning Commission documents from 2003 indicate an expansion of the redevelopment zone, west to Broad Street and several blocks north, encompassing at least another 10 acres.)
Owners and occupants of the Logan homes, from 1986 through 2000 or 2001, endured cracked walls, gas leaks, the spread of contaminants, ruptured utility pipes and full-scale collapses in addition to all manner of bureaucratic delays and indecision.
"They were structurally impaired, and ultimately the city had to come in and condemn lots and lots of these properties," recalled Peter Kelsen, a Center City zoning and land use attorney and Zoning Code Commissioner. "It was very disruptive – literally chunks of neighborhoods were condemned and people forced to re-locate. It's just blocks and blocks of vacant parcels."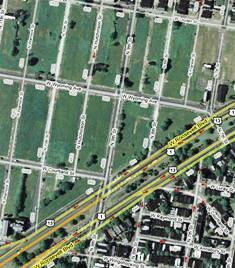 TAPS for Logan
The ULI's TAPS program is a form of community outreach service designed to give objective advice to towns, municipalities or community-based non-profits that request it, Baltake said. It addresses project feasibility and implementation issues, particularly for groups or cities "with limited staffing or financial resources, or those that operate in areas that are economically disadvantaged," the ULI Web site says. Logan qualifies; it has no resources, save perhaps Tasco and the RDA, and they are part of a cash-strapped city government.
Craig Schelter, co-chair of the Philly TAPS program for the ULI, said he has met with Gillen and her team, and he is in the process of putting together a team of eight to 10 volunteers to look at the issue. He expects the team to be in place by mid-May, which will work toward preparing a two-day session in the field when stakeholders will be interviewed and an understanding of the local context should be gained. The TAPS team would then re-group, develop recommendations and debrief the RDA. He said he met with Tasco for about two-and-a-half hours on the topic.
In the meantime, the RDA must put together a briefing book, and "the more detail the better," said Schelter, a veteran of several TAPS missions in Philadelphia and around the country.
"There's a lot of complexity to this particular site, not the least of which are the sub-soil conditions," he said. "There's been some Water Department interest in solving some draining issues in that area. We understand that a couple of shopping centers are interested in that site, and also a couple of pastors are interested in putting churches there."
Most TAPS teams include an architect and a planner, but the Logan squad will definitely include at least one engineer, Schelter said. It might well include a hydrologist and a retail expert as well. The team members, or panelists, must sign a conflict-of-interest clause to ensure objective analysis and that individual professionals will not profit from given recommendations.
"You really want to get the stakeholders to open up in a very short period of time," Schelter said. "You really need to have your panel members prepped. It's a very dynamic process. There's always something that you didn't anticipate, and for that reason they are very interesting things to be a part of."
The RDA will also provide staff support for the TAPS outing, and will be the agency responsible for follow-up reports or presentations.
The Logan initiative is part of a resuscitated Neighborhood Stabilization Program, which Gillen said recently will also bring a new focus to the rehabilitation of foreclosed properties, weatherization and energy efficiency programs, and opportunities for arts organizations and alternative energy entrepreneurs. The RDA is seeking short- to medium-term usage of its significant land bank of empty lots and unused industrial lands, including a pilot program for urban greenhouse farming, in partnership with area urban farming groups. (PlanPhilly, Feb. 25, 2009: http://www.planphilly.com/node/8368)
Contact the reporter at thomaswalsh1@gmail.com.
ON THE WEB:
www.phillytrolley.com/IMAGES/10TH_ST.JPG (Photo taken in September 1999, looking south on 10th Street, from Wyoming Avenue, towards Roosevelt Boulevard)
RDA: http://www.phila.gov/rda/RDArfps.htm
RELATED INFORMATION:
The Franklin Conference on School Design http://www.upenn.edu/penniur/civic/franklin/, including links to the basic drawings from the Logan team from the charrette: http://www.upenn.edu/penniur/civic/franklin/logan.htm. Here is a link to the final presentation: http://www.upenn.edu/penniur/civic/franklin/pdf/Franklin_final.pdf
WHYY is your source for fact-based, in-depth journalism and information. As a nonprofit organization, we rely on financial support from readers like you. Please give today.