How to keep a city advocate's fire burning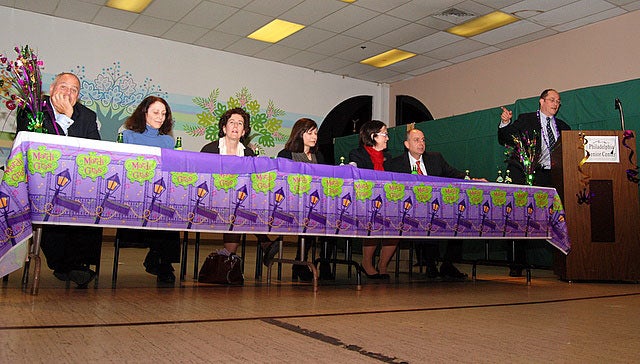 All photos by Donald D. Groff
Feb. 28
By Thomas J. Walsh
For PlanPhilly
Most cities exist amid striking dichotomies. From what we understand about the late Judith Eden, an "activist extraordinaire" who passed away last August, she knew that better than anyone.
So it's safe to say that she would've highly enjoyed the forum that her husband, Avi Eden, held in her honor Thursday night at the Philadelphia Senior Center on South Broad Street, where he brought together a developer, an artist, a zoning attorney, an urban blight activist, an architecture critic, a senior Nutter administration official and, eventually, the mayor himself.
The topic: "Should the criteria for opposing development projects be re-assessed?" The short answer: a collective "always."
Judith was not a preservationist and not a developer, Eden said. "She believed in good will and a lot of good faith. … This is a panel of many people who knew her and cared for her deeply…"
There was good-natured back-and-forth for more than an hour, with Eden cracking wise often, under cover of a well-timed version of "I think Judith would've said…"
At the conclusion of the forum, Mayor Michael Nutter made a surprise appearance, and in short order demonstrated how he became mayor: he stole the show. Eden told him they had been discussing the possibility of development criteria in these tough economic times being perhaps less important than getting things built, and people into jobs.
"Obviously there is much more pressure to have economic activity in the city of Philadelphia, but I don't necessarily know that we should lower our standards just because we're in dire straits," Nutter said. "I mean, things are bad, they're going to be bad for a while, but it's not going to last forever, and you know, bad projects usually stay bad for a long time."
The guy knows his audience. "Somebody's going to ask someday, 'What were those folks thinking about 30 years ago?' Most people are going to forget there was an economic crisis and we just had to have this absolutely horrible development because it was going to put hundreds of people to work and generate revenues. Having high standards, even in tough economic times, is important."
Two of the panelists – Mary Tracey, executive director of SCRUB (Society Created to Reduce Urban Blight) and Jane Golden, executive director of the Mural Arts Program – said much the same thing during the preceding hour.
As did Inga Saffron, the Inquirer's architecture critic, who shared her observations of the city's improvements during the past 10 years, despite a system for guiding development which "couldn't have been worse."
"In good times and in bad times, your values have to remain the same," Saffron said. "Of course it would be better if Philadelphia would streamline the approval process for development," but "this is the perfect opportunity for revamping the zoning code, for planning the waterfront, and for developing new amenities.
"It's also a time for taking stock and articulating the values that guide the city. That's something that we haven't done as well as we should. I thing a city's fabric is like a trust, or an endowment – you just don't want to touch the principle."
"The most important thing that Judith brought to the table and to the process was an understanding of the balance, meaning that a developer had certain rights and obligations, but also a defined plan that needed to be promoted," said Peter Kelsen, a zoning attorney who worked with Eden for 25 years, most recently as a fellow Zoning Code Commissioner.
"And that the community had a [voice], and they needed to be protected and supported when it came to those fundamentals. But she understood that both parties had to give of each other, and to reach a commonality, so that the projects could move forward, and the communities could benefit from them, and the projects could benefit from the fact that the community supported them. That's something that is a very rare commodity based on my experience with the zoning law in Philadelphia. It's changing – but it's not even close to being there yet."
The "designated bad guy" on the panel was the affable Bob Rosenthal, formerly of Westrum Development and currently vice president of The Reinvestment Fund, with offices in Philadelphia, Baltimore and Washington, D.C. Eden introduced him briefly by saying he is now with a nonprofit developer, but added quickly, "Of course they're all nonprofits now."
It was one of many laughs during an unusually relaxed and congenial discussion, especially for the type-As on the stage of the small auditorium, decorated – as Eden himself was – with Mardi Gras trimmings, another tribute to Judith, who "liked to marry kitsch to high art" and looked at Mardi Gras as another example of urban joy.
Rosenthal, in answering a question from one attendee, recalled his experiences with Westrum in a forlorn section of the city. "In Brewerytown, where there was no development, we bought 14 acres of abandoned property. There hadn't been any development in the area and there was no civic association. It's an interesting question: Do you help start the civic association?" More laughs. "But you decide what the right thing to do is, because you need the community."
Earlier, Rosenthal channeled Ronald Reagan's "nine most terrifying words" by saying his own "eight most feared words" used to be, "The meeting has moved to the high school."
Prerogative
Panelist Terry Gillen, Nutter's senior economic development official and the head of the Redevelopment Authority, said she's been thinking a lot about the issue of development versus the status quo in her latest positions, and in so doing introduced what might have been the theme of the night.
"In Philadelphia, City Council members have a very strong role – councilmanic prerogative – where almost any major development … or almost any vacant land transaction, has to go through City Council," she said. It's a controversial topic – deemed unethical by some citizen watchdog groups – but she said she thought she could speak for the mayor by arguing that, "Councilmanic prerogative is … often a good thing. It is, many times, the thing that stands between you and a really bad project. If you think about it, councilmanic prerogative is really a proxy for the community's voice."
Sometimes, Council members may not even have an opinion on a proposal, but could speak for constituents through this vehicle. And it has been serving another purpose, too, Gillen added – by necessity.
"I think the reason councilmanic prerogative has become so strong in Philadelphia is because of the lack of planning," Gillen said. "The city had sort of just abdicated its role as a planner and so you have community groups stepping in and council members … I am hopeful that [the Nutter administration] will be able to swing the pendulum back."
Nutter, unaware that the subject had been discussed, was slightly put on the spot by Avi and Judith's son, Ami Eden, a journalist, who asked if "Mayor Nutter" had a different opinion of the prerogative than "Councilman Nutter."
"It's a relatively small legislative body – 17 members," Nutter said, after some thought. When trying to make something happen, "on any given day, you really don't care who the other eight people are when you're trying to get something done. You can't be choosy. Getting elected to office has a lot of power – it also has a lot of responsibility. Used properly, this particular privilege of support from your colleagues can be a very positive thing. Not only what you can make happen, but what sometimes you can stop from happening."
He related an experience from his freshman year as a councilman, in 1992. A developer, armed with two powerful attorneys and the backing of then-Mayor Rendell, wanted to build a 725,000 square foot shopping center across Belmont Avenue from a golf course near City Avenue and needed a zoning change.
"So it's little 'ole me, the mayor, two powerful lawyers, and the developer. It's 1992 – city on the verge of bankruptcy. That's the scenario. And because my colleagues understood the negative impact that that would have on our community, no one would introduce the necessary zoning legislation to allow that bad thing to happen. That's my personal experience with this phenomenon. Now, used improperly, you can be the worst possible obstacle to making something happen."
Judith's fabric
Judith Shuman Eden was a private practice attorney and a former Zoning Board of Adjustment member. In 2008, she had been appointed to the Zoning Code Commission. She was also a past co-chair of the Center City Residents' Association and was on the boards of the Center City District and the Friends of the Mural Arts Program.
Before the discussion, the crowd gathered for a reception next door at the restored Mother Divine Mission. The Preservation Alliance of Greater Philadelphia describes the south Broad Street mansion as "an exuberant red brick and sandstone design influenced by the work of Frank Furness" possessing a "lavish interior with a high level of historic integrity." It's not an overstatement.
"Judith always said and felt that the trouble in Philadelphia is that we really love this city the way it is, and we love everything there is about the city – as it is," Eden told the crowd. "And it's going to be very hard for somebody to convince us that we need to change the basic fabric of our city to improve it dramatically.
"That's why she always felt you needed to interact with everybody and get everybody together, so that the fabric was preserved."
Contact the reporter at thomaswalsh1@gmail.com.
WHYY is your source for fact-based, in-depth journalism and information. As a nonprofit organization, we rely on financial support from readers like you. Please give today.