Philadelphia's fixes "are inevitable"
Feb. 19
By Kellie Patrick Gates
For PlanPhilly
Sitting in her Meyerson Hall office overlooking a busy walkway on the Penn campus, architect and urban designer Marilyn Jordan Taylor recalled a conversation she had with one of her heroes while working on the renovation and expansion of New York's Penn Station.
"It will take 20 years for this to be fully realized," she told New York Senator Patrick Moynihan. "You don't have that much time," Moynihan shot back. "Your job right now is to figure out the things that will make this project inevitable."
Now Dean of the Penn School of Design, Taylor sees a lesson for Philadelphia in the late politician's words: The city must develop a vision for the Philadelphia of the future, but it must also act quickly to capitalize on present conditions – including the potential windfall of federal economic stimulus money. And the city needs a plan to get from now to then, she said, so that every step will lead, inevitably, to that future goal.
"It's crucial to have a vision, but it's also crucial to know the first steps one takes," Taylor said.
This woman, who has spent the majority of her long career making real projects happen in the nation's urban centers, sees her present role as a unique way to continue to make a difference in the built environment. When it comes to the planning of a re-imagined Philadelphia, she wants a role for her school, her students and herself.
"We hope we can be a means of education and a contributor to the vision," she said.
Her timing is good.
She became dean in October, arriving in Philadelphia at a pivotal time for planning and design in this city.
Philadelphia has been so hard hit by the economic downturn that Mayor Michael Nutter, only in the job one year, decided to close libraries and cut fire station equipment, and has been hosting a series of meetings to get citizen input on other cuts. Still, Nutter is hopeful that a federal stimulus boost can translate into shovel-ready projects here.
Back in the Ed Bacon days, the city's planning department had rock star status. Now, city leaders are trying to emerge from an era known for its lack of smart planning and incoherent land use and inconsistent development. Nutter is overseeing the city's re-do of its archaic zoning code and creation of a comprehensive master plan.
Taylor has pitched headlong into that reformation, beginning work she hopes will help make better design, planning and development decisions for both the near and distant future.
Under her guidance, leaders from Philadelphia and other cities will gather here this spring to discuss how best to use the anticipated federal economic stimulus money.
"The idea … is to bring together cities who, like Philadelphia, will be looking for vision and framework to guide infrastructure investment, large and small," Taylor said via her Blackberry just before flying to Denver Thursday. "The goal is to bring expert knowledge to public decision-makers and citizen communities to capture the value of public and private investment in infrastructure systems."
The hot topic of infrastructure is among Taylor's favorites. During her two years as chairman of the Urban Land Institute – where she was the first woman and first architect at the helm – the non-profit homed in on infrastructure spending, sustainable communities, and urban issues.
The infrastructure discussion is just one in a series of lectures, meetings and discussions that Penn Design, along with PennPraxis and the Penn Institute for Urban Research, will sponsor as "part of our focus on the economic recovery programs and their potential for advancing cities through long-term investment for competitive advantage," Taylor said. If funding permits, the goal is to publish the results on both a website and in print, she said.
Then, there's the class that's really more than a class – the City Visions Studio.
Nutter received kudos for placing the likes of Deputy Mayor for Planning and Commerce Andy Altman and Philadelphia Planning Commission Executive Director Alan Greenberger in leadership positions. Taylor has brought the two into one of her classrooms, where they, together with Design School Department Chair John Landis, WRT principal Richard Bartholomew and Penn Praxis Executive Director Harris Steinberg are offering hands-on instruction in which graduate planning students imagine what Philadelphia will look like at mid-Century.
One goal of the studio course is to give students a real-life experience. "The best of studios has a client – in this case the city – looking over our shoulders," Taylor said. The students will address actual challenges the city faces, and will work with people who do that for a living. But would Taylor like the work the students do to have a real impact on Philadelphia? Her broad smile really said it all. She later expanded on her intent in an email:
"This visioning studio will, we hope, offer input to Mayor Nutter and his team as they face the challenges of economic recovery," Taylor said. "We hope it will also help to identify strategic, short-term infrastructure investments that will define and regenerate Philadelphia's competitive advantages over the decades to come."
Taylor will have direct input into the rethinking of the Central Delaware Waterfront – one of the largest planning efforts currently under way in Philadelphia. When Nutter recently dissolved the Penn's Landing Corporation and created the new Delaware River Waterfront Corporation in hopes of putting the Penn Praxis Action Plan for the Central Delaware into real time, he named Taylor to the Board.
And she will at least have her eye on the developing plan for another of the city's slow-to-grow spots: The Market East Corridor. Taylor, who lives nearby on 7th Street, describes the area around The Gallery as "a valley of low activity" where a person would not feel comfortable walking solo at night. The City's Planning Commission, Commerce Department and Redevelopment Authority are working with New York based Ehrenkrantz Eckstut & Kuhn to develop a long-range plan for the corridor – a plan which may or may not include Foxwoods Casino at The Gallery.
Before coming to Penn, Taylor spent 35 years at Skidmore Owings & Merrill LLC., where she led the firm in urban design and planning projects. She joined the firm in 1971, after receiving her Masters in Architecture from the University of California at Berkeley. Taylor made partner in 1985, and went on to became the first woman to chair the firm, for which she continues to work as a consulting partner.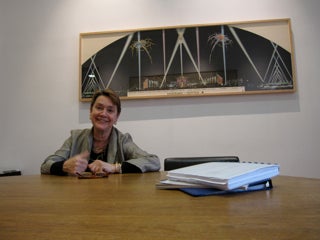 River of Opportunity
At the inaugural meeting of the Delaware River Waterfront Corporation, Taylor pointed through the window to the river. She remarked on the beauty of this "natural infrastructure" and its importance to the city.
During the interview at Penn, Taylor said the river was one of the city's treasures that must be kept in mind as the city plans for the future.
Other cities have capitalized on their rivers in big ways, Taylor said. For example, she said, Louisville's Waterfront Park, which has not only provided open space and re-united the city with its river (sound familiar, Philly?), was actually designed to retain floodwaters whenever the Ohio River overflows.
And then there's San Antonio. The Riverwalk not only illustrates what a river can do for a city, it exemplifies the need to think ahead. Folks in San Antonio will tell you, Taylor said, that the success the city has experienced in the past two decades stems back to the Riverwalk – a project done decades ago by the Works Progress Administration through The New Deal.
Other authentic Philadelphia elements that must be protected and celebrated include the city's history, its park system, and its walk-able street grid, she said.
Bad things can happen when a city fails to focus on what makes it unique and authentic, Taylor said. During the 1980s, it seemed every urban downtown was trying to follow the same formula to success, she said. "They wanted three bank towers, a downtown mall, a performing arts center, ideally a community college and a stadium."
The thought processes around planning were so similar everywhere that Taylor and her colleagues in the D.C. office of SOM posted photos of buildings from around the country and made a game of seeing if anyone could match the buildings with the city were they stood. Of course, Taylor took a shot – she loves a good contest.
Outlook is everything
Spend a little time with Taylor, and her optimism and enthusiasm are obvious.
Ask about the panoramic illustration of the Ben Franklin Parkway that hangs in her office. Created in the 1970s by a former Penn student, "it's a work of art," she says, getting up to point at the dynamic fireworks behind the Art Museum. Computers and cameras had nothing to do with bringing the colorful explosions to life. "He used paper punches," she said. "These are all different sized circles of paper."
And when it comes to the cities Taylor has dedicated her working life to improving, the dean remains an optimist even in the face of the worst economic crises since the Great Depression.
"This is not a political statement, but the Obama administration – whether, as we had hoped in a time of significant resources, or (not), is our best chance in half a century to craft policies that help American cities" achieve their full potential, she said.
She rattles off statistics from a Brookings Institute report: The 100 largest American cities – from New York to Titusville, Florida – take up 12 percent of the land mass, but are home to 65 percent of the population, and foster 75 percent of the economy, and 78 percent of the knowledge economy.
"I grew up in Iowa, and that black dirt is beautiful," she said. "But when it comes to economics, it's time for us to change in ways that recognize" the contribution of cities.
Taylor hopes to do her part to persuade the government in that direction, although she's "not a lobbyist or a Washington player."
There are projects that the private sector just can't take on by itself – such as a high speed rail connection among the cities in the Northeast, she said.
Taylor believes the grinding halt to the fast-paced growth we experienced in recent years comes with opportunity – it's "time to plan for when the money is here," she said, and a chance for cities to do more negotiating with developers.
In some cities, the markets became so overheated that any developer with a peace of land could get the necessary permits to build "with little contribution to the public sector good" through things like affordable housing, transit and education. There was also little thought given to sustainability issues surrounding finite resources such as energy, water and land, she said.
Taylor sees examples of both conscientious development and the other kind that happened in Philadelphia before the economic collapse. She's quick to praise Penn and President Amy Gutmann for the Cira Center South project, a joint effort with Brandywine Realty aimed at better connecting the campus with Center City.
She sees examples of not-so-great development around town, too, but she declined to go into detail.

Environmentally in tune
Taylor spent many years in Washington when she worked full-time for SOM. There, she developed a fondness for another enthusiasm: Cherry blossoms. They bloom around her March 31 birthday, and she likes to think of them as a little birthday gift from nature. When warm weather started coming early, she'd worry about them budding too early, and then dying in a later freeze.
But Taylor sees a bright side in global warming, too. She praises Al Gore for bringing this and other environmental issues to the public consciousness.
A growing number of designers, planners and builders – as well as the everyday people who consume what they design, plan, and build – have begun to value dense communities where everything is either in walking distance or accessible by transit, she said.
"There's a sense of crises, thank goodness. You now see people who are far more careful about the light bulbs we buy and the trips we take," she said, and the more the public demands sustainable development, the more sustainable development will be built.
Contact the reporter at kelliespatrick@gmail.com
WHYY is your source for fact-based, in-depth journalism and information. As a nonprofit organization, we rely on financial support from readers like you. Please give today.