Peta Raabe: an appreciation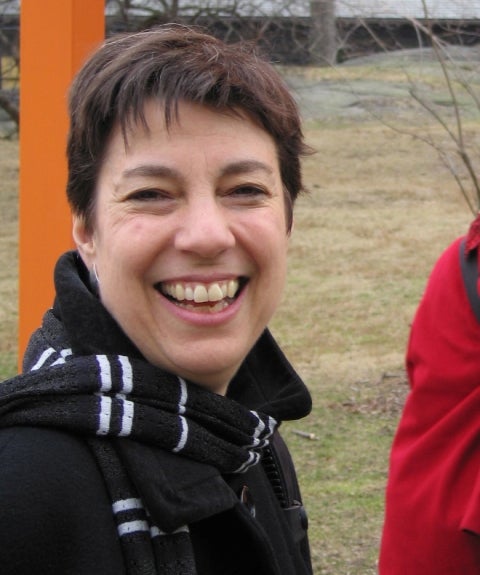 Peta Raabe
Jan. 09
By Kiki Bolender
For PlanPhilly
Peta Raabe, a prominent landscape architect and one of the brightest lights of the Philadelphia design world, died on Wednesday, January 7, at the age of 56, following a recurrence of cancer. She leaves behind family, including her husband, Peter Bloomfield, daughter Jessie and son Gabriel, and her mother, Cindy Raabe. She also leaves behind her partners, Anita Lager and Karen Skafte, and the staff of Lager Raabe Skafte Landscape Architects, Inc.
Peta was born in New York City, and in her childhood enjoyed time at a camp owned by her parents in Columbia County, near Copake, New York. She received her Bachelor of Arts from Bennington College in 1973, her Master of Architecture from Washington University in 1977 and her Master of Landscape Architecture from the University of Pennsylvania in 1982. Her later academic activities included serving as adjunct and visiting faculty at Drexel University, Temple University and the University of Oregon.
In 1991 Anita Lager and Peta formed a partnership, and in 2000 Karen Skafte joined them as a partner. The firm has work in other cities, with a several projects at Penn State University and streetscapes in Wilmington, Del. But it is the reality and the spirit of work in Philadelphia that will be Peta's legacy, which will continue in built projects, ongoing projects and future work of the firm. Some of her contributions that have made Philadelphia a better place include:
• The many playgrounds that she redesigned for the Philadelphia Department of Recreation
• A landscape master plan for Old City
• Landscape design guidelines for the Benjamin Franklin Parkway
• Design of Aviator Park at Logan Square
• Contribution to the Logan Square Master Plan
• An Open Space Plan for Center City
• The Bridge to Bridge Master Plan (the regatta area on the Schuylkill River from the Strawberry Mansion Bridge to the Columbia Railroad Bridge)
• Contribution to the Centennial District Master Plan in Fairmount Park
• Design of various streetscapes, including12th Street near the Convention Center and 15th and Spruce Streets
Peta will be missed by many. She was devoted to her husband and children. (She told the story of how she had been dating a short, morose academic type, and she hoped to meet a tall, funny guy. She did.) She was someone who will be missed personally by everyone who knew her professionally. Many will remember her as one of the invited participants in the Central Delaware Waterfront Planning Process Design Charrette. The memory will endure of Peta, in her signature crisp white shirt, great haircut and big smile, making it all seem possible.
"Peta was an incredible person and wonderful landscape architect to work with" noted Mark A. Focht, FASLA, executive director of Fairmount Park. "I have had the privilege of knowing Peta for many years and have worked with her and the firm on several projects. In recent years, Peta authored design guidelines for the public realm of the Benjamin Franklin Parkway and led the complete redesign of Aviator Park on Logan Square. In every encounter, Peta was upbeat, engaged and excited by the work. Even during her illness, Peta brought a sense of quiet and dignified determination to everything she did. The improvements that Fairmount Park and our partners will bring to the Parkway over the coming years will be a fulfillment of Peta's vision and dedication. It will be an honor to do this work."
A memorial service will be held Saturday, January 17, at 2:00 at the Moore College of Art, 20th Street and the Parkway, Philadelphia. Donations in Peta's memory can be made to the Fairmount Park Conservancy or The Pennsylvania Horticultural Society.
Contact the reporter at kiki@schadeandbolender.com
WHYY is your source for fact-based, in-depth journalism and information. As a nonprofit organization, we rely on financial support from readers like you. Please give today.