Advisory Group feedback on values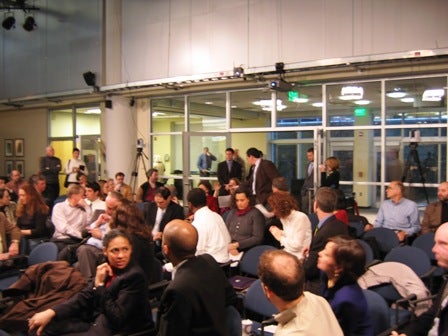 Jan. 8, 2007
Monday morning, the Central Delaware Riverfront Advisory Group opened its monthly meeting by holding a facilitated conversation that resulted in input from board members and the public concerning the three recent public forums and the citizen driven values those December sessions produced.
Moderator Harris Sokoloff, an expert in civic engagement with the Penn Graduate School of Education, said the purpose of this discussion was "not to have answers for any concerns that were voiced but to get those points back out on the table and begin to work through them."
The roundtable discussion produced a number of observations that will help the steering committee as it works through a planning process that relies on a civic engagement exercise that melds the public's hopes and dreams with expert design principles.
Here are the concerns expressed by advisory group members and the public Monday.
1. How do we incorporate the reality of casinos into the planning process?
2. Should we forestall this riverfront planning process if it is just a shoehorn for casinos?
3. Because the casino licenses are provisional, this group can consider two plans for the waterfront. One with casinos, one without casinos.
4. Have any decisions been made on placing a moratorium on any development plans that deny complete access for the people of Philadelphia to the entire waterfront?
5. Figure out ways to better integrate the process, possibly inviting the two winning casino bidders to work within the Praxis process. We can't do this plan without getting the major players involved.
6. The Greenpoint plan didn't have to worry about 45,000 jobs created by the working river. What protection is going to be given here to surrounding industrial jobs?
7. Casinos should be considered as important funding sources. We need to figure out how to use that funding to improve our waterfront.
8. If this is supposed to be citizen driven how do working familes with little time get involved?
9. What is the state's role in this whole process? What part of the process and properties does state control?
10. What role does politics play in this process?
11. We believe the Commercial Entertainment District as amended calls for casinos to be sited by the city. We do not believe the city has taken that control. We believe the city needs to seize that control.
12. We are under the opinion that zoning control rests with the city. For the state to take that control away again would require a bill and the governor's signature and we believe the legislature will not do that. I don't think big brother is watching. The state does not want to prevent local zoning again.
13. There is support for keeping local zoning.
14. Whatever plan that is developed for the waterfront must have teeth.
City Planning Director Janice Woodcock said the casino and planning process need to exist on many different levels and the city has to involve the public in an overarching land use plan that is not incremental. "If the city took the point of view of not allowing casinos we would lose any local control. We did lose that right once," she said. "As I have said before, the exact way this turns out is not set in stone. How much validity this plan has will depend directly on the degree of public input that goes into the plan."
Harris Steinberg, Executive Director of PennPraxis, the lead consultant on the riverfront planning process, said all these concerns will be distilled and used throughout the planning phases in the coming months.
"We have heard a lot of values reflected and we will reflect and put forward a plan with respect to private, environmentally sound and sustainable development," he said. "We are hearing the voices from the public and we are going to reflect the sentiments of the group. While some of that has been critical of casinos, this is not about saying casinos are good or bad. We want to reflect a plan that addresses traffic, affordable housing, a healthy infrastructure, storm water management … we've clearly heard the value of the working port. We are walking a fine line between state and local authority and will put forth a plan that balances competing interests."
The next advisory group meeting is Feb. 5.
WHYY is your source for fact-based, in-depth journalism and information. As a nonprofit organization, we rely on financial support from readers like you. Please give today.