5 parenting lessons from the Eagles' Super Bowl victory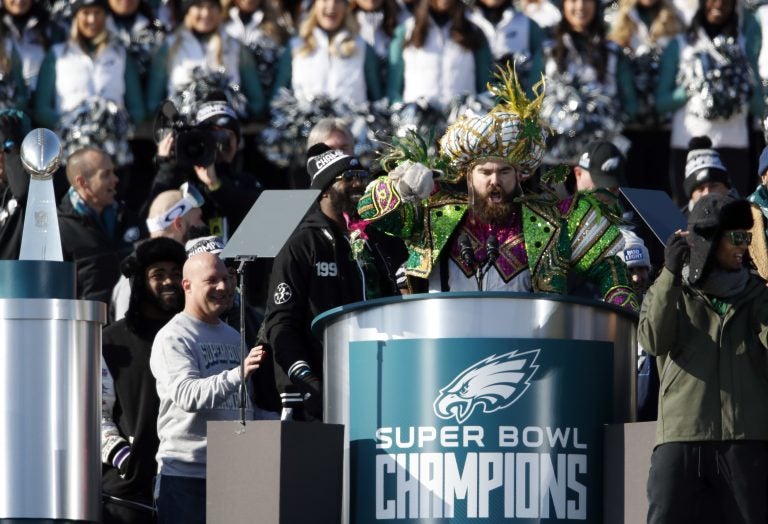 Philadelphia Eagles fans didn't disappoint. After cheering their team onto victory, a reported 700,000 played hookey, called out sick or were excused from work to attend the parade for the Super Bowl Champions.
I didn't take off from work because I sort of get claustrophobic in large crowds. I'm thankful that my daughter's school district stayed open and decided to show the parade on TV to the students—that felt like a really fair compromise all around.
I'm not a football fan at all, even though I was raised by one (my Dad played college football) and married an equally devoted fan (my husband played high school football)…but I've met lots of non-fans like me who live in the Greater Philadelphia area and got totally swept up in this Super Bowl game, in this victory. I think it was the first football game I've actually ever watched!
I've been thinking about what this victory means — for our city, for our families, for us. These are five takeaways from the Eagles victory that I'll  hold onto, long after the parade route is cleaned up:
Family Rituals: Listening to and reading stories about local fans sharing what the Eagles mean to them, many fans focus on connection to their family—watching the game together emerges as important as the game itself. I was extremely moved by the story of this 99-year-old man whose devotion to the Eagles was shared with the world by his grandson. In my house, watching football isn't a family ritual (other than the Super Bowl), but I'm reminded of how important having family rituals are. Whether you are sports fans or not in your home, think about the kinds of rituals that you can create that will be meaningful for your family.
Persistence: It's clear that much of the energy and excitement is because this is the Eagles first Super Bowl win. So often, our kids want to excel at a new skill or activity right away. It takes persistence for most of us to master anything, whether it's a musical instrument, a sport or an academic skill that we need to work on. When my daughter needs to keep going with something that's a struggle, I'll remind her that the Eagles stayed in the game. That goes for me, too, when I'm working on learning something new.
Resilience: Related to persistence, the Eagles exemplified resilience in order to get to their victory. When quarterback Carson Wentz suffered a season-ending injury, the team could have given up and the fans could have given up on them. But they didn't. We know that our kids need to develop resilience to get through the inevitable challenges that every human being faces. The example of the Eagles resilience is a story we can draw on when our children face an obstacle.
Community: It's been pretty amazing to feel a sense of community—that the whole city and region has come together to cheer on the Eagles. I loved taking my kids to get coffee on Super Bowl Sunday at Wawa and talking with total strangers about the game. To that end, it's important that we adults acknowledge the behavior of some community members who used the Super Bowl as an excuse for violence. My daughter is 12 and we had a conversation about disturbing images that we saw on the news that took place on Sunday night. We also spoke about the unfairness of how vandalism and crime was reported by Super Bowl fans differently from the way they reported protests that took place after the killing of Michael Brown and other protests primarily lead by people of color.
Joy: In a few weeks, I expect that most of us will return to a post-Super Bowl normal. But I hope to hold onto the excitement, joy and exhilaration that this week has brought. For me, it's not football but seeing music and theater, walking with my dog, reading and spending time with my kids, husband and friends that brings me the deepest joy. What brings it for you? Our world is full of challenges and sadness, struggles and pain. But opportunities for joy are around us all of the time—not just in the loud ways that the Super Bowl brought. Modeling how we experience joy is not only great for us but encourages happiness in our kids.