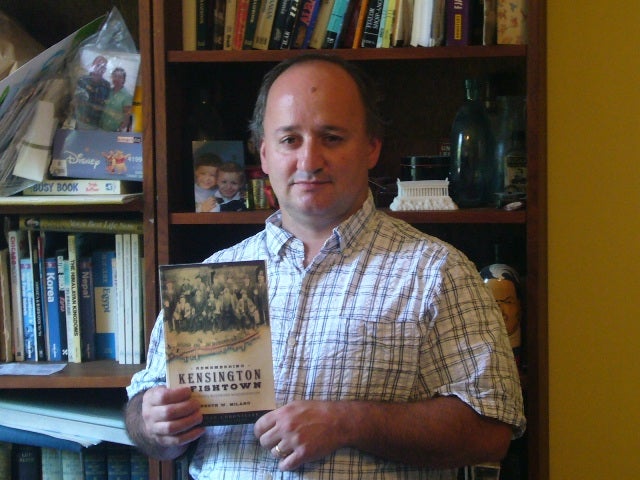 July 21
Remembering Kensington & Fishtown: Philadelphia's Riverward Neighborhoods is a new book written by Kenneth W. Milano that is a collection of articles from his weekly column "The Rest Is History" that appears in the Fishtown Star. The book depicts the days of old in Kensington and Fishtown, and how those areas thrived and developed into the communities they are now. PlanPhilly reporter Isaac Steinberg sat down with Milano last week to talk with him about the book:
Quick bio:
Age: 49
Hometown: Kensington
Education: Northeast Catholic High, Community College of Philadelphia then Temple. Studied English and Philosophy at CCP, then majored in History at Temple.
Personal highlights, hobbies etc.: collects rare books and historical artifacts.

How do you begin a project like this? Well, Jonathan Simcosky, Star Editor, saw my articles in the paper, and wanted to put them in book form, and it just took off from there.

What kind of research did this book entail? As I research things I create a drop file on my computer, and over the course of the past 15 years it just all adds up.

Is this your first book? Yes, it's my first full-length book.

Do issues that are currently occurring now in Kensington and Fishtown parallel ones of the past? Well, yes, now there are different economic groups moving in. There is a middle class in Fishtown and Kensington. Compared to after WWI when the wealthy moved out to the suburbs, and it was just working class.

What can we learn today from the past history of those neighborhoods? That one of the reasons Fishtown and Kensington remained working class is because those areas were laid out as an industrial city.

Why did you choose the Kensington and Fishtown areas as a subject for the book? It's my hometown, it's what I love to write on research about.

What was the most interesting aspect of the coverage – or your favorite part of the book? I really like writing biographies, so the sections that deal with major characters in Fishtown and Kensington's history would be my most favorite part to write on.

What part of the book, if you had more time, would you have liked to delve deeper into? My main interest like I said has been the landed gentry, the rich people with big estates. I would have liked to have had more time to have gone deeper into how those estates were broken up and turned into the neighborhoods they are now.

What is the biggest thing you want to get across to a reader from this book? When I was growing up, Fishtown was the last place people wanted to be. It was hell People did not want to stay there, they wanted to get out. Personally I thought I would never come back, let alone think I would be living there now. But, when I got involved with social work, I wanted to use history to better the community. So by putting out into the public the history of the neighborhood, I think it helps the community.

Who are some of your heroes from the Kensington and Fishtown days of old? You've got to like the founder, Anthony Palmer. Also John Hewson, textile printer and revolutionary war hero. Then there was William Cramp, founder of William Cramp and Sons Shipyard and Michael Day, former District of Kensington commissioner, Guys like that.

What are the most at risk areas or structures – from a historical perspective – in Kensington and Fishtown? I'm not a big preservationist guy, but most of the interesting architecture from old public spaces is now being converted into homes, so you're losing some pieces of history there.

What is your position on waterfront development, especially in the Fishtown and Kensington area? I like the Penn Praxis ideas; I think they will be very good for the community. Now-a-days you're never going to get Fishtown to be the industrial city it once was, but I think the Praxis plan will help the area a lot.
If you could add one thing now to the book, what would it be? I would add more on the revolutionary fort (British Redoubt No. 1). Heck that could be a whole book by itself.

And do you have plans for another book? Yes I do, its going to be called "History of Penn Treaty Park", it should be out by next spring.
Milano's book – Remembering Kensington & Fishtown, Philadelphia's Riverward neighborhoods – is currently being sold for $19.99 at local Barnes and Noble and Borders outlets, and online at Amazon.com. For more information about Milano and the book visit, http://www.kennethwmilano.com/page/default.aspx .
You can contact the reporter at: Tua88396@temple.edu
WHYY is your source for fact-based, in-depth journalism and information. As a nonprofit organization, we rely on financial support from readers like you. Please give today.