Infill Philadelphia has design on good eats
Photo: Chester's Community Grocery Co-op
June 24
By Kellie Patrick Gates
For PlanPhilly
It's much harder to eat well when you live in a neighborhood without a store that sells fresh, healthy food, said Community Design Collaborative program associate Carryn Golden.
It's also hard to convince supermarkets to move into a "food desert," she said, when such communities are usually poor, and often lack the kind of retail space that is attractive to grocers.
That's why the Collaborative chose to make food access the mission of this year's Infill Philadelphia program. The Collaborative chose three projects – two in Philadelphia and one in Chester City – from nine applications, and then linked a team of volunteer designers with each.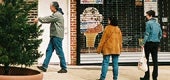 Storefront Reuse
-Agoos/Lovera Architects is working with Mt. Airy's Weavers Way Co-op to open a satellite store along the Ogontz Avenue Commercial Corridor. The tough part will be designing a fresh food market that will work in a small storefront space.
Warehouse Conversion
-KSS Architects is working with Chester's Community Charitable Corporation to convert a 32,000 square-foot warehouse in Chester's business district into a co-op. There, the overabundance of space will be the challenge. The team is working on a design that would allow the co-op to start with only a portion of the space, but expand later.
Urban Supermarket
-Interface Studio Architects is working with Girard Coalition, Inc. and the Westrum Development Company to design a 35,000 square-foot supermarket on a triangular, 2.8-acre vacant parcel in Brewerytown. The team's challenge is to create a conceptual design that would convince a supermarket operator that a profitable market could be built in the small, irregularly shaped space.
It was important for the teams, which will make their final presentations to the public this fall, to work with three different types of store models, said Elizabeth K. Miller, Executive Director of the Community Design Collaborative. In most urban areas, there is not much vacant land, and so fresh food venues will have to be "shoehorned into existing neighborhoods," she said. And that's fine, Miller said, because with the right design, a tiny corner grocery, a mid-sized, family owned market or a huge supermarket can all provide good food to their communities, and economic anchors for the neighborhood.
It is possible that all three of these projects will be built with grants from the Fresh Food Financing Initiative, since the chosen projects were selected based on eligibility, she said. The Fresh Food Financing Initiative is a program of the state's Department of Community and Economic Development, and several people who play key roles in the Initiative spoke enthusiastically at the project launch, including Rep. Dwight Evans, creator of the Pennsylvania Fresh Food Financing Initiative, Don Hinkle-Brown, who manages the Financing Initiative and is also president of one of the organizations that manages it, The Reinvestment Fund. The Food Trust and the Greater Philadelphia Urban Affairs Coalition are the other managing organizations.
(The Food Financing Initiative and the state of Pennsylvania are being considered for an award from Harvard University for the work the Initiative has done to help fund grocery stores in both urban and rural settings across Pennsylvania.)
Weavers Way Co-op – the natural food store that's served Mt. Airy for 35 years – applied because the design work could help them fulfill a goal the board had already set, said General Manager Glenn Bergman.
Weavers Way had been working on a plan to open stores in neighborhoods where healthy food is unavailable when the Ogontz Avenue Revitalization Corporation approached the board about operating a produce store there.
The not-for-profit organization – had been intending to first open a larger store in Chestnut Hill, then use the money made there to fund stores in places that are in desperate need of good produce, Bergman said. But with the help of OARC, Weavers Way received a favorable lease – one that allows them an escape if things don't work out. And it received a grant from the Reinvestment Fund and Food Trust that helped defray some start-up costs, he said.
The Ogontz store is now open, with a grand opening celebration set for early July. Weavers Way hopes to use what it learns from the Agoos/Lovera team to improve the Ogontz store, and, if it is successful, to guide its expansion – perhaps to the vacant lot next door, Bergman said.
The work done by Agoos/Lovera could go farther than that, even. Weavers Way is in negotiations to buy a property in Chestnut Hill, Bergman said. If the purchase works out, a Chestnut Hill co-op will be up and running in 18 months to a year, he said. And shortly after that, plans will begin to open another smaller store in an underserved neighborhood.
Alex Chan, staff architect at Agoos/Lovera and the lead volunteer said that his firm was interested in the Infill project because of earlier work it has done along the Ogontz corridor and with food stores.
"There's a big difference between Mt. Airy and Ogontz Avenue, and so this is really about adapting to a new surrounding," Chan said.
"It will be good for us to learn to expand from an area that we're comfortable in," Bergman said.
The Mt. Airy store is 3,500 square feet and does $7.5 million in business annually. The new store is 700 square feet, and the goal is to do $500,000 in business.
The Ogontz site is a row house. The first floor had been used as a store prior to Weavers Way obtaining it. Chan said it will be difficult, from a design perspective, to fit all the products for sale into that space – but the exercise will prove valuable, as any food access solution for Philadelphia will likely need to include row house space.
Part of the design will focus on ways to build community – which is part of Weavers Way's mission.
"They are very much a hub of the community," Chan said. "We see it almost like building a community center that just happens to sell retail goods," he said.
Bergman said there's been talk of setting up café-style tables so customers will linger at the store. There could also be cooking classes and other activities, depending on what customers want.
Meetings with local residents have already begun, and one big change has already been made. Weavers Way had planned to be closed on Mondays and Tuesdays. But community members said it should be closed Sundays, and open the other six days of the week.
At the recent public launch of Infill Philadelphia: Food Access, Rep. Evans and other speakers assured the volunteers that the work they had begun is both vitally important and extremely difficult.
When she was working on a masters degree at Cal-Berkeley 12 years ago, Kimberly Moreland, assistant professor of environmental epidemiology at Mount Sinai School of Medicine and keynote speaker at the launch, asked professors about the largely unsuccessful studies that had focused on educating people about healthy eating habits in an effort to get them to change their behavior.
Moreland had been looking around poor neighborhoods in nearby Oakland, and found "plenty of liquor stores, but not fresh food," she said. So she asked faculty members whether anyone was looking at whether the people who were told to eat better could get this better food near their homes. "I was told access to food is not an issue in the United States," she said.
Her research has focused on that topic ever since. Moreland has found that obesity greatly decreases in neighborhoods where there are supermarkets, and there are four times as many supermarkets in predominantly white neighborhoods as there are in predominantly black neighborhoods. This is as much an environmental justice issue as the placement of toxic waste, she said.
Moreland is part of a project called Building Food Justice in East New York – a poor community in Brooklyn. The community has had a farmers' market for 10 years, but people wanted something that was open every day, year-round. They now have a food co-op. "A lot of the hard part was finding a location," she said. The space had to be big enough, it had to be in good enough condition, and it had to be affordable. A former retail space was found, and after significant renovations and plain old cleaning, the co-op opened in May 2007 with 50 members.
"The largest problem we have with the store doing well is most people don't know it's there," she said. And people in this neighborhood, who have seen both government programs and private enterprise come and go quickly, are hesitant to join an organization that they don't believe will be around for long.
She challenged the Philadelphians working on the food access project to convince lawmakers to pass policies that would not only make it easy for big food retailers to locate in underserved areas, but help mom and pop operations offer healthy foods as well. She suggested zoning and planning changes that would help create a city where fresh produce was no more than a five- or 10-minute walk from anyone's home.
Evans agreed. He said that food access has to be as much of a priority as promoting Philadelphia's tourism industry or raising the graduation rate. "Every aspect of city government should be aligned to that objective," he said.
From a design standpoint, Moreland said the architects must find a way to carve a lot of useable space from within a small footprint. And it wouldn't be enough to make the inside welcoming. "People look down the road and wonder if the co-op is open when all the other stores are closed, and there are no trees or flowers," she said.
It was clear from their questions that the audience members realized how difficult the food access problem can be.
It's wonderful to finance stores that will bring fresh fruits and vegetables to underserved areas, said Mike Thompson, a city planner. But, he asked, what's to keep an establishment from getting rid of the healthy items if the retailer sees more money in less-healthy items?
"Financing comes with small silver hammers," said Hinkle-Brown. Any project that receives money is monitored for three years to be sure the healthy products are still in place. The hope is that after three years, customer demand will keep the items in stock.
Another audience member wondered how access to fresh produce will make a difference in the diets of some low-income families. They have difficult shopping choices to make, he said, and less healthy food is cheaper.
Erin Trent, Commercial Corridor Manager for the People's Emergency Center, said that many small business operators don't know about financial and other help available through the Fresh Food Financing Initiative, The Reinvestment Fund, The Food Trust and other organizations, and if they did, they might not be familiar enough with the application process to try to get the help. There needs to be more outreach and education efforts, she said.
After the event, Trent said some of these small stores make a great deal of their profit through selling cigarettes, candy and lottery tickets, and government policies need to add both carrots and sticks to encourage change.
New zoning laws forbid corner deli-type stores from selling loose cigarettes, she said, so why couldn't they also require them to sell some healthy food? And why couldn't there be a tax incentive to help cover any losses a store owner might face when unsold produce goes bad?
Moreland said some sort of tax initiative may indeed be the answer. While the hope would be that eventually, there would be enough demand for any healthy foods offered in stores, the tax incentive could bridge any gap between supply and demand in the meantime, she said.
Hinkle-Brown and the Food Trust's James Johnson-Piett said that while outreach is an important part of both of their organizations' work, there is no easy way to reach the hundreds of small store owners. But all of them keep an eye on their competition, they said, so the best way may be helping some of them to achieve success with healthy food offerings.
Contact the reporter at kelliespatrick@gmail.com
WHYY is your source for fact-based, in-depth journalism and information. As a nonprofit organization, we rely on financial support from readers like you. Please give today.