3 must-see new art exhibits this month: Our picks from 'First Friday' – Through May, 2018
First Friday doesn't necessarily mean "last chance." Here's our guide to new exhibitions you can catch all month long.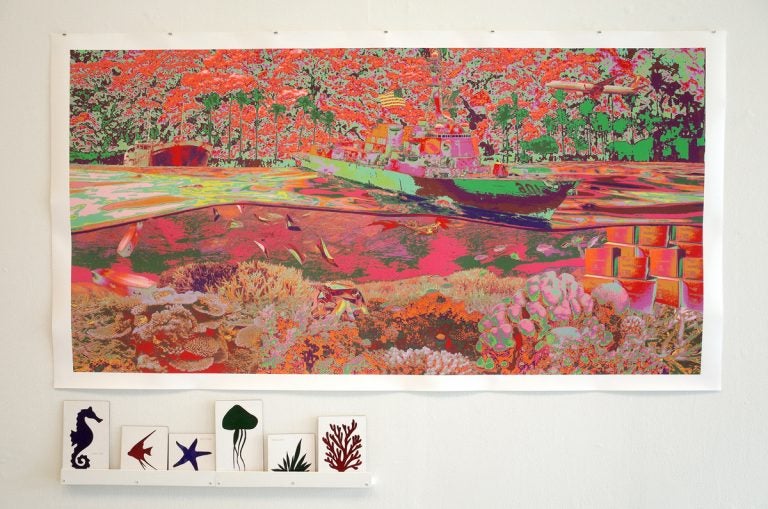 First Friday is an art-scene staple, a monthly ritual of gallery openings, performances, and screenings. But let's face it: Jostling around a crowded gallery (often wine in hand) is fun and all, but it's rarely the best way to experience the art. Luckily, most exhibitions stay up all month — sometimes even longer — giving you a chance to really dive in. This past First Friday, I biked to as many openings as I could catch, braved the crowds (and the heat), and made this guide to exhibitions worth catching in May.
'Then and Now' at the Asian Arts Initiative: Through Aug. 17
Even if you missed the Asian Arts Initiative's 25th anniversary celebration weekend — which included a pop-up "Center for Refugee Poetics" and a singalong bus tour featuring activist music penned especially for the occasion — you can still catch artworks on display at their Vine Street headquarters through August.
"Then and Now" includes pieces by Asian-American artists reflecting on the past 25 years and the role of community-engaged art in Philadelphia, the nation, and abroad. Particularly mesmerizing is Maria Dumlao's installation, "Pacific 1993." In it, Dumlao looks back at the year the Asian Arts Initiative was founded though her signature, kaleidoscopic lens. Dumlao creates vivid, tripped-out photo collages, filled with historic and mythological imagery from her native Philippines and the Filipino diaspora. Viewers hold red, blue, or green filters in front of the image, revealing fragmentary scenes from 1993: American gunboats; the eruption of Mount Pinatubo; Imelda Marcos' shoes; and the Golden Venture, a ship that carried undocumented Chinese people to the U.S., only for them to be detained outside of Philadelphia for years.
"I wanted to show that different narratives can be told in the same plane, depending on what lens you look through," said Dumlao. "And the viewer has the agency to decide how they want to explore that."
Researching the piece, Dumlao said she was struck by how little conversations about race and immigration have changed since 1993. It's a question that permeates the show.
'Age of Alchemy' at the Science History Institute: Through summer
Smashed vessels, smoking beakers, celestial globes — the oil paintings on view at the Science History Institute's (formerly the Chemical Heritage Foundation) "Age of Alchemy" are filled with arcane symbols, both campy and mysterious. Alchemists toil in dim, cluttered laboratories, trying to harness the power of transmutation: the art of changing one material into another. Culled from the museum's extensive collection of alchemical paintings, the new show shines a light on a period of scientific history that curator Elisabeth Berry Drago says can be inscrutable to the modern eye. Though they're best known today for trying to turn lead to gold, alchemists were not would-be sorcerers. Berry Drago said we should remember them as forebears to science as we know it today.
"None of this disappeared," she said, gesturing towards alchemists holding up beakers of urine. "It just became part of modern fields."
What did change was the relationship between art and science. Alchemists would have seen themselves as inhabiting both worlds. "Alchemists are trying to turn one thing into another. Artists are trying to capture and integrate things," said Berry Drago. Today, "we've separated the two completely — art and science. It makes us a little nervous when you smash them together."
These paintings, drawn from the 17th to the 19th century, do just that. Also look out for the Science History Institute's upcoming digital game Age of Alchemy: The Goldsmith's Daughter, which will allow players to try their hand at transmutation.
'We Got Used to New Us' at Twelve Gates Arts: Through May 26
This small group exhibition brings together six graduates of the Pennsylvania Academy of Fine Arts who all emigrated from the Middle East. The theme is broad and the show is a little disjointed, but I was drawn in by the works of two artists: Mehdi Ashlaghi and Mostafa Darwish.
Ashlaghi's collage series "Contemporary Mythology" layers ominous paper cutouts of serpents and sleepers, faceless beings in suits and halos, to create unsettling three-dimensional visions. The collages read like a sketchbook of bad dreams.
Darwish's installation "Missing," in the gallery's front window, is especially striking. Mountains of cardboard milk cartons spill out of crates, each carton bearing a different black-and-white portrait, above the same name: Mohammed.
It's a condemnation of how migrant workers in the Persian Gulf are treated. Having traveled from across Asia and the Middle East, many have their documents taken from them upon arrival, and are forced to labor with no protections and little pay. Some convert to Islam as a way to get new documentation, and choose Mohammed — perhaps the only Arabic they know — as their new name.
WHYY is your source for fact-based, in-depth journalism and information. As a nonprofit organization, we rely on financial support from readers like you. Please give today.